9.0
Find best deals in Toluca
Cheap car hire deals in Toluca
When it comes to Mexico, Toluca may not be the first city that comes to mind. This vibrant metropolis is located west of Mexico City and is often not perceived as such by travelers. However, Toluca has much more to offer than meets the eye, especially for car enthusiasts. If you're planning a trip to this unique destination, you'll be happy to know that Orbit Car Hire is here to make sure your trip goes smoothly.
Toluca, the capital of the state of Mexico, boasts a thriving automotive industry that has earned it the nickname "Detroit of Mexico" While you won't find any tourist attractions here in the traditional sense, the city offers a wealth of automotive experiences that are sure to delight.
Visit the Cosmovitral Botanical Garden: Before you dive into the world of cars, start your journey at the Cosmovitral Botanical Garden. This stunning, glass-roofed garden houses a remarkable collection of exotic plants. It's a peaceful oasis that provides the perfect backdrop for a relaxing stroll and a great way to begin your Toluca adventure.
Toluca's automotive heritage: Toluca is home to some of Mexico's most famous car factories, including General Motors, Chrysler and Nissan. Although you won't be able to visit these plants, the presence of these automotive giants has left an indelible impression on the city. As you drive through Toluca, you will discover numerous car dealerships, auto parts stores, and vehicle customization stores that reflect the city's distinct automotive culture.
El Aeropuerto Internacional de Toluca: If you're flying into Toluca, you'll likely land at El Aeropuerto Internacional de Toluca (Toluca International Airport). This modern airport handles a significant amount of air traffic, and you'll often see a variety of private jets and luxury vehicles on the tarmac — a testament to the city's growing affluence and automotive enthusiasm.
Car shows and events: Toluca frequently hosts a variety of automotive events, from car shows to racing competitions. Check local event calendars to see if an automobile-related gathering overlaps with your visit. These events provide a great opportunity to immerse yourself in Toluca's car culture and interact with other car enthusiasts.
Head to the Toluca environs: Outside of the city limits, Toluca is surrounded by picturesque landscapes, including lush forests, tranquil lakes, and charming towns. A rental car from Orbit Car Hire is the ideal way to explore these hidden gems at your own pace and experience the beauty of the state of Mexico.
In conclusion, Toluca may not be your typical destination, but for car lovers, it is a city with a unique charm. Whether you're admiring the impressive automotive infrastructure or exploring the natural beauty surrounding the city, Toluca offers a unique travel experience. And with Orbit Car Hire as your reliable partner, your journey through Toluca's automotive wonderland is sure to be unforgettable. So, get ready and discover the hidden automotive treasures of Toluca, Mexico!
Basic info and car hire in Toluca
Location: Mexico
Population: 910,608
Official language: Spanish
Currency:  Mexican peso
Weather:  Toluca has a tropical climate
Internet coverage: Hotels, bars, restaurants, and cafés offer Wi-Fi.
Road conditions:  Most roads in Toluca are in good condition.
Car hire in Toluca:  The most common pick-up point for vehicles in Cancun is at the Toluca Airport. Please note that prices vary frequently. It is best to book a car 3 to 8 weeks in advance of your desired pick-up date - this will ensure you get the cheapest rental rate. Alternatively, it is also possible to find cheap last-minute car hire. Find the best deal on car hire in Toluca!
 Driving in Toluca
A drive through the bustling streets of Toluca, Mexico, is an adventure in waiting. The city, with its rich history and vibrant culture, offers a unique driving experience that Orbit Car Hire is happy to help you explore. Here is a brief guide to ensure you have a smooth and enjoyable time behind the wheel in Toluca.
1. Traffic Dynamics: Like many Mexican cities, Toluca experiences some congestion during rush hours. Plan your trips accordingly and use GPS or smartphone apps to avoid congestion. Orbit Car Hire offers vehicles with navigation systems to make your life easier.
2. Road signs and signals: Pay close attention to road signs and signals as they may be different from what you are used to. Knowing the local traffic rules will help you stay safe and avoid surprises when driving in Toluca.
3. Parking: Finding a parking spot can be a challenge in downtown Toluca. Look for designated parking lots or garages and use public transportation to explore the city center. Some hotels also offer parking, so check with your accommodation.
4. Pedestrian priority: Remember that pedestrians often have the right of way at crosswalks. Be courteous and patient when pedestrians cross the street, as this is a common practice in Toluca.
5. Road Condition: Toluca generally maintains its roads well, but you may occasionally encounter potholes or speed bumps. Drive carefully to avoid damage to your rental vehicle.
6. Refuel: Familiarize yourself with the locations of gas stations in Toluca, especially if you are planning day trips outside of the city. Orbit Car Hire vehicles come with a full tank of gas so you can start your trip without delay.
7. Scenic Routes: Toluca's surrounding landscapes offer breathtaking views. Take a scenic drive to explore nearby attractions like the Nevado de Toluca volcano or charming towns in the state of Mexico.
By following these tips and choosing Orbit Car Hire for your transportation needs, you can make the most of your time in Toluca. Enjoy the freedom to explore the city and its surroundings at your own pace and discover the hidden gems that this beautiful part of Mexico has to offer. Drive safely and enjoy every moment of your Toluca adventure.
Age limits: The minimum age to rent a car is 21 years old with some suppliers for people over 75 years of age. Young driver surcharges may apply to many car rental companies for people under 25 years of age. This information is visible in the search engine with Orbit Car Hire. 
International Driving Permit: An International Driving Permit is required in addition to a National Driving License if the National Driving License you or any of the Additional Drivers hold is not clearly identifiable as a Driving License, e.g., it is in a non-Latin alphabet (e.g. Arabic, Chinese, Cyrillic, Japanese). It can also depend on the country or car rental company you are renting with. If you have found a car on our website, you can press the rental terms link from the supplier for more information about driving license requirements. You will need to have identification with you such as a passport and ID cards. When you pick up your rental car you need to have your voucher with you. 
Additional papers: A credit card in the name of the main driver needs to be presented. A security deposit may be required while renting a car so the credit card must have sufficient funds. You can find details about the security deposit listed while booking the vehicle as well as on your voucher. It is important to have a valid driving license with the name of the main driver as well as additional drivers when it applies.  
Additional requirements:  Using a seatbelt is mandatory for all occupants of a vehicle.
Children in the car: Children up to 12 years old or 1.45 meters (57″) are required to ride in a car seat or booster seat in the back seat.
Driving side of the road: In Mexico, they drive on the right-hand side of the road and overtake on the left.
General speed limits: Urban areas: 40km/h, Open roads: 80km/h, Motorways: 100-110 km/h
Car Hire in Toluca
Most popular car hire at Toluca
The most selected hire car in Toluca is the Fiat 500, Renault Clio, or Opel Corsa. Renault Captur is also a popular option. The most popular car types in Toluca are mini and economy. 
Popular Driving Routes
Popular One-Way car hire from Toluca
Want to rent a car for a one-way trip? No worries! Orbit Car Hire offers a variety of one-way Car Hire options in many locations outside of Toluca. One-way car rental is ideal for cross-town or cross-country travel, saving time by not returning to your original location. Start your reservation with Orbit Car Hire and find great options on one-way car hire at locations across the Mexico.
Toluca-Tulum (1608km with approximately 21 hours of drive)
Toluca-Coba (1591km with approximately 20,5 hours of drive)
Toluca-El Cuyo (1683km with approximately 21 hours of drive)
Toluca-Cancun (1677km with approximately 22 hours of drive)
Popular day trips from Toluca
Toluca, located in the heart of Mexico, is a city full of cultural richness and scenic beauty. Toluca not only offers numerous attractions but is also an excellent base for exploring the surrounding treasures of the state of Mexico. With Orbit Car Hire as your reliable travel partner, you can take unforgettable day trips to these nearby destinations:
Nevado de Toluca:
Distance from Toluca: Approximately 22 kilometers (14 miles)
Start your adventure with a drive to Nevado de Toluca, the fourth-highest peak in Mexico. This dormant volcano features two stunning crater lakes, Laguna del Sol and Laguna de la Luna. Hike to the crater rim and enjoy the breathtaking views and serene natural beauty of this high-altitude wonder.
Valle de Bravo:
Distance from Toluca: Approximately 70 kilometers (43 miles)
Nestled on a picturesque lake, Valle de Bravo offers a charming escape from the city. Stroll the cobblestone streets, explore the local art scene, and indulge in delicious Mexican cuisine. Don't forget to enjoy water sports on Lake Avándaro or panoramic views on a paragliding adventure.
Tepotzotlán:
Distance from Toluca: Approximately 70 kilometers (43 miles)
Tepotzotlán is a city full of colonial charm and history. Visit the National Museum of the Viceroyalty to immerse yourself in Mexico's colonial past, and explore the stunning ex-convent of San Francisco, a World Heritage Site UNESCO. The city's colorful streets and traditional Mexican architecture make for a picturesque day trip.
Ixtapan de la Sal:
Distance from Toluca: Approximately 80 kilometers (50 miles)
Known for its thermal springs and spas, Ixtapan de la Sal is an oasis of relaxation. Relax in the rejuvenating hot springs, enjoy a spa treatment, or take a dip in one of the city's luxurious pools. It is the perfect destination for a day of pampering and relaxation.
Malinalco:
Distance from Toluca: Approximately 95 kilometers (59 miles)
Malinalco is a charming pueblo mágico (magical town) known for its archeological site, the Aztec Temple of Malinalco. Explore this historic treasure against a backdrop of lush green hills. Afterward, stroll the quaint streets of the town and enjoy local cuisine at one of the restaurants.
With Orbit Car Hire, you have the flexibility to choose your ideal day trip destination from Toluca. Whether you're looking for natural wonders, historic sites, or quiet getaways, these nearby destinations offer a wealth of experiences waiting to be explored. Start your journey today and discover the hidden gems around Toluca.
What to see in Toluca
Toluca, the capital of the state of Mexico, is a vibrant city known for its rich history, cultural heritage, and scenic beauty. When you visit Toluca, you will discover a city that offers a unique blend of tradition and modernity. With Orbit Car Hire as your trusted travel companion, here are some of the top attractions and activities to discover in Toluca:
1. Toluca's historic center:
Start your trip to Toluca by exploring the historic center. The Zócalo, the main square, is surrounded by beautiful colonial buildings, including the impressive Toluca Cathedral. Stroll through the charming streets, visit local markets, and immerse yourself in the authentic atmosphere of the city.
2. Cosmovitral Botanical Garden:
Step into a world of enchanting beauty at the Cosmovitral Botanical Garden. This stunning glass-enclosed garden houses a remarkable collection of exotic plants and an impressive stained-glass mural. It is a peaceful oasis in the heart of the city, perfect for a leisurely stroll or quiet contemplation.
3. Toluca's gastronomy:
Toluca is known for its delicious culinary offerings. Be sure to try the local specialty "chorizo verde"," a green sausage with a unique flavor. Explore the local markets and eateries to try authentic Mexican dishes and street food that will tempt your palate.
4. Toluca Art Museum (Museo de Bellas Artes):
Art lovers will appreciate a visit to the Toluca Art Museum. The museum displays a diverse collection of Mexican art, including works by famous artists such as Diego Rivera and Rufino Tamayo. It is a cultural gem that offers a glimpse into Mexico's artistic heritage.
5. Toluca Street Art:
Toluca is adorned with vibrant street art and murals that tell stories about the city's history and culture. Take a walk through different neighborhoods to discover these captivating urban artworks that offer a unique look at Toluca's artistic spirit.
6. "Alfredo Barrera Marín Botanical Garden:
Nature lovers will enjoy a visit to the Alfredo Barrera Marín Botanical Garden. This beautiful green space is home to a wide variety of native plants and offers a tranquil environment to relax and explore.
7. The Portales (Portals):
The Portales are covered walkways in the heart of Toluca. These historic arches are not only visually appealing but also serve as a hub for local commerce. It is a great place to shop for handicrafts, souvenirs, and regional products.
The unique blend of history, art, and gastronomy makes Toluca a city worth exploring. With a vehicle from Orbit Car Hire, you can explore Toluca and its surroundings in comfort, making the most of your visit to this fascinating Mexican city. Discover the hidden treasures of Toluca and immerse yourself in the city's vibrant culture and heritage.
Drive your rental car beyond Toluca
Mexico, a country with diverse landscapes, rich history, and vibrant culture, is a dream destination for road trippers. With a rental car from Orbit Car Hire, you can embark on an unforgettable journey through this captivating country. In this article, we provide you with a guide to exploring Mexico by car. We show you the best routes, and must-visit destinations and give you essential tips for an unforgettable road trip.
The advantages of a road trip to Mexico
Flexibility: One of the biggest advantages of traveling by car in Mexico is the flexibility it offers. You can set your own schedule, make side trips to hidden gems, and adjust your itinerary as you see fit.
Scenic drives: Mexico has some of the most scenic roads in the world. From coastal roads with stunning ocean views to mountain roads leading to charming colonial towns, the landscapes are varied and breathtaking.
Cultural immersion: With a car, you can immerse yourself in the local culture by visiting small villages and towns that are often inaccessible by other means of transport.
Convenience: Having your own vehicle makes it easier to transport luggage, food, and essential travel items. It also allows you to explore sights off the beaten track without relying on tour operators.
The best destinations for a road trip in Mexico
Yucatan Peninsula: Start your trip to Cancun, where you can pick up your rental car from Orbit Car Hire. From there, explore the Yucatan Peninsula and visit Tulum, Chichen Itza, and the charming colonial city of Merida. Don't forget to swim in the cenotes and sample the local Yucatecan cuisine.
Baja California Peninsula: Drive through the Baja Peninsula and experience the laid-back atmosphere of Cabo San Lucas and La Paz. Explore the surreal landscapes of Baja's deserts and mountains.
Pacific Coast: Travel south along the Pacific Coast from Puerto Vallarta and visit picturesque towns like Sayulita, Manzanillo, and Zihuatanejo. Surf, sunbathe, and enjoy fresh seafood along the way.
Colonial heartland: Explore Mexico's colonial history in a drive-through town like Guadalajara, Guanajuato, and San Miguel de Allende. Marvel at the well-preserved architecture and indulge in the local art and cuisine.
Chiapas and Oaxaca: Discover Mexico's southern charm by visiting the states of Chiapas and Oaxaca. Explore the ancient ruins of Palenque, hike through lush rainforests, and sample authentic Oaxacan dishes.
Tips for a successful road trip in Mexico
Choose the right rental car: Choose a reliable car rental company like Orbit Car Hire. Make sure the vehicle is well maintained and has all the necessary paperwork and insurance.
Know the rules of the road: Familiarise yourself with Mexican traffic rules, road signs, and speed limits. Remember that Mexico uses the metric system and distances are given in kilometers.
Keep up to date: Find out about travel advisories and road conditions before you travel. Keep up to date with local news and pay attention to safety guidelines in the different regions.
Plan your route: Plan your route in advance, but be open to spontaneous detours. Use GPS or navigation apps and have a physical map with you as a backup.
Safety precautions: Keep your doors locked while driving and avoid driving at night, especially in remote areas. Keep important documents such as your passport and driving license in a safe place.
Cash and fuel: Take cash for tolls as not all motorways accept credit cards. Refuel when you have the chance, as petrol stations can be few and far between in remote areas.
Accommodation: Book your accommodation in advance, especially during peak travel periods, to secure your stay.

Exploring Mexico by car is an exciting adventure that allows you to discover the diverse beauty and cultural richness of the country. With a reliable car hire from Orbit Car Hire, you can experience the freedom and flexibility of the open road as you discover the magic of Mexico's landscapes, cities, and traditions. So, pack your bags, hit the road, and let yourself be enchanted by the magical journey through Mexico. Your unforgettable road trip awaits you!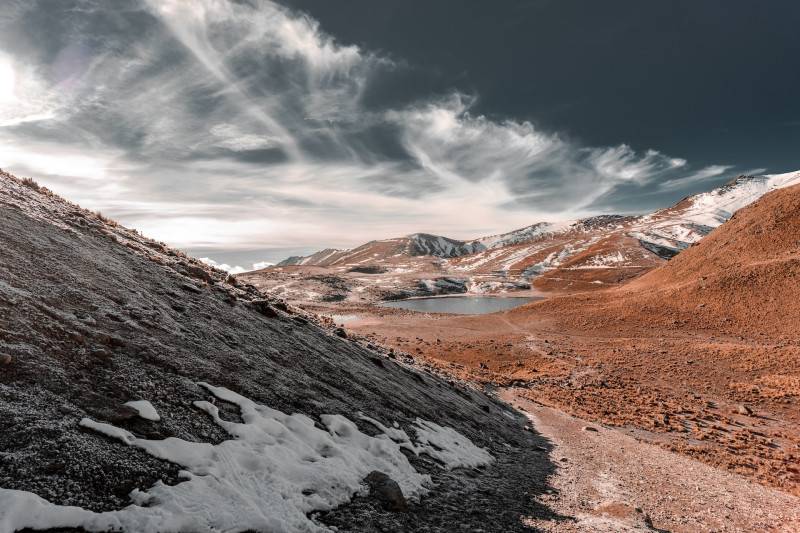 Where to eat, drink, and party in Toluca
Toluca, the heart of the state of Mexico, is a city that tantalizes the taste buds with its rich culinary heritage. When exploring this vibrant destination with Orbit Car Hire, be sure to indulge in the local gastronomic delights that make Toluca a foodie's paradise.
Chorizo Verde: Toluca's culinary fame revolves around the legendary "Chorizo Verde," a green sausage bursting with flavor. This regional specialty combines pork, spices, and a bold green chile sauce, giving it a unique and delicious flavor. Try it in tacos, tortas, or as part of a hearty breakfast.
Mole: Toluca's mole is another culinary masterpiece. Often served with chicken or enchiladas, this rich, savory sauce features a complex blend of spices and chocolate, resulting in a symphony of flavors that will leave you wanting more.
Tacos de Suadero: Try the "Tacos de Suadero" to experience street food perfection These tacos consist of juicy pieces of beef that are slow-cooked and served with fresh salsa and lime. They are popular with locals and visitors alike.
Toluqueña Tamales: Toluca is famous for its unique tamales, known as "Tamales Toluqueños" These savory delicacies are wrapped in banana leaves and filled with a mixture of tender meat, vegetables, and aromatic spices.
Local Markets: To fully experience Toluca's culinary scene, visit local markets like Mercado Juárez. Here you'll find a variety of fresh produce, spices, and artisan products to take home as delicious souvenirs.
With Orbit Car Hire, you can embark on a culinary adventure through Toluca and enjoy the authentic flavors that define this vibrant Mexican city. From the iconic chorizo verde to the delicious tamales, Toluca's cuisine is a testament to the city's rich culinary traditions. So buckle up and explore Toluca's culinary delights, one bite at a time.
Best restaurant in Toluca
El Portal del Sabor: Known for its delicious traditional Mexican cuisine, El Portal del Sabor offers a cozy and welcoming atmosphere. Their mole dishes and tamales are highly recommended.

Los Remedios: This restaurant is famous for its hearty and flavorful dishes, including barbacoa and mixiotes. The rustic setting adds to the overall dining experience.

El Mural de los Poblanos: If you're a fan of Pueblan cuisine, this restaurant is a must-visit. Their mole poblano and chiles en nogada are exceptional. The restaurant is known for its colorful murals.

La Cazuela de Toluca: This family-owned restaurant is renowned for its authentic Toluqueño cuisine. Try their chorizo verde, escamoles (ant larvae), and other regional specialties.

El Nuevo Raices: Known for its excellent seafood dishes, El Nuevo Raices is a popular choice among locals and visitors alike. Their shrimp and seafood cocktails are especially popular.

Los Sarapes: For a taste of traditional Mexican breakfast and brunch, head to Los Sarapes. Their chilaquiles and hot chocolate are crowd favorites.

Restaurante Alameda: Alameda offers a diverse menu with Mexican and international options. The elegant ambiance makes it a great choice for a special evening out.

El Paraninfo: This restaurant combines traditional Mexican dishes with modern culinary techniques. The creative menu and stylish decor create a unique dining experience.

Los Almendros Toluca: Specializing in Yucatecan cuisine, Los Almendros offers dishes like cochinita pibil, panuchos, and papadzules. The restaurant's colorful decor adds to the charm.

Antigua Alameda: Known for its extensive menu, Antigua Alameda offers a wide range of options, including steaks, seafood, and Mexican classics. The restaurant's garden setting is a lovely place to dine.
FAQ
What you need to know about renting a car
How do you make a booking with Orbit Car Hire?

You can easily book your vehicle with Orbit Car Hire. First, you must choose the date and location of your rental in our booking form. In the next step, you can pick the vehicle you want from the list. After filling out the personal information form, there is a step where you choose the payment method and fill in your credit card information. Finally, you can print out your voucher needed at pick-up time.
What are the charges for security deposits?

Every car rental has a security deposit policy. You will find the information about the security deposit while booking the vehicle or on your voucher. 
What if I would like to change my booking?

If you need to change the booking you made through Orbit Car Hire. Don't hesitate to contact our customer support team at customerservice@orbitcarhire.com or by phone at +44 20 8089 0089. You can cancel your booking free of charge at least forty-eight hours before your rental is due to start. For further information, please read the Terms of Use. 
How do I cancel my booking?

You can cancel your booking free of charge at least forty-eight hours before your rental is due to start. For further information, please read the Conditions of Use. Our customer service team will address your requests in due time:
When do I pay for the rental car?

You pay a small deposit when making the booking as a guarantee. The remaining balance is paid when you pick up your rental vehicle. Please keep in mind that the payment at the counter is paid in local currency. 
What is included in the price?

Most of the reservations made by Orbit Car Hire include unlimited mileage, local tax, mandatory fees, and collision damage waiver. In steps 1 and 2 in the booking process or on your voucher, you can see all the details about your booking inclusions.
Are there any hidden fees?

There are no hidden charges! All mandatory surcharges and fees are presented in the 3rd step of the booking process and our Terms and Conditions. Please note that additional charges may apply for some rentals in the case of:

Out-of-hours surcharge (when picking up the vehicle outside of office hours),
One-way fee (when returning the vehicle at a different location),
The service charge for fuel (prepaid fuel policy),
Young/senior driver fee (the car hire company sets this condition and is usually not about the regulation of the specific country),
Excess and deposit amount (before hiring, you need to ensure your credit card limit is high enough for the deposit amount to be blocked, which usually equals the excess amount or higher).

We advise our clients to read the Terms and Conditions carefully before the rental to avoid surprises. Our knowledgeable customer service agents will gladly help you with any questions via phone, email, or live chat during our opening hours.
What is a voucher, and why do I need it?

A voucher is a document that confirms your booking, the price, and the payment of your booking. Having your voucher with you at the time of pick-up is mandatory. If you do not have the voucher at the pickup, the vehicle provider may refuse to release the vehicle to you or change the rental price.
What is an airport or premium location fee?

A Premium location/airport fee is a fee that covers the location service costs. This fee is usually included in the price but may still occur at some locations and is charged locally.
What is Premium Coverage, and how does it work?

Premium Coverage is an optional service by Orbit Car Hire that, if accepted, covers your financial accountability for damage or theft to the hired vehicle. This is not insured with a car hire company that reduces the excess amount, but a cover refunds you if the car hire company charges you for damage or theft. With this option, you will be reimbursed up to 3000 EUR. You can read the Terms and Conditions or contact us for more information.
How do I find cheap car hire online?

Prices vary frequently. Booking a car 3 to 8 weeks before your desired pick-up date is best - this will ensure you get the cheapest rental rate. Alternatively, it is also possible to find cheap last-minute car hire. 
How many countries do you compare to?

We at Orbit Car Hire compare car hire prices in over 140 countries, including popular destinations within Europe such as Portugal, Spain, Turkey, Greece, Cyprus, Iceland, Croatia, Malta, France, Slovenia, and Germany. 
What currency should I use to pay for the car?

You can pay the confirmation fee on Orbit's page in EUR, GBP, ISK and USD. When you pick up your car hire, you will pay the remaining balance in the currency of the pickup country. 
Can I rent a car from inside the terminal?

You can hire a car from inside the terminal. When you compare our offers, you can filter "In Terminal" to see all the offers we have that are inside the terminal. 
What is the cheapest car to rent?

The cheapest car to rent is the Fiat 500, Volkswagen Up and Fiat Panda. 
Can I add a driver to my booking?

You can always add a driver to your booking when finding your car hire deal on Orbit Car Hire. If you have already made a booking, you can contact us to add the additional driver. You can also add a driver to your booking when you pick up the vehicle. 
What payment methods are accepted?

You can pay with a debit and credit card when booking with Orbit Car Hire. We accept Mastercard and Visa. 
Can I drop off my car at a different location?

Yes, you can. When you look for car hire deals on our webpage, you can press "Yes" to "Different drop-off location" and see all the best deals for one-way car hire. 
How can I add a flight number to my booking?

You can add a flight number on our webpage when booking. If you already have a booking, email us at customerservice@orbitcarhire.com, and our customer service will add your flight number to the booking. 
Do I have to pay for toll roads?

If you drive where toll roads are required, you are responsible for paying for the toll roads on which you drive the rental vehicle. 
What does deductible mean?

If a rental car is damaged or even stolen while on rent, there will be a limit to how much the renter has to pay to repair or fix it. Excess (also known as deductible) is a name for the amount that has to be paid. This excess is different between countries and car rental companies in each country. Depending on the car rental company, this can include fire, vandalism, theft, or loss of use while the car is being repaired. You can read more about deductibles right here.
What is a Collision Damage Waiver?

Collision Damage Waiver, or CDW, is a basic car rental insurance offered to renters by a car company. CDW limits your financial liability in case of damages to the body of the hired vehicle with an excess. The driver is responsible for paying for the excess, but the car rental company waives the rest of the cost. This excess can be different between rent a car company.
What is Theft Protection?

Theft Protection is a car rental insurance that car rental companies offer. It protects the renter up to a certain amount from the risk of stealing the rental car or somebody trying to steal it. An excess, also known as a deductible, comes with each Theft Protection. This excess is the limit to what the renter would have to pay if the car is stolen or if somebody tries to steal it.
Which brands can I compare with Orbit?

With Orbit Car Hire, you can compare car hire with all the major car rentals like Europcar, Enterprise, Alamo, Sixt and Budget. You can also compare over 100 local companies from all over the world. 
Find The Best Car Hire Companies In Toluca