Wondering why Greece is one of the most popular destinations in Europe? Well, for those who want to explore the cradle of European culture while enjoying beautiful beaches and islands while getting a tan near the Mediterranean Sea, it doesn't get much better than Greece. Should we add that summer is the ideal time to visit? What are you waiting for?
Almost everyone agrees that the best time to visit Greece is between April and July and from September to mid-October. If you don't mind the busy season with higher prices, lots of tourists and heat waves, you can also visit in August. However, for those who want to enjoy sightseeing and lying on the beach without hordes of people around, August is to be avoided.
How to get to Greece
You can travel to Greece by train, plane, boat, car or a combination of all of these, which means that getting there is relatively quick and easy. Greece has excellent infrastructure, with more international airports than most countries, frequent ferries and main roads connecting the country to the whole of Europe and Asia. Therefore, getting to your final destination is really not a problem, nor is exploring small villages and large cities. If you want, you can even hop between islands during your visit to Greece. The best way to experience the islands is to rent a car and explore them at your own pace.
Why travel to Greece?
More than 31 million tourists visited Greece in 2019, and one of the main reasons for its popularity is the Greek climate. A second reason is the ease of getting there. Here are a few more:
Because of the diversity. Greece is a small world in itself. It has stunning beaches, beautiful islands, mountains and forests, castles and ancient ruins. It's easy to see why so many photographers and fashion designers use views of Greek islands as backdrops.
Because of the islands. It has so many islands that even the Greeks can't agree on the number. Some say 1,200, others say more than 5,000, but who cares? The bottom line is that there are at least 200 of them that are inhabited, and each one offers a place where you can relax your body and soul. Lie under the sun and enjoy the sea. What more could you ask for?
Because of the history. There are not many places where you can enjoy as much ancient history as in Greece. Did you know that when a subway system was built in Athens, so many ancient artefacts were found that special museum pieces were displayed in an Athens subway station?
Because of the people. Greeks are friendly, kind and warm and are used to having many tourists in their country. They will often invite you for a drink or two and discuss politics, food, love and life with you.
Because of the food. Enjoy aromatic cold-pressed oil, delicious olives, homemade feta cheese, fresh seafood, epic tzatziki, delicious Greek yoghurt with honey for dessert or sweet baklava ... Greek cuisine is definitely one of the reasons why this country is so popular, especially among foodies. Remember, if a Greek offers you food, don't say no. Ever. They consider it very rude, especially if they cooked it for you themselves. The last thing you should know when visiting Greece is that Greeks eat very late in the evening, so it's not uncommon for restaurants to open well after 9 pm.
Because of the nightlife. This country is famous for its intense nightlife, which doesn't just happen on the weekends, but almost every day until the early hours of the morning. There is a saying that Greek cities never sleep, so be prepared to not get much sleep there either.
Island hopping
By now, I'm sure you're in the summer vacation mood, so check out the following destinations that are number one if you're looking for a wonderful and memorable vacation. Yes, you guessed it. We're talking about Greek islands.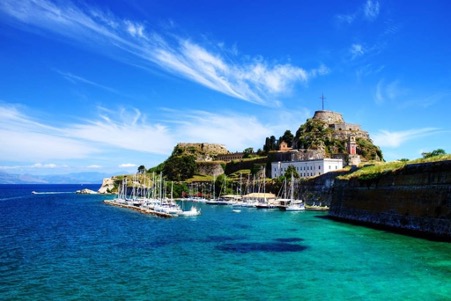 Crete
You have surely heard about this island. It is the largest island in terms of area and the most populous in Greece. It has an elongated shape defined by a high mountain range consisting of three mountain groups. It has four airports and a road network that will take you virtually anywhere. Popular tourist attractions include archaeological sites, the Venetian castle in Rethymno and Palm Beach of Vai, which is the largest natural palm forest in Europe. If you're a wine lover, you'll want to visit Lyrarakis Winery in Heraklion, a family winery that has been making varietal wines since 1966.
Corfu
Corfu is the perfect island for all ages and especially for families as it offers many sights, attractions and activities. As we said, Greece has a lot of history and the old fortress has preserved the old town of Corfu within its impressive walls. The buildings there are stunning and the views from them are amazing, so be sure to plan a visit. If you walk from the Old Fortress, you will find a large square called Spianada, which is said to be one of the liveliest squares in all of Greece, with many restaurants, bars, and souvenir shops. After all that travelling around the island you'll be hungry, so try the famous Corfiot dishes like bourdeto (fish stew with pepper) and patsitsada (meat and pasta).
Zakynthos
If you love beaches, check out Shipwreck Bay, which is only accessible by boat. If you plan on lounging there, be sure to bring all the necessities as it is a secluded bay with no facilities. If you are looking forward to crazy nightlife, Lagana's village is the place for you. It is said that the nightlife here is as good as Ibiza's. A mile-long, neon-lit avenue is full of venues, including regular bars, karaoke bars, and clubs that fly in international DJs throughout the summer.
Mykonos
This island was once one of the poorest Greek islands, but in 1960 it became a bohemian mecca and is now a famous cosmopolitan island in Greece, with trendy bars, hip hostels, stylish boutiques and a gay-friendly environment. This island is all about energy. During the day it's all about water sports; you can go jet skiing, windsurfing, scuba diving or snorkelling, and in the evening and at night you can party like there's no tomorrow.
Skyros
This place is perfect if you're more on the alternative side and looking for a holistic holiday. It's also great if you're travelling alone. This is the most remote and undeveloped place on Sporades Islands and a must for yoga lovers and those who want to recharge their batteries by sketching, painting, singing and dancing. The sense of peace and serenity you get on this island will last much longer than your tan, so don't hold back.
Looking for more information about travelling to Greece? Look no further!