Discover the beauty of Gran Canaria with our car hire guide. Explore the island hassle-free. Your ultimate resource for driving in Gran Canaria.
Gran Canaria – is also known as a 'miniature continent' or 'the island of eternal spring' due to its different climates and landscapes with long sandy beaches, mountain roads, white dunes and blue skies. The island is the third-largest island of the Canary Islands. It is a part of Spain, located off the Atlantic coast of Northwest Africa.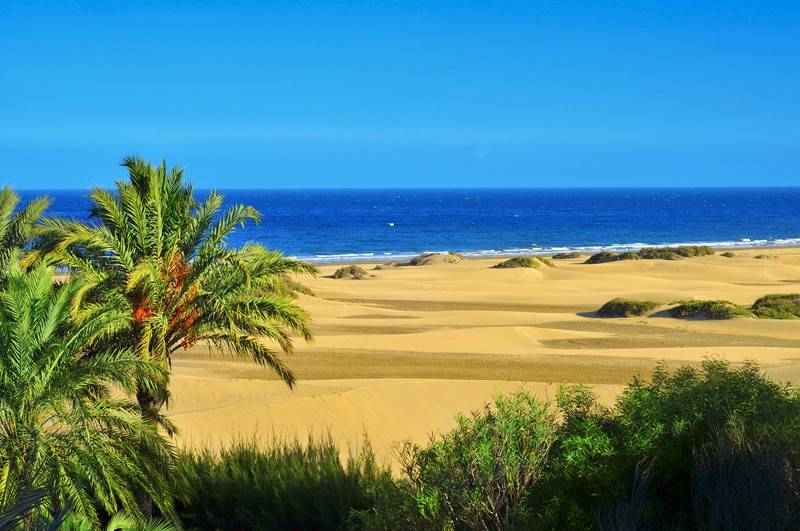 What Is the Best Time to Visit Gran Canaria?
What is the best time to visit the island of Eternal Spring? The summers are pleasant and not too hot, the winters are mild with lots of sunshine with temperatures during the day at around 21°C on the coldest month, February. Let's break it down and help you decide when to plan your next visit to Gran Canaria.
Summer
The summer months in Gran Canaria will welcome you with high temperatures up to 30°C with sun almost every day. It can get a little crowded since most European countries choose this destination as their holiday. You can expect a slightly warmer sea, but it is still the Atlantic after all, so at most, the water will be at around 23°C.
Winter
The winter months are a popular time for a visit when most of the world is fighting off sub-zero temperatures and snow. You can dip in the ocean and bathe in the sun in the southern part of the island. Winter is an incredibly excellent choice if you are a fan of surfing!
Fall and Spring
Late spring and early fall are the most popular and best months to visit, with temperatures between 23°C and 25°C and fewer crowds. If you want a short getaway, opt for spring or fall!
How Should I Get Around the Island?
Getting around Gran Canaria could not be easier than with a car – the roads are well maintained, and the island is so tiny you need only a few hours to drive across the island. However, with the rich choice of attractions, beautiful beaches, natural parks, historic towns and cultural sights, we recommend staying there for at least seven days – if nothing else, to at least give yourself a day or two to lay under a beach umbrella and look at the turquoise sea. They drive on the right side of the road, like most of the rest of Europe – with steering wheels on the left-hand side as well.
Driving in Gran Canaria
How Easy Is It to Drive Around in Gran Canaria?
As mentioned above, driving in Gran Canaria is straightforward; the island has a well-maintained network of roads, including highways that connect different parts of the island and mountain roads to reach more secluded attractions and rural areas. Driving in the mountains can present a challenge with winding roads and narrow bends, so you should use extra caution.
These mountain roads are normal for locals, so they speed through them faster than tourists. The locals tend to get nervous when driving behind tourists, so it is polite to pull over if you see a queue behind you to let them pass.
When entering and exiting roundabouts, you should use extra caution since Spanish drivers don't tend to use turn signals in these situations and aren't too fond of using the inside lane of the roundabout. The same goes for safety distance – your safety distance might be mistaken for free space and overtaking, so keep your eyes out for drivers trying to overtake at all times – especially on highways. Speaking of highways, driving in the middle of the three lanes might sound like a safe choice, but don't be surprised if you get yelled at by a police officer with a megaphone. Drive with respect to the laws, as the middle and left lanes are only for merging and overtaking.
The police carry out regular roadside checks with breathalyser tests – Blood Alcohol Content limit in all of Spain is 0.5g, and fines start at around 500€. Refusing an alcohol test might even result in a prison sentence, so getting a taxi or bus (both very easy to get and cheap in Gran Canaria!) is a smart choice if you intend to drink.
Do I Have to Pay Any Tolls?
No! All roads in Gran Canaria (and other Canary Islands) and freeways are free. There are no toll roads like in Southern Spain and as we are often used in the rest of Europe.
What Are the Speed Limits in Gran Canaria?
Speed limits in Gran Canaria, as in the rest of Spain, can vary depending on the type of road and the location. The typical speed limits in Gran Canaria are as follows:
Urban Areas: The speed limit within urban areas or towns is usually 50 kilometres per hour (km/h) unless otherwise posted. You may encounter lower speed limits in some areas with heavy pedestrian traffic or specific road conditions, so watch for signs.
Non-Urban Roads: The standard speed limit on roads outside of urban areas is typically 90 km/h. However, this can vary based on road conditions and signage. Some non-urban roads may have lower speed limits due to factors like curves, intersections, or other hazards.
Motorways: The maximum speed limit on motorways (autopistas) in Spain, including those in Gran Canaria, is typically 120 km/h. Some sections may have lower limits posted due to construction or other factors.
Special Zones: In certain areas, such as school zones or areas with high pedestrian activity, signs may indicate reduced speed limits.
Additionally, it's worth noting that Spain uses the metric system for speed limits, so speeds are given in kilometres per hour (km/h). If you're accustomed to miles per hour (mph), you can convert these speeds for better understanding.
Where Can I Park?
Free parking in Gran Canaria is hard to find around touristy areas and attractions, especially beaches. Free parking around residential areas can be easier to find with on-street parking if you have some patience, but even those are becoming Blue Zones, which allow free parking only for a limited time. Usually, one hour or on-street paid parking with ticket machines.
In general, paid parking isn't too expensive in Gran Canaria, usually less than 1€ for an hour, and around 6€ for whole-day parking, usually on and around famous beaches.
In smaller towns like Mogan, prices are cheaper than parking in Las Palmas. Meters usually offer payment by minute if you want to avoid committing to another hour! In Las Palmas, you will also find a lot of covered garages, where the price goes up a bit, but it is still not a head-spinning increase.
How Far in Between Are Gas Stations?
There are numerous gas stations in Gran Canaria, so you won't have trouble finding one as you explore the island. You can typically find gas stations in urban areas, along highways, and near major tourist destinations. Here are a few major gas station chains you might come across: Repsol, Cepsa, BP, Shell, Galp,
Additionally, there are independent gas stations as well. It's a good idea to keep an eye on your fuel gauge and plan your stops accordingly, especially if you're travelling through remote areas and mountain roads – you don't want to get stuck here. Most gas stations in Gran Canaria accept major credit cards for payment, and you can often find convenience stores, restrooms, and other services at these locations.
Renting a Car in Gran Canaria
When Are the Prices Best to Rent a Car
On average, the best prices of cars to rent in Gran Canaria will be during the summer months, from April until September. If planning your trip to the Canaries, your best option for a rental vehicle would be to make your reservation 1-6 months ahead. More or less than that, you might find yourself with higher prices.
Stay active and look for price drops even if you already have a reservation because those tend to happen. You can grab yourself a last-minute deal!
*Disclaimer: Prices were fetched in October 2023 and can change due to car supplier policy.*
Can I Rent a Car in Gran Canaria?
Requirements for renting a car are similar to the rest of Europe. Still, some agencies might have specific policies you must abide by, so you should always read the terms and conditions before your rental to ensure you have all the necessary documentation to avoid any problems when collecting your rental vehicle. Generally, you will need to meet the following requirements:
Age requirement: Most agencies accept drivers from 18 to 99 years old, but an additional fee for young or senior drivers will usually apply.
Driver's license: You must always present a valid driver's license when renting your vehicle. In some cases, an additional fee of 5-10€ will apply also if you hold your license for less than 1-3 years. If you are a non-EU citizen, you will typically need an International Driving Permit and your local driver's license.
Credit card: In most cases, the agency will require you to have a valid credit card to make the security deposit in case of any damages to the vehicle. You must be cautious because debit cards or cash are often not accepted to make the security deposit.
Identification: Make sure to have your passport or identification card of your country of residence if you're an EU resident with you. Otherwise, you will not be able to collect the car.
Additional drivers: If you plan to add any other drivers to your rental, ensure you all have all the necessary documentation, such as driver's license and identification documents.
You must read the terms and conditions when booking or ask before your rental to ensure you meet all the requirements and avoid problems when picking up your car at the agency. You want to make sure your trip is good!
How Am I Insured During My Rental?
When renting a car in Gran Canaria or any other location, some standard insurance coverages are typically included in the rental cost. These may vary slightly depending on the rental company, so it's crucial to read the terms and conditions of your rental agreement. However, the following insurance coverages are commonly included:
Third-Party Liability Insurance (TP): This insurance is often mandatory and covers damage to others and their property in case you're involved in an accident. The minimum legal coverage in Spain is typically included, but checking the specific limits is a good idea.
Collision Damage Waiver (CDW): CDW is an essential insurance in most rentals. It covers damage to the rental car in the event of an accident. However, it often comes with an excess amount (deductible), which means you're responsible for a specific portion of the repair costs. You can reduce the excess by purchasing additional insurance or a waiver at the rental counter.
Theft Protection (TP): This insurance covers theft of the rental car or damage due to attempted theft. Like CDW, it may come with a deductible.
With us, you can also purchase Premium Coverage, which makes it possible for us to reimburse you in case of any charges due to damages to the rental vehicle. Premium Coverage protection waiver will cover the charges for physical loss or damage to the Rental Vehicle to the below amounts:
Excess/deductible/CDW charges for damage or theft (Up to 3,000 €);
Damage to the Vehicle body, fire, theft; windscreen and other glass, wheels, tires and hubcaps, locks, bodywork and roof which are a result of the collision (Up to 3,000 €);
Lost/damaged key cover (Up to 500 €);
Miss - Fueling (Up to 300 €);
Administration charges (Up to 500 €);
Towing expenses (Up to € 500);
It will also make your vacations stress-free!
Which Agency Should I Choose for Car Rental in Gran Canaria?
There are many options for agencies that offer rental cars in Gran Canaria. Here you can find some tips to make your rental and your trip as seamless and enjoyable as possible:
Read reviews: Start by using search engines and review websites like Google, TripAdvisor, or TrustPilot to search for car agencies in the area or the location you plan to rent. Look for agencies with high ratings and positive reviews to make your decision easier.
Check for Accreditation: Look for accreditation or affiliations with well-known industry organisations.
Compare Prices: Get quotes from several agencies to compare prices. For this, you can compare car hire by using our search engine.
Read the Fine Print: Carefully read the terms and conditions of the car rental or purchase agreement. Look for fees, mileage restrictions, and any other terms you are unsure about.
Ask questions: If you are unsure about your rental, do not hesitate to ask to be informed. You can message our customer service anytime by contacting us.
Must-Do and See in Gran Canaria
Gran Canaria is a beautiful island that offers a little bit of everything for everyone, so If you're looking for a few ideas, you absolutely cannot miss out on the below adventures and experiences:
Cactualdea: if you're looking for a unique experience, visit the largest Cactus Theme Park in Europe! You can find every imaginable cactus stretching from a few centimetres to several meters tall! After admiring the exciting landscape and walking around, don't forget to order a cactus smoothie to round up your cactus experience!
Barranco del Medio: on your way through the winding mountain roads that lead from the south to Cactualdea, you will want to bring your camera with you as you will be surprised to see a rainbow mountain made of green, orange and red stone. A little down the road, you can pull over and enjoy the colourful rocks up close and get some refreshments made from local and fresh fruit.
Arucas: near the capital of Gran Canaria, you will find a smaller town or Arucas, perfect for a little stroll and a nice view of the breathtaking Church of San Juan Bautista. Arucas is also home to Destilerías Arehucas, one of Europe's finest and oldest-run distilleries. You can book a guided tour and tasting, which will give you a fantastic insight into the production and history of rum and a chance to try different rums and find your favourite!
Las Palmas: known to be windier and a little cooler with more temperamental weather, the capitol offers a variety of things to keep you busy – sunbathing on Playa de Las Canteras, visiting the Casa de Colon, where Christofer Columbus stayed during his stops in the Canary Islands, visit the Jardin Botanico Viera & Clavijo to see some truly unique plants.
Vagueta: the old part of Las Palmas, you'll come across an ancient city with winding cobblestone lanes, charming nooks, and a rich mix of architectural designs from the late Gothic era to the Renaissance. Following a stroll, you'll discover numerous open-air terraces where you can pause and immerse yourself in the ambience of its historically rich surroundings.
Poema del Mar: if you want to immerse yourself in the ocean wildlife, spend a few hours in this enormous aquarium, the most spectacular venue in Europe, offering more than 350 species of shallow water, deep ocean and freshwater ecosystems.
Barranco Las Vacas: located in the valley of Aguimes-Temisas, in the southeast of Gran Canaria- is a genuinely breathtaking visit to the Red Canyon.
Teror: stroll through the village of Teror to taste authentic Gran Canarian architecture. Appreciate the typical Canarian balconies and cobbled streets and have traditional Canarian Potatoes with mojo rojo sauce on the Plaza de Sintes.
Puerto de Mogan: another smaller town that should be on your bucket list while visiting Gran Canaria is Puerto de Mogan, known as 'little Venice' due to its typical canals and bridges. You will also appreciate walking the streets by the port and enjoying the view of numerous colourful flower bushes all over this town – along with colourful houses that make the visit to this port town so memorable!
Maspalomas dunes: one thing you cannot miss while on the island is watching the sunset on the sandy dunes of Maspalomas. Go there an hour before the sunset, find a spot on the dune's peak, and enjoy the view around you!
Beaches: last but not least, Gran Canaria offers many beaches for many different tastes of travellers! Suppose you came here to try your hand at surfing. In that case, El Lloer, La Cicer, Arguineguin and even Las Canteras offer perfect conditions all year round for all levels of surfers. For a taste of the Caribbean, the palm trees, crystal waters and hot sand, make a trip to Anfi Beach – but be prepared for a little hike back up since parking is on the hill in the residential area. Amadores Beach is not too crowded even in high season, with affordable parking, restaurants with fantastic food and crystal blue waters! If you are looking for more of a wild beach off the beaten path, Playa de Güigüí will be the one for you.
Hidden Gems
If you're looking for some local insights and hidden gems that are not as crowded and will allow you to get a taste of the real Canary Islands, be sure to include these in your itinerary:
Guayadeque Ravine: Explore the Guayadeque Ravine, a striking natural attraction with unique cave houses built into the rock. You can eat in a cave restaurant offering traditional Canarian cuisine.
Barranco de los Cernícalos: This hidden gem is a lush canyon with waterfalls, abundant vegetation, and fantastic hiking opportunities. It's a peaceful oasis in the heart of the island.
Arico Nuevo: This charming village south of Gran Canaria is known for its white houses, green landscapes, and scenic coast views. It's a peaceful escape from the more touristy areas.
Los Azulejos de Veneguera: These are natural pools of turquoise water surrounded by volcanic rocks. It's a fantastic spot for swimming and enjoying the island's unique beauty.
Casa de Galicia(Las Palmas de Gran Canaria): This restaurant specialises in Galician cuisine, but it's a great place to try traditional Canary Island dishes like "papas arrugadas" with "mojo" sauce and fresh seafood.
Mesón el Drago(Agaete): In the picturesque town of Agaete, Mesón el Drago offers traditional Canarian cuisine focusing on fresh fish and local produce. Try their "puchero canario," a hearty Canarian stew.
Tasca El Granaino(Teror): This rustic restaurant in the charming town of Teror serves Canarian cuisine, such as "Carne fiesta" (spicy marinated pork) and "papas con costillas" (potatoes with ribs).
Casa Carmelo(San Fernando): This unassuming local restaurant serves delicious Canarian food at affordable prices. Don't miss their "sancocho canario" (salted fish stew) and "papas arrugadas."
Gran Canaria is an excellent choice for your break for its diverse landscapes, from stunning beaches to dunes and lush forests, for the year-round sunshine, so you can pick and choose what suits you best! Immerse yourself in the cultural richness, the vast array of outdoor activities, and traditional culinary delights. To make your trip easier, quicker and more enjoyable, getting a rental car is 100% the best choice!