9.4
Find the best deals in Sardinia
Cheap car hire deals in Sardinia
Find great car hire deals in Sardinia.
We can provide the best offers by comparing prices between all major car rental companies in Sardinia. With our selected partners, you will find great deals and car hire companies that provide excellent customer service and quality cars. Find a wide range of deals for economy, compact and luxury cars in Sardinia. You can compare cheap prices in Sardinia in simple steps. No hidden fees and 24/7 customer support. Cars with Unlimited Mileage, Theft Protection, and CDW insurance are included in the prices. 
What to keep in mind when renting a car in Sardinia
The minimum age to rent a car for Economy groups are 19 years old renters. Compact, Intermediate car groups are available for 21 years old renters. Full-size vans and standard car Groups are available for 25 years old renters, with some suppliers for people over 75 years of age. Young driver surcharges may apply to many car rental companies for people under 21 years of age. This information is visible in the search engine with Orbit Car Hire. Accidents are something we do not control. Therefore, it is essential to remember what kind of coverage you have. At Orbit Car Hire, you can buy additional coverage to travel around the Island without worry. In Sardinia, you drive on the right side of the road. For the countries that drive on the left lane, this can be confusing, but good to know before you begin the journey. Toll roads: In Sardinia, you will not find motorways and no toll roads.
In Sardinia, drive carefully, especially at the beginning, as it will probably take some time before you will be comfortable driving in Sardinia. Also, be careful when rain occurs. The roads can become slippery, so special attention and focus on the road will come in handy.  
Find a cheap car hire deal in Sardinia.
Book a cheap car in Sardinia and explore all of what the continent has to offer. A great way to find a car for a low price is to book in advance. At Orbit, we have made agreements with some of the best international and local brands in Sardinia for you to compare low prices for all seasons. By doing this, you are not only able to find cheap prices but also quality service to make your experience unique. 
Looking to rent a car for pleasure or business? With our search engine, you can find low prices for all categories, from economy to luxury, mini-vans to SUVs, so you can find the car that suits your trip. The search engine at the top lets you enter the pick-up and drop-off locations in the country you are looking for a one-way trip or rent a car at an airport location. You will find low prices in the search engine with no hidden fees and filter your preferred transmission type. Book online and let us help you with our customer support team by phone, email, or Live Chat. 
Best ways to travel to Sardinia
The most popular way to travel to Sardinia is by plane or by Ferry. Many airlines fly to Sicily, such as Alitalia, Lufthansa, Iberia, British Airways, Norwegian Air, Air Malta, Air France Swiss, SAS, Vueling Airlines, Austrian Airlines, Easyjet, and many more.
Information about Sardinia
Sardinia is one of the most beautiful and diverse places in Italy. Located in the Mediterranean Sea, to the west of the continent, and it is positioned between Europe and North Africa. It is a relatively large island, and many of the best things to do in Sardinia are scattered throughout the coast and inland. Sardinia feels like a place to visit for a sun-drenched vacation. As the second-largest island in the Mediterranean, there are many stunning bays and quaint little towns to discover.
It might also surprise you the staggering number of prehistoric sites, especially the enigmatic round stone towers known as nuraghi. You will learn the secrets of these prehistoric forts built in the Bronze and Iron Ages. You can also stroll the original Roman roads and see the windswept ruins of cities built by the Phoenicians. Local customs, traditional festivals, attractions you won't find anywhere else, cuisine very different from the rest of Italy, and even a different language make Sardinia a unique, friendly destination. 
Why hire a car in Sardinia? 
Renting a car means you are independent and free to explore all the beautiful and hidden places in Sardinia. You can get a car at Cagliari Airport, Alghero, Olbia, or other attractions in Sardinia. With Orbit, you can hire a car in Sardinia or anywhere in the world. With cheap prices, we make your trip even better. Book a vehicle for your next trip to our site. We offer great deals and transparent prices with no hidden extras. On our easy-to-use website, you can choose the right vehicle for your trip to Sardinia.
Fun facts about Sardinia
They have no highways in Sardinia.

Sardinia has more than 7000 prehistoric archaeological sites.

Shrouded in natural beauty from coast to coast, Sardinia's unique geographical location makes it far less prone to earthquakes than the rest of Italy.

The island represents almost a quarter of the total length of the Italian coast.

 
One-way Car Rental in Sardinia
When finding offers through Orbit and its top brands, you can pick up the car at one location in Sardinia and return to another location. A one-way fee may apply, and they are included in Orbit Car Hire deals when searching for a one-way trip. Our car rental companies in Sardinia do not offer to return the car to another country. However, you can find domestic one-way rental options.
What are the best spots to visit in Sardinia?
Sassari

Castelsardo

Alghero

Tharros

Cagliari

Olbia

Nurage Su Nuraxi

Costa Smeralda
Castelsardo, Sardinia, Italy 
Castelsardo, Sardinia
Sassari
Sassari, the second-largest city in Sardinia, is a lively university and cultural centre and has beautiful buildings in the Catalan Gothic, Baroque and Neoclassical styles. Stroll down Corso Vittorio Emanuele II, the main street from the Middle Ages, and see the ancient porticoes and windows of Spanish-era houses five centuries ago. The Museo Nazionale Sanna, one of the most important museums in Sardinia, exhibits archaeological collections of Nuragic bronze figures, jewellery, and Roman artefacts. Don't miss the Duomo, the façade of which is a riot (you could say a jumble) of 17th-century ornamental styles created from Milan masonry. A few other churches are worth seeing when they are open, but the most memorable of all stands almost alone in a landscape of grazing sheep about 12 kilometres south of Sassari. The black and white striped tower soars over the church and the ruined cloister of the Santissima Trinità di Saccargia, the most beautiful example of Pisan architecture in Sardinia. If you are lucky enough to find it open, there are frescoes from the 13th century.
Castelsardo
The little fishing village, with its pastel-coloured hilltop houses, pales compared to the medieval village within the above walls. At the top is a 12th-century castle with a good museum exploring the local artisan speciality of basket weaving. The narrow streets around the castle wind steeply downhill and break into steps at the steepest points. On the doors, you can see women weaving baskets with intricate patterns. The view from above stretches in both directions along the coast and into Corsica. The cathedral, in the small square below, houses one of Sardinia's most beautiful 15th-century altarpieces, delicate wood carvings in the choir, and a crypt. Its bell tower started as a beacon.
Alghero, Italy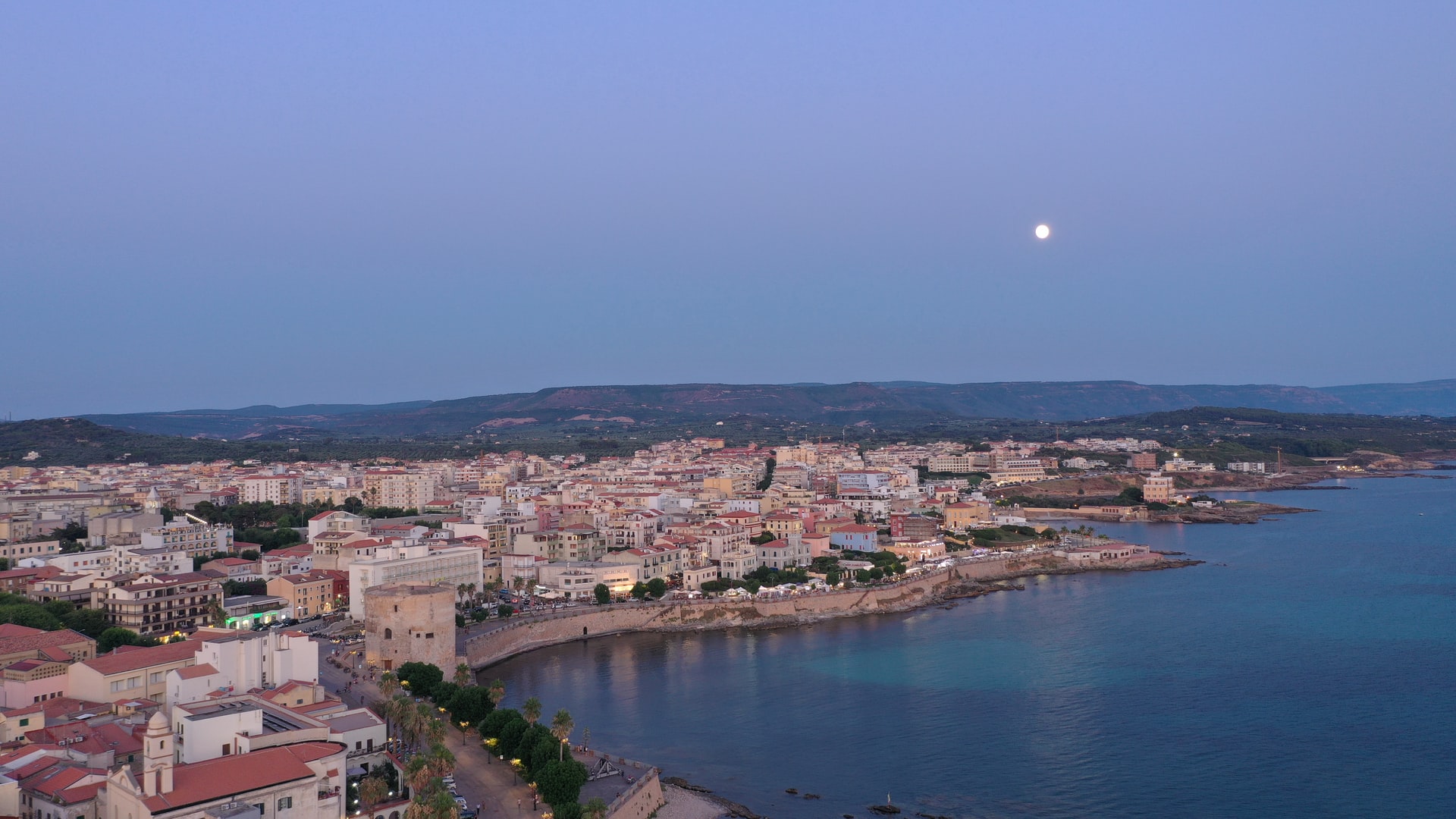 Cabo Caccia, Alghero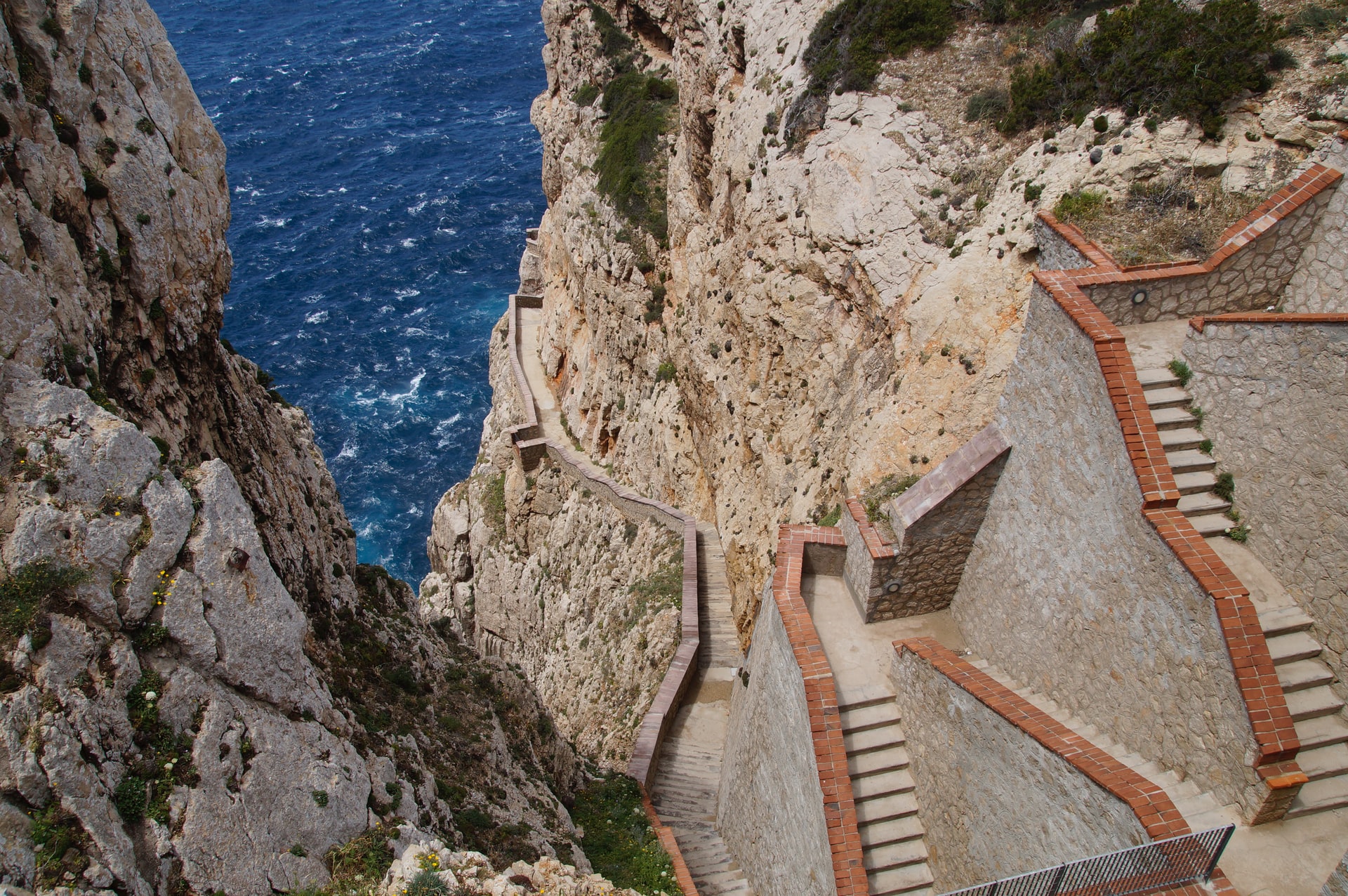 Alghero
Alghero is a trip to another world. Different in language, they speak a Catalan-Spanish dialect, different in colours and culture. Spanish-looking architecture is the main feature of the city centre. The beautiful old churches and the numerous terrestrial sanctuaries typical of the place are worth a visit. Fascinating archaeological sites from the Nuragic period can be visited anywhere in the city. More than 30 beautiful beaches welcome tourists from all over the world. Sandy beaches, rocky coasts, islets and natural parks complete the beauty of Alghero and its territory. You can also take short trips from Alghero to charming places like Sassari, Porto Torres and Asinara.
Tharros
At this rocky point, walk through the stone remains of the Phoenician, Carthaginian and Roman cultures and try to imagine what it was like when the Roman streets were full of shops under your feet, where all you see are foundations and doors. The columns of the baths remain together with parts of the aqueduct and the temple; The amphitheatre overlooks the sea. On the hill above, there is a Phoenician necropolis. To get an idea of ​​what archaeologists have found here, visit the excellent Museo Civico Giovanni Marongiu in the town of Cabras, which displays carved stone stelae, burial urns, and other finds placed as they were initially found. You can see more of the treasures discovered here at the Museo Antiquarium Arborense in the small town of Oristano, also nearby. The Cathedral of Santa Maria in Oristano dates back to the Middle Ages,
Cagliari, Sardinia - The Elefant 
Olbia, Sardinia
Cagliari
Most tourists start their visit in the island's capital, stopping at least to reach the bastion of Saint Remy from Piazza Della Costituzione. Built to defend the Castello district, the site of the beautiful cathedral and fortress of those who controlled the city at the time, they now offer a historical and visual perspective with expansive views over the city and the bay. The southern coast of this island offers tourists an idea of ​​the infinite diversity of Sardinia. From the medieval streets and high bastions of Cagliari, it is only a few kilometres to the ruins of the ancient city of Nora, where the Phoenicians, Carthaginians and Romans had their trading posts. Head east from the city, and in minutes you can sunbathe on one of the legendary beaches that make Sardinia one of Europe's most popular summer playgrounds.
Olbia
Not far from the coastal path, exploring Olbia is one of the best things to do in Sardinia if you love history. Olbia may be small, but it is full of historical places to explore. Once you get here, visit the Archaeological Museum of Olbia. There you can find everything from Roman ships to ancient artefacts. It's a fantastic little place to explore when you feel like spending some time out of the sun.
Most popular cities in Sardinia

Most popular destinations in Sardinia

1 Alghero

2.Olbia

3.Cagliari

4.Carbonia

5.Nuoro

6.Budoni
FAQ
What you need to know about renting a car
What do I need to rent a car in Sardinia?

A credit card in the name of the main driver needs to be presented. A security deposit may be required while renting a car so the credit card must have sufficient funds. You can find details about the security deposit listed while booking the vehicle as well as on your voucher. It is important to have a valid driving license with the name of the main driver as well as additional drivers when it applies. An International Driving Permit is required in addition to a National Driving License if the National Driving License you or any of the Additional Drivers hold is not identifiable as a Driving License, eg, it is in a non-Latin alphabet (eg Arabic, Chinese, Cyrillic, Japanese). It can also depend on the country or car rental company you are renting with. If you have found a car on our website, you can press the rental terms link from the supplier for more information about driving license requirements. You will need to have identification with you such as a passport and ID cards. When you pick up your rental car you need to have your voucher with you.
How old do I need to be to rent a car in Sardinia?

The minimum age to rent a car for Economy groups are 19 years old renters. For Compact, Intermediate car groups are available for 21 years old renters. Full-size vans and standard car Groups are available for 25 years old renters. With some suppliers for people over 75 years of age. Young driver surcharges may apply to many car rental companies for people under 21 years of age.
Do I need car insurance in Sardinia?

Insurances are very important when renting a car and can be different between countries. When renting a car in Sardinia with Orbit Car Hire the prices will include mandatory insurances in the country.
Do I need a credit card to rent a car in Sardinia?

In most cases, a credit card is required to be presented in the name of the main driver. A security deposit may be required when renting a car so it is important to have sufficient funds on the credit card. When searching for a car at Orbit you can see credit card requirements from all our suppliers.
Do I need an international driving license in Sardinia?

Drivers license issued in Sardinia or within the European Union does not have to provide an international drivers license. For drivers with a license issued outside of the EU will need to have an international driving license as well as your standard driving license. You must have both licenses with you at all times while driving a car in Sardinia.
How do I find the cheapest car hire in Sardinia?

You can find cheap car hire by comparing prices with all major car rentals at Orbit Car Hire. A good idea can be to book in advance as the prices can increase closer to the travel period.
What is the cheapest rental car in Sardinia?

You will find the mini car category or economy cars to be the cheapest car categories. Vehicles such as Fiat 500 and Fiat Panda often provide the best prices.
What is the best car rental company in Sardinia?

You may find excellent service provided by companies such as Europcar, Enterprise rent a car, Sicily By Car, Ecovia and Locauto.
What types and makes of rental cars deals can I find in Sardinia?

You will find car types such as mini, economy, compact, Full-Size, and luxury cars. Popular rental cars are Fiat Panda, Opel Corsa, Renault Clio, Fiat 500.
Does my rental car have unlimited mileage when I book it for Sardinia?

Most car rentals in Sardinia offer unlimited mileage in their offers.
Where to rent a car in Sardinia?

You can rent a car in Sardinia in all cities. The most popular places to rent a car in Sardinia is at the airport, they are Alghero Airport, Cagliari Airport and Olbia Airport
Do I need a car in Sardinia?

You can travel around Sardinia without a car. However, it will delay your holiday as public transportation can take its time. The ideal way to explore Sardinia is with a car.
Best of Sardinia
Most Popular Cities
Car Hire Locations in Sardinia
3 location(s) found