If you're thinking about taking a road trip, our advice is Portugal! And why? We name just three things that make Portugal worth the trip: The sunsets here are incredible, the food is super delicious, and the wine is heavenly. Period. We recommend renting a car in Faro and driving down the coast to Lisbon. Trust us; this road trip needs to be on your bucket list.
In this blog, we will go over the perfect road trip from Faro to Lisbon
Top 5 stops on your road trip from Faro to Lisbon
Lagos

Aljezur

Sines

Setubal

Lisbon

Faro - the perfect starting point for your trip
Top 5 stops on your Portugal road trip from Faro to Lisbon
Your adventure begins in Faro. You might already know everything you need to know about Faro. Now we'll take you from city to city, ending your journey in Lisbon - the alpha-level cosmopolitan city.
Find the best car hire deal here
Lagos
It takes an hour to get from Faro to Lagos. Lagos will charm you with its alluring sunset, phenomenal beaches and eye-catching nightlife. Lagos should be at least a day stop. Visit Potada Piedade and admire its cliffs and towers, orchids and lighthouse. For beach hoppers, Meia Praia on the east side of town is a must. If you have rented a car, it should be no problem to explore the entire coastline around Lagos. It would be a sin to miss all the charming fishing villages and lesser-known beaches. Where to eat: To get a taste of the local cuisine, stop by Chico Ze. They serve the best sardines in the world. Fuel consumption from Faro to Lagos: 10 €.
Aljezur
This charming village is located 30 km north of Lagos. Aljezur is worth a visit for many reasons; wild coastline, picturesque countryside and a collection of Moorish ruins dating back to the 10th century - to name but a few. Near Aljezur you will find some spectacular beaches that form part of the Alentejo and Vicentine National Park. Where to eat: Traditional Portuguese Food is served at Pont a Pe Restaurant. Their fish stew is out of this world. Toll and petrol: 4€SinesOtherwise Portugal's most industrial port is also rich in history and heritage. For all history buffs, the Sines Museum and the historic centre of Sines are a must-see. The birthplace of Vasco da Gama will also surprise you with the World Music Festival - the most famous music festival in Portugal. Visit Praia de Sao Torpes, Blue Flag excellent beach. Where to eat: Have you had enough fish? Adega de Sines serves the best chicken wings and fries. Fuel consumption from Aljezur to Sines: 10€.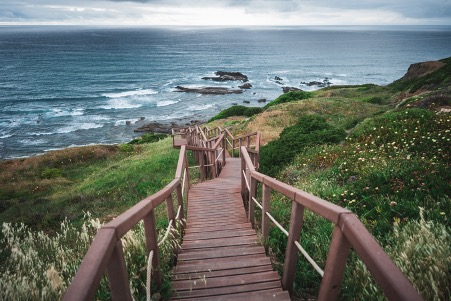 Setubal
Setubal is a place where civilization meets wilderness. Setubal is an old fishing town that will surprise you with its lively coastline and pristine beaches. If you are one of the quiet-seeking travellers, you will fall in love with the natural parks of Tagus and Sado. In the heart of Portugal's richest wine-growing region, you will find the charming old town of Palmela with its grandiose Castelo de Palmela. Visit its food market Mercado do Livramento, considered the best in Portugal or enjoy the breathtaking panoramic view over the city on the Fortaleza de Sao Filipe. Best local food: Perola da Mourisca is by far the best fish restaurant. But they also prepare the most delicious stuffed peppers and black pudding with jam. Toll and fuel consumption: The drive from Sines to Setubal will cost you about 18 € for 127 km.
Lisbon
Congratulations - you have reached your destination - the "larger than life" city of Lisbon. Lisbon is Portugal in your pocket, and it has it all: alluring hillsides, ancient ruins and medieval castles, pink sunsets, great wine, begonia-blooming streets, and a vibrant nightlife. What to eat: Enjoy your "bachalhau" and "sardinhas assadas" at one of the many friendly restaurants. We recommend Taberna Sal Grosso. Consumption costs from Setubal to Lisbon: 14 €.
Faro - the perfect starting point for your trip
Faro as the capital of the Algarve region is unjustly overlooked - most tourists just drive through quickly, which is a shame because Faro has a lot to offer. The nightlife in Faro is vibrant, the historic old town is charming with plenty of pavement cafes and restaurants, and the nearby beaches are as captivating as any in Portugal. All you need to do is rent a car and you are ready to go.
Looking for more information on a car rental? Read this article with all the information you need about DVLA codes.