These days it's all about your baby, toddler or worse - a teenager! Going to the beach is a process. You need to pack diapers, toys, and all sorts of games to keep your little one occupied, and make sure you have tons of sunscreen, water, and snacks. But most important of all, find the best beach.
Top 5 beaches in and around Faro for kids
Since you're here, we know you're planning your vacation in Faro, and we're here to tell you that we've made it easy. We've made a list of the top 5 beaches in Faro for you and your family.
Albufeira
Albufeira can be the perfect family beach. There is a cafe on the beach; you can rent umbrellas and chairs, there are public toilets and last but not least - there are tons of shells for your toddler to scoop. However, we want to remind you of just one thing - it can be very crowded and noisy as hundreds of families are here.
Lagos Meia Praia
Lagos Meia Praia is also a very social beach with many bars and restaurants. It is suitable for families with young children or teenagers as it offers a range of activities, such as surfing or kayaking. If you rent a car in Faro, it will take about an hour to get to Lagos.
Praia do Ancao
Praia do Ancao is another famous family beach where you and your kids will feel safe. You don't have to worry about snacks and drinks; there are plenty of beach bars and restaurants. Praia do Ancao even has its lifeguards. And you don't have to worry about space either - there's enough for everyone.
Carvoeiro
Carvoeiro is a beach where you and your kids can explore rock pools and caves. Crystal-clear waters and sand make it a perfect family beach. There are also many souvenir shops nearby if you feel like shopping.
Praia de Odeceixe
Praia de Odeceixe is an expansive sandy beach that you and your family will fall in love with. Your bored teenager can take a surfing lesson at the surf school here while you enjoy your brunch.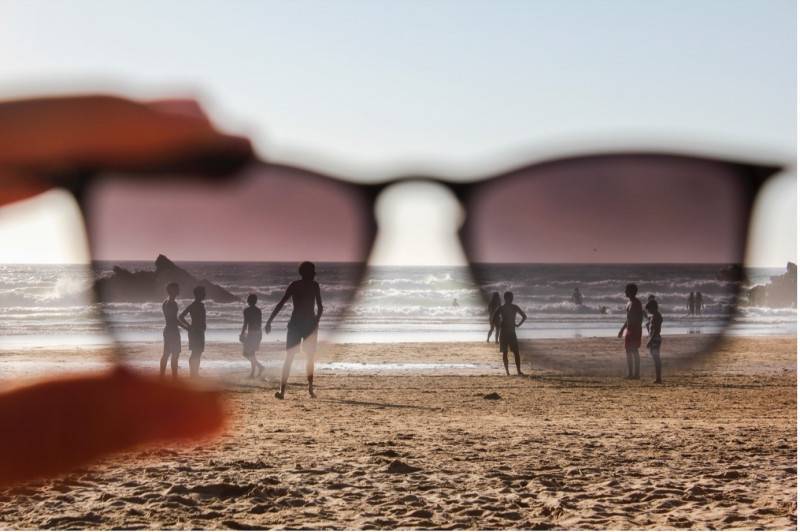 Activities for children in the district of Faro
Portugal offers all kinds of activities for families; the Algarve region is particularly suitable for families with young children. If you are staying in Faro for an extended period and your children have had enough of exploring the beach, it may be time for you to take them to an amusement park.
One of our favourites is Zoomarine - a water theme park with dolphin shows, the rainforest and water slides. The Aquashow Park and XFlow Surf Spot Portugal are a must for an adrenaline rush.