9.0
Find best deals in Fredericia
Cheap car hire deals in Fredericia
About Fredericia
Fredericia is a charming town in eastern Denmark, nestled between the Little Belt and the larger city of Vejle. With its rich history, beautiful architecture, and stunning natural surroundings, there are plenty of things to do and see in this hidden city gem. One of the best things to do in Fredericia is to explore its many parks and green spaces. The town has several parks and gardens, including Madsby Park, a large recreational area with playgrounds, picnic areas, and a lake. Another must-visit is Fredericia Vold, a historic fortification turned into a scenic park and nature reserve.
Foodies will love the culinary scene in Fredericia. The city has several top-rated restaurants and cafes, serving everything from classic Danish dishes to international cuisine. Seafood lovers should try the local catch of the day, while those with a sweet tooth will want to sample the town's famous ice cream, made with locally sourced ingredients. Culture vultures won't be disappointed with Fredericia's many museums and cultural attractions. The town's historic fortress is a must-see, and visitors can also explore the Fredericia Theater, one of Denmark's oldest theatres, which dates back to the 18th century. Other popular cultural attractions include the Trinitatis Church, a beautiful 17th-century church, and the Fredericia Kunstforening, an art gallery showcasing the works of local artists.
Finally, visitors to Fredericia can take advantage of its proximity to the coast and the countryside. The town is just a short drive from several stunning beaches, including Hejlsminde Beach and Børkop Beach, where visitors can relax in the sun or dip in the sea. The surrounding countryside is also perfect for outdoor activities like hiking and cycling, with several scenic trails and bike paths. In short, Fredericia may be a small town, but it has plenty to offer visitors looking for a unique and authentic Danish experience. Whether you're looking to explore its rich history and culture, indulge in its culinary delights, or soak up the beauty of its natural surroundings, this hidden gem of a city is well worth a visit.
Basic info and car hire in Fredericia
Location: Denmark
Population: 40,886
Official language: Danish
Currency: the Danish Krone
Weather: The climate here is mild and generally warm and temperate. Fredericia has a significant amount of rainfall during the year.
Internet coverage: Hotels, bars, restaurants, and cafés offer Wi-Fi.
Road conditions:  Most roads in Fredericia are in good condition.
Car hire in Fredericia:  The most common pick-up point for vehicles in Fredericia is at the Fredericia Downtown. Please note that prices vary frequently. Booking a car 3 to 8 weeks before your desired pick-up date is best - this will ensure you get the cheapest rental rate. Alternatively, it is also possible to find cheap last-minute car hire. Find the best deal on car hire in Fredericia!
 Driving in Fredericia
Driving a car in Fredericia is a convenient and efficient way to explore the city and its surroundings. The city's roads are well-maintained and easy to navigate, and there are plenty of parking options for drivers. While some narrow streets are in the city centre, the overall traffic flow is smooth, making driving a hassle-free experience. The city's location on the E20 motorway makes it easy to access nearby destinations like Odense, Kolding, and Vejle. Just follow Denmark's traffic laws, including observing speed limits, using seat belts, and avoiding using mobile phones while driving. With a car rental in Fredericia, visitors can explore the city and its beautiful surroundings at their own pace, free to go wherever they choose.
Age limits: The minimum age to rent a car is 21, with some suppliers for people over 75. Young driver surcharges may apply to car rental companies for people under 25. This information is visible in the search engine Orbit Car Hire.
International Driving Permit:  An International Driving Permit is required in addition to a National Driving License if the National Driving License you or any of the Additional Drivers hold is not identifiable as a Driving License, e.g., it is in a non-Latin alphabet (e.g. Arabic, Chinese, Cyrillic, Japanese). It can also depend on the country or car rental company you rent. If you have found a car on our website, you can press the rental terms link from the supplier for more information about driving license requirements. You will need identification, such as a passport and ID cards. When you pick up your rental car, you must have your voucher.
Additional papers:  A credit card in the main driver's name needs to be presented. A security deposit may be required while renting a car, so the credit card must have sufficient funds. You can find details about the security deposit listed while booking the vehicle and on your voucher. It is important to have a valid driving license with the main driver's name and additional drivers when it applies. You will need identification, such as a passport and ID cards. When you pick up your rental car, you must have your voucher.
Additional requirements:  In a vehicle, you must have a warning triangle in case of a breakdown. Winter tyres are compulsory for driving between November 1 and April 15. It's also recommended to have: Spare bulbs for your car's external lights, A fire extinguisher, A first-aid kit, A reflective jacket
Children in the car:  Children over three years and under 135cm tall must use an appropriate restraint or seat. Children under three must be placed in an approved restraint system adapted to their size.
Driving side of the road: In Denmark, you drive on the right and overtake on the left.
Lights:  Dipped headlights – or special daytime running lights, if your car has them – must be used at whatever time of day you're driving, regardless of whether it's sunny or not. This is to make sure you're always visible to other drivers so you stay safe.
General speed limits: In most built-up areas, the speed limit is set at 50km/h unless otherwise signed. Outside these areas, the limit is 80km/h. The limit on motorways varies from 110km/h to 130km/h, so check local signs to stay within the legal limit.
Car Hire in Fredericia
Most popular car hire at Fredericia
The most selected hire car in Fredericia is Ford Fiesta, with Renault Clio and Seat Ibiza also popular options. The most popular car types in Fredericia are mini, economy, and compact.
Popular Driving Routes
Popular One-Way car hire from Fredericia
Want to rent a car for a one-way trip? No worries! Orbit Car Hire offers a variety of one-way Car Hire options in many locations outside Fredericia. One-way car rental is ideal for cross-town or cross-country travel, saving time by not returning to your original location. Start your reservation with Orbit Car Hire and find great options on one-way car hire at locations across the Denmark.
Fredericia-Odense (55km with approximately 1 hour of drive)

Fredericia-Copenhagen (217km with approximately 2,5 hours of drive)

Fredericia-Aarhaus (93km with approximately 1 hour of drive)

Fredericia-Billund (50km with approximately 45 minutes of drive)
Popular day trips from Fredericia
There are several great destinations for a day trip from Fredericia. Here are some top options:
Legoland Billund: Just 30 minutes from Fredericia, Legoland Billund is a theme park featuring LEGO sculptures, rides, and attractions for all ages.
Koldinghus Castle: Located in the nearby town of Kolding, Koldinghus Castle is a historic castle now serving as a museum and cultural centre.
Givskud Zoo: A 40-minute drive from Fredericia, Givskud Zoo is a unique wildlife park where visitors can drive through the enclosures to see lions, giraffes, and other animals up close.
Middelfart: This picturesque town on the coast is known for its marina, beaches, and historic landmarks like the 13th-century Middelfart Church.
Himmelbjerget: Also known as "The Sky Mountain," Himmelbjerget is a scenic hill overlooking the beautiful Silkeborg Lakes. It's a popular spot for hiking, picnicking, and enjoying the views.
No matter your destination, a rental car from Fredericia will give you the freedom and flexibility to explore the region at your own pace.
What to see in Fredericia
Fredericia is a charming, small town on the eastern coast of Denmark. With its rich history and beautiful scenery, there's plenty to see and do in Fredericia. Here are some ideas for your next visit:
Explore the Old Town: The Old Town of Fredericia is a beautiful and well-preserved part of the city that dates back to the 17th century. Take a stroll through the narrow streets and admire the beautiful architecture.
Visit Madsby Parken: Madsby Parken is a family-friendly park with plenty of activities for children and adults alike. Take a picnic, bike ride, or try out the mini-golf course.
Discover the Town's History: Fredericia's rich history dates back to the 17th century. The Fredericia Museum and the Fredericia Fortress are great places to learn more about the town's past.
Relax at the Beach: The eastern coast of Denmark is known for its beautiful beaches, and Fredericia is no exception. The beaches in the area are clean and well-maintained and perfect for a day of sun and relaxation.
Take a Hike: The surrounding countryside of Fredericia is dotted with hiking trails that offer beautiful landscape views. Put on your hiking boots and explore the great outdoors.
Shop at the Local Markets: Fredericia has several local markets perfect for picking up fresh produce, artisanal goods, and souvenirs. The Fredericia Farmers Market and the Fredericia Flea Market are great places to browse.
Enjoy the Local Cuisine: Denmark is known for its delicious food, and Fredericia is no exception. Try traditional Danish dishes like smørrebrød (open-faced sandwiches), frikadeller (meatballs), and flæskesteg (roast pork).
In summary, Fredericia is a wonderful destination with plenty of things to see and do. Whether you're interested in history, outdoor activities, or just relaxing on the beach, there's something for everyone in this charming Danish town.
Drive your rental car beyond Fredericia
Exploring Denmark by car: Tips for an unforgettable road trip
Denmark is a small country, but it is full of charming towns, picturesque landscapes, and cultural treasures. One of the best ways to experience the beauty of Denmark is to take a road trip, where you can get off the beaten path and explore the country at your own pace. Here are some tips for an unforgettable road trip through Denmark.
Plan your route
Before you hit the road, it's important to plan your route. Denmark has a well-developed network of highways and country roads, so you can easily get around. You can plan your route using online mapping tools and estimate travel times, or you can opt for a spontaneous approach and let the road take you where it wants to go.
Take your time
Denmark may be small, but there's a lot to see and do. Do not rush your road trip or try to pack too much into your itinerary. Take your time to enjoy each destination and the trip itself. Stop in charming towns, take scenic detours, and do not be afraid to get lost on purpose.
Pack accordingly
The weather in Denmark can be unpredictable, so pack accordingly. Bring comfortable, waterproof shoes and dress in layers. Bring a swimsuit and towel if you plan to visit Denmark's beaches or dip in the ocean. Pack a picnic basket with Danish delicacies such as rugbrød (rye bread), smoked fish, and cheese.
Follow the traffic rules.
There are strict traffic rules in Denmark, and failure to follow them can result in hefty fines. Remember to drive on the right side of the road, wear your seatbelt, and do not talk on the phone while driving. When travelling by car in Copenhagen, be aware of the city's low-emission zones, which require a special sticker.
Explore off-the-beaten-path destinations
While Copenhagen and Aarhus are popular destinations, Denmark has many charming towns and hidden gems worth exploring. For example, visit the colourful harbour town of Nyhavn, the historic Viking city of Roskilde, or the fairytale village of Egeskov. These off-the-beaten-path destinations offer a glimpse into Denmark's rich history and culture.
Experience Danish cuisine
Denmark is known for its delicious cuisine, and a road trip is the perfect opportunity to sample the local delicacies. Try traditional Danish dishes like smørrebrød (sandwiches), frikadeller (meatballs), and flødeboller (chocolate-covered marshmallows). Denmark is also home to some of Europe's best beers and wines, so enjoy a glass or two with your meals.
Rent a car
The key to a successful road trip in Denmark is a rental car. A rental car allows you to explore Denmark's countryside and small towns, and it's often cheaper than public transportation. You can rent a car from major car rental agencies at the airport or in larger cities like Copenhagen and Aarhus.
In summary, a road trip in Denmark is a great way to experience the charm and beauty of the country. With these tips, you can plan an unforgettable trip that will take you off the beaten path and allow you to experience Denmark's rich history, culture, and cuisine. So pack your bags, rent a car, and embark on an adventure you'll never forget.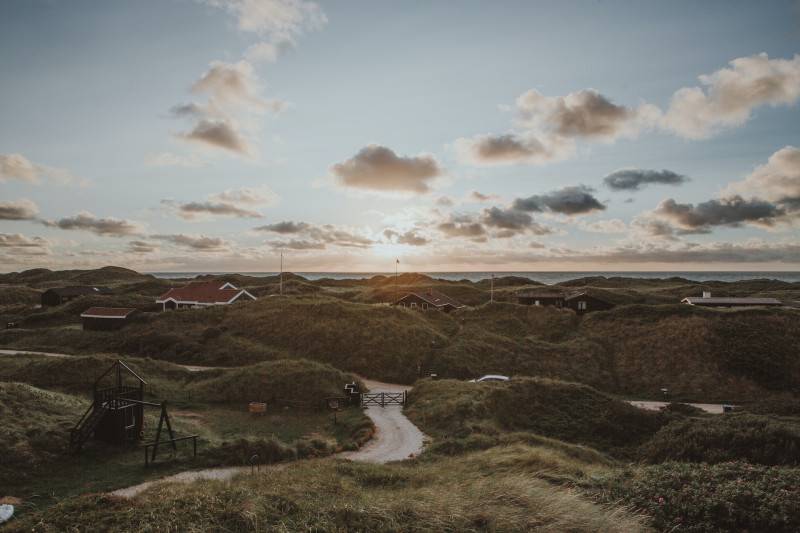 Where to eat, drink, and party in Fredericia
Fredericia is known for its fresh and delicious seafood. Visitors can indulge in various seafood dishes, such as fried fish, fish cakes, and shrimp dishes, all available at the city's restaurants. In addition, Fredericia is also famous for its traditional Danish pastries, including cinnamon rolls and butter cookies. Visitors can sample these pastries at local bakeries, cafes, and patisseries. Additionally, the city has several restaurants that serve international cuisine, including Italian, French, and Chinese, providing visitors with a diverse culinary experience.
Best restaurant in Fredericia
Ti Trin Ned
Restaurant Carlos
Cafe Mair's
Cafe Mums
Restaurant Oven Vande Ved Volden
Restaurant ene.
FAQ
What you need to know about renting a car
How to make a booking with Orbit Car Hire?

You can easily book your vehicle with Orbit Car Hire. First, you must choose the date and location of your rental in our booking form. In the next step, you can pick out the vehicle you want from the list provided. After filling out the personal information form, there is a step where you choose the payment method, and you simply fill in your credit card information. Finally, you can print out your voucher, which is needed at pick-up time.
What are the charges for security deposits?

Every car rental has a security deposit policy. You will find the information about the security deposit while booking the vehicle or on your voucher. 
What if I would like to change my booking?

If you need to change the booking you made through Orbit Car Hire. Please contact our customer support team at customerservice@orbitcarhire.com or by phone at +44 20 8089 0089. You can cancel your booking free of charge at least forty-eight hours before your rental is due to start. For further information, please read the Terms of Use. 
How do I cancel my booking?

You can cancel your booking free of charge at least forty-eight hours before your rental is due to start. For further information, please read the Conditions of Use. Our customer service team will address your requests in due time:
When do I pay for the rental car?

You pay a small deposit when making the booking as a guarantee. The remaining balance is paid when you pick up your rental vehicle. Please keep in mind that the payment at the counter is paid in local currency. 
What is included in the price?

Most of the reservations made by Orbit Car Hire include unlimited mileage, local tax, mandatory fees, and collision damage waiver. In steps 1 and 2 in the booking process or on your voucher, you can see all the details about your booking inclusions.
Are there any hidden fees?

There are no hidden charges! All mandatory surcharges and fees are presented in the 3rd step of the booking process and our Terms and Conditions. Please note that additional charges may apply for some rentals in the case of:

Out-of-hours surcharge (when picking up the vehicle outside of office hours),
One-way fee (when returning the vehicle at a different location),
The service charge for fuel (prepaid fuel policy),
Young/senior driver fee (this condition is set by the car hire company and is usually not about the regulation of the specific country),
Excess and deposit amount (before hiring, you need to make sure your credit card limit is high enough for the deposit amount to be blocked, which usually equals the excess amount or higher).

We advise our clients to read the Terms and Conditions carefully before the rental to avoid surprises. Our knowledgeable customer service agents will gladly help you with any questions via phone, email, or live chat during our opening hours.
What is a voucher, and why do I need it?

A voucher is a document that confirms your booking, the price for your booking, and the payment of your booking. It is mandatory to have your voucher with you at the time of pick-up. If you do not have the voucher at the pickup, the vehicle provider may refuse to release the vehicle to you or change the rental price.
What is an airport or premium location fee?

A Premium location/airport fee is a fee that covers the location service costs. This fee is usually included in the price but may still occur at some locations and is charged locally.
What is Premium Coverage, and how does it work?

Premium Coverage is an optional service by Orbit Car Hire that, if accepted, covers your financial accountability for damage or theft to the hired vehicle. This is not insured with a car hire company that reduces the excess amount, but a cover refunds you if the car hire company charges you for damage or theft. With this option, you will be reimbursed up to 3000 EUR. You can read the Terms and Conditions or contact us for more information.
How do I find cheap car hire online?

Prices vary frequently. It is best to book a car 3 to 8 weeks before your desired pick-up date - this will ensure you get the cheapest rental rate. Alternatively, it is also possible to find cheap last-minute car hire. 
How many countries do you compare to?

We at Orbit Car Hire compare car hire prices in over 140 countries, including popular destinations within Europe such as Portugal, Spain, Turkey, Greece, Cyprus, Iceland, Croatia, Malta, France, Slovenia, and Germany. 
What currency should I use to pay for the car?

You can pay the confirmation fee on Orbit's page in EUR, GBP, ISK and USD. When you pick up your car hire, you will pay the remaining balance in the currency in the pickup country. 
Can I rent a car from inside the terminal?

You can hire a car from inside the terminal. When you compare our offers, you can filter "In Terminal" to see all the offers we have that are inside the terminal. 
What is the cheapest car to rent?

The cheapest car to rent is the Fiat 500, Volkswagen Up and Fiat Panda. 
Can I add a driver to my booking?

You can always add a driver to your booking when finding your car hire deal on Orbit Car Hire. If you have already made a booking, you can contact us to add the additional driver. You can also add a driver to your booking when you pick up the vehicle. 
What payment methods are accepted

You can pay with a debit card and credit card when making a booking with Orbit Car Hire. We accept Mastercard and Visa. 
Can I drop off my car at a different location?

Yes, you can. When you look for car hire deals on our webpage, you can press "Yes" to "Different drop off location" and see all the best deals for one-way car hire. 
How can I add a flight number to my booking?

You can add a flight number on our webpage when you make a booking. If you already have a booking, email us at customerservice@orbitcarhire.com, and our customer service will add your flight number to the booking. 
Do I have to pay for toll roads?

If you drive where toll roads are required, you are responsible for paying for the toll roads on which you drive the rental vehicle. 
What does deductible mean?

If a rental car is damaged or even stolen while on rent, there will be a limit to how much the renter has to pay for it to be repaired or fixed. Excess (also known as deductible) is a name for the amount that has to be paid. This excess is different between countries and car rental companies in each country. Depending on the car rental company, this can include fire, vandalism, theft, or loss of use while the car is being repaired. You can read more about deductibles right here.
What is Collision Damage Waiver

Collision Damage Waiver, or CDW, is a basic car rental insurance offered to renters by rent a car company. CDW limits your financial liability in case of damages to the body of the hired vehicle with an excess. The driver is responsible for paying for the excess, but the car rental company waives the rest of the cost. This excess can be different between rent a car company.
What is Theft Protection

Theft Protection is a car rental insurance that car rental companies offer. It protects the renter up to a certain amount from the risk of stealing the rental car or somebody trying to steal it. There is an excess, also known as a deductible, that comes with each Theft Protection. This excess is the limit to what the renter would have to pay if the car is stolen or if somebody tries to steal it.
Which brands can I compare with Orbit?

With Orbit Car Hire, you can compare car hire with all the major car rentals like Europcar, Enterprise, Alamo, Sixt and Budget. You can also compare over 100 local companies from all over the world. 
Best of Denmark
Most Popular Cities