9.0
Cheap car hire deals in Parma
About Parma
Parma is a city in northern Italy, more precisely in the Emilia-Romagna region. The city has always been an important cultural and artistic centre in this part of Italy. It is the second-largest city in the region just after Bologna. Parma is famous for being one of the oldest university cities in the world. It is also known for its architecture, music, art, prosciutto (ham), cheese and the surrounding countryside.
The city was founded in 183 BC by the Romans along the Via Aemilia and was an important road junction. Thanks to this location, the city experienced rapid growth in all areas in the past. It was destroyed and attacked several times throughout history, but Parma always recovered and was rebuilt and renovated each time. Thanks to this spirit and the attitude of the locals, Parma is now a very popular destination for Italians and also for tourists from other parts of the world. There is really a lot to see and do here. You can visit various cultural, historical, religious and natural sites in Parma and you will be amazed by them. Moreover, the whole region is famous for its gastronomy. So you can be sure that you will have a perfect culinary experience in Parma.
But Parma is not only worth visiting because of the city itself, the surroundings of the city are also impressive and for every tourist and traveller, there is something interesting to see and do here. So, if you are planning a road trip through northern Italy, you should definitely put Parma on the list of destinations where you will spend a few days. Parma is also an ideal starting point for your road trip. The possibilities here are endless, you just need to make a good plan according to your own preferences and desires. The roads here are in good condition, so you will definitely enjoy the city and the whole region.
Basic info and car hire in Parma
Location: Emilia-Romagna region, Italy
Population: 198,292
Official language: Italian
Currency: Euro
Weather: Parma has a humid subtropical climate
Internet coverage: Hotels, bars, restaurants, and cafés offer Wi-Fi.
Road conditions: Most roads in Parma are in good condition.
Car hire in Parma: The most common pick-up point for vehicles in Parma is at the Parma Airport. Please note that prices vary frequently. It is best to book a car 3 to 8 weeks in advance of your desired pick-up date - this will ensure you get the cheapest rental rate. Alternatively, it is also possible to find cheap last-minute car hire. Find the best deal on car hire in Parma!
Driving in Parma
If you want to explore Parma and its surroundings properly, a rental car is the best solution for you. The best way to explore the city centre is, of course, a combination of public transportation and walking. You can easily park your car in one of the many parking garages and then explore the city on foot. The centre of the city is a pedestrian zone where cars can enter only with permission, as it is a ZTL zone. Zona a traffico limitato (ZTL) (literally: traffic restricted zone) is a traffic restricted zone in Italy. There are about 200 regulations enforced with cameras, as well as 100 environmental zones. They help protect historic city centres from excessive traffic that would otherwise make the city less attractive.
If you accidentally enter the ZTL zone without permission, you will be fined. You will have to pay a fine of between €84 and €335, which will arrive at your home within 90 days of your registration. If you pay within 5 days of registration, you will receive a 30% discount. If the fine arrives after 90 days, you will not have to pay it because it is time-barred.
It is good to know that the police in Italy are very strict. So make sure you follow all the rules and obey the traffic signs on the road. Above all, stick to the speed limits, because there are many speed checks and you can get a fine even if you are not a resident. But of course, it is good to keep to the speed limits and other rules, not only because of the police but also for your own safety and the safety of other road users
Age limits: 21 years old-25 for larger vehicles
International Driving Permit: Yes, if you are a non-EU license holder.
Additional papers: Identification(passport), a valid driving license, and valid proof of insurance.
Additional requirements: Glasses (in case you need glasses, you must always have a spare pair in the car), light bulbs (are usually already in the car and are provided by the car rental company), warning triangle (2 are required for all vehicles registered in Italy and 1 if coming from abroad), high visibility vest (recently made compulsory)- First aid kit (not compulsory, but we strongly recommend you have it with you, just in case).
Children in the car: Children up to the age of 10 may only be taken in the back seat and a suitable child seat must be available up to a height of 1.50 meters.
Driving side of the road: Right hand
Lights: Check that all lights are working, clean, and correctly aimed.
General speed limits: The speed limit in cities is 50 km/h, although in certain areas the speed limit may be reduced to 30 km/h. Main highways are limited to 130 km/h, non-major highways to 110 km/h, and local roads to 90 km/h.
Car Hire in Parma
Most popular car hire at Parma
The most selected hire car in Parma is the Fiat 500, Renault Clio or Opel Corsa. Renault Captur is also being a popular option. The most popular car types in Parma are mini and economy.
Popular Driving Routes
Popular One-Way car hire from Parma
Want to rent a car for a one-way trip? No worries! Orbit Car Hire offers a variety of one-way Car Hire options in many locations outside of Parma. One-way car rental is ideal for cross-town or cross-country travel, saving time by not returning to your original location. Start your reservation with Orbit Car Hire and find great options on one-way car hire at locations across the Italy.
Parma-Bologna (99km with approximately 1,5 hours of drive)

Parma- Brescia (117km with approximately 1,5 hours of drive)

Parma-Verona (145km with approximately 1,5-2 hours of drive)

Parma-Padova (212km with approximately 2,5 hours of drive)
Popular day trips from Parma
Parma is ideally located for many great day trips and excursions to other parts of the country that surround this beautiful city. The roads here are in good condition and you can choose different places for your day trip depending on your preferences. There are really a lot of options for every kind of tourist and traveller in this part of the country, so all you have to do is make a good plan and enjoy your trip.
Here are some of the most popular day trips from Parma: Bologna, Rimini, San Marino, Venice, Rome, Florence, Pisa, Verona, San Leo, Cesenatico, Faenza...
What to see in Parma
Parma is a unique city, especially for tourists and travellers who love art and culture. There are so many different sights to visit here that you will be simply amazed by this wonderful city. But of course, Parma is not only a great destination for culture and art lovers. There is much more to see and do, for every taste.
For example, you should visit the Galleria Nazionale. This is undoubtedly a must for all lovers of old masters. Here you can admire paintings by some of the most renowned and famous Italian painters of the past, such as Leonardo Da Vinci, Parmigianino, Corregio, etc.
If you want to learn more about the history of this region, you should visit the Museo Glauco Lombardi, dedicated to the art and history of Maria Luigia of Habsburg and her first husband Napoleon Bonaparte. Most of the artefacts date back to the 19th century, as the museum was opened in 1961.
Another tourist attraction you should visit is the Cattedrale di Parma. This cathedral was built in the beginning of the 12th century and is one of the most visited and important attractions of the city. When you enter this church, you will be amazed by some of the artwork. The highlight of the decoration is undoubtedly the colourful frescoes. And another important fact is that the entrance to this cathedral is free. Right next to the cathedral is another attraction that you should not miss when you are in Parma. The Battistero di Parma or Baptistery was also built in the 12th century and is a typical Romanesque-Gothic structure. The interior of the cathedral is truly breathtaking and you should take a guided tour where you can learn some fascinating facts about this and other buildings in the city.
Some other attractions and places you should visit in Parma are: Teatro Regio (famous for the Verdi Festival), Piazza Garibaldi, Parco Ducale, Casa del Suono, Palazzo del Governatore...
Drive your rental car beyond Parma
Parma is located in the Emilia-Romagna region, one of the most prosperous and developed regions in Europe. The capital of this region is Bologna, known for its great historical, cultural and religious sites as well as for some amazing architectural monuments, great museums and galleries and of course as one of the oldest university cities. So if you are in Parma, you should rent a car and take a road trip through this wonderful region. There are so many great cities you can visit here, such as Rimini, Ferrara, Modena, Ravenna... This is also the region where some of the most famous car manufacturers come from, such as Ferrari, Lamborghini, Maserati, Pagani, De Tomaso, Dallara and Ducati.
But there are so many other regions in Italy that are worth exploring. For example, if you have decided to stay in the Umbria region and take a road trip through it, one of the activities you should put on your wish list is undoubtedly truffle hunting. This region is famous for its truffles and truffle hunting is truly a unique experience. In the countryside, you will find many experts searching for these "black diamonds". Besides truffle hunting, you can also learn a lot about the history of the region and the daily life of the locals. The Marmore waterfalls are another sight you should not miss on your trip to Umbria. These are the largest man-made waterfalls in the world and the second-largest waterfalls in Italy. These amazing waterfalls were created by the Romans who wanted to divert the Velino River in order to use more fertile land. For this reason, the Marmore Waterfalls are one of the most visited attractions in this region. For people who prefer a more active holiday, there are many activities here, for example, rafting on the Nera River, cycling in nature, visiting the Monte Cucco Regional Park, a side trip to San Pietro
There are so many places to visit in Italy that you really need to make a good plan if you want to take a road trip through Italy. Italy is a very diverse country with so much to see and do. But one thing is for sure, there is something for every kind of tourist here. Italy is known for its fantastic beaches, amazing cities, a large number of historical, religious and cultural monuments, great gastronomy, volcanic islands, the Alps, the Mediterranean Sea, beautiful lakes and rivers, breathtaking landscapes, etc.
The capital is Rome, which of course you must see. It is considered one of the most iconic cities in the world and is certainly the most talked-about city in the history of mankind. Travelling from the north to the south of the country, you can experience so many different landscapes, people, cultures, cities and traditions that make Italy a special place. If we then add the truly rich and turbulent past of this boot-shaped country, there is no doubt that you should visit Italy at least once in your lifetime.
If you prefer winter and winter sports, then you should definitely go to the Dolomites, because there are some of the most famous ski resorts in the world, such as Cortina d'Ampezzo. However, if you are more interested in history, you should visit Pompei and other cities in the south of the country.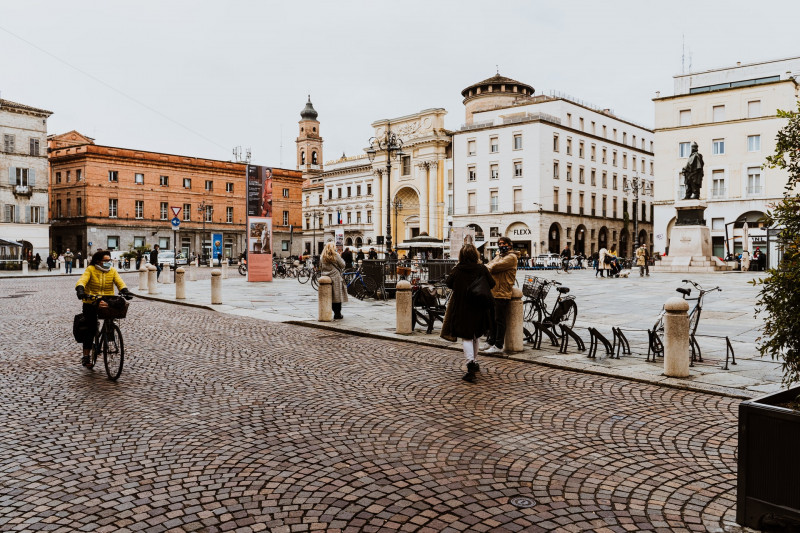 Where to eat, drink, and party in Parma
A visit to Italy certainly would not be the same without sampling some delicious Italian cuisine. Here in Parma, all foodies will get their money's worth as there are so many fantastic restaurants all over the city with different menus. You can try delicious traditional dishes from the region or opt for modern Italian cuisine. When you are in Parma, be sure to try the most famous local delicacies like Parmesan cheese and Parma ham.
There are also some delicious Italian wines that you should try. All in all, you can experience a complete gastronomic holiday in Parma. Enjoy it!
Best restaurant in Parma
Carpe Diem
Bequadro Restaurant And Sound
Ristorante Rosa Croce
Trattoria Rigoletto
La Maison Du Gourmet
Risotteria Dai C'Andema
FAQ
What you need to know about renting a car
What do I need to rent a car in Italy?

A credit card in the name of the main driver needs to be presented. A security deposit may be required while renting a car so the credit card must have sufficient funds. You can find details about the security deposit listed while booking the vehicle as well as on your voucher. It is important to have a valid driving license with the name of the main driver as well as additional drivers when it applies. An International Driving Permit is required in addition to a National Driving License if the National Driving License you or any of the Additional Drivers hold is not clearly identifiable as a Driving License, eg, it is in a non-Latin alphabet (eg Arabic, Chinese, Cyrillic, Japanese). It can also depend on the country or car rental company you are renting with. If you have found a car on our website, you can press the rental terms link from the supplier for more information about driving license requirements. You will need to have identification with you such as a passport and ID cards. When you pick up your rental car you need to have your voucher with you.
How old to hire a car in Italy?

The minimum age to rent a car for Economy groups are 19 years old renters. For Compact, Intermediate car groups are available for 21 years old renters. Full-size vans and standard car Groups are available for 25 years old renters. With some suppliers for people over 75 years of age. Young driver surcharges may apply to many car rental companies for people under 21 years of age.
Do I need car insurance in Italy?

Insurances are very important when renting a car and can be different between countries. When renting a car in Italy with Orbit Car Hire the prices will include mandatory insurances in the country.
Do I need a credit card to rent a car in Italy?

In most cases, a credit card is required to be presented in the name of the main driver. A security deposit may be required when renting a car so it is important to have sufficient funds on the credit card. When searching for a car at Orbit you can see credit card requirements from all our suppliers.
Do I need an international driving license in Italy?

Drivers license issued in Italy or within the European Union does not have to provide an international drivers license. For drivers with a license issued outside of the EU will need to have an international driving license as well as your standard driving license. You must have both licenses with you at all times while driving a car in Italy.
How do I find the cheapest car hire in Italy?

You can find cheap car hire by comparing prices with all major car rentals at Orbit. A good idea can be to book in advance as the prices can increase closer to the travel period.
What is the cheapest rental car in Italy?

You will find the mini car category or economy cars to be the cheapest car categories. Vehicles such as Hyundai I10 and Fiat Panda often provide the best prices.
What is the best car rental company in Italy?

You may find excellent service provided by companies such as Europcar, Enterprise Rent a Car, Alamo, Keddy by Europcar, SurPrice Rent a Car, Ecovia, Sicily By Car and Locauto.
What types and makes of rental car deals can I find in Italy?

You will find car types such as mini, economy, compact, Full-Size, and luxury cars. Popular rental cars are Fiat Panda, Opel Corsa, Renault Clio, Fiat 500.
Does my rental car have unlimited mileage when I rent a car in Italy?

Most car rentals in Italy offer unlimited mileage in their offers.
How much to hire a car in Italy?

We have found prices down to 8 GBP per day. However, this may depend on the rental period, location and company.
Can you take a hire car from Italy to Slovenia?

Yes, most car hire companies will allow you to drive over to Slovenia while you have a vehicle for rent. It is a good idea to talk to the agent at the counter about this before heading out on the road. To get all necessary information needed.
Find The Best Car Hire Companies In Parma
Best of Italy
Most Popular Cities