9.0
Find best deals in Haugesund
Cheap car hire deals in Haugesund
About Haugesund
Welcome to Haugesund, a charming coastal town in Norway that offers a rich mix of history, culture, and natural beauty. When you explore Haugesund with a rental car, immerse yourself in the local lifestyle and discover the hidden treasures that make this city so special.
Maritime heritage: Haugesund's history is closely linked to its maritime heritage. The city's strategic location on the west coast has long made it a center of trade and seafaring. Take a walk along the harbor and watch the hustle and bustle of ships and fishing boats, a testament to the city's deep-rooted connection with the sea.
Coastal adventure: Venture beyond the city center in your rental car and explore the stunning coastal scenery that surrounds Haugesund. Drive along scenic coastal roads that lead to secluded beaches, rocky cliffs, and picturesque fishing villages. Be sure to stop at viewpoints to enjoy breathtaking views of the North Sea and nearby islands.
Vibrant culture: Haugesund has a lively arts and culture scene. Visit the city's art galleries and museums where you can immerse yourself in the works of local and international artists. Look out for cultural events, music festivals, and theatre performances that showcase the region's talent.
Local cuisine: No visit to Haugesund would be complete without savoring the flavors of Norwegian cuisine. Enjoy fresh seafood, from succulent prawns to richly flavored fish dishes. Do not miss the opportunity to try traditional Norwegian dishes such as "rømmegrøt" (sour cream porridge) or "klippfisk" (dried and salted cod), prepared according to authentic local recipes.
Historical treasures: Immerse yourself in the history of Haugesund and visit historical sights such as the Haraldshaugen Monument, dedicated to the first king of Norway. Learn more about the roots of the Vikings in this region at the Nordvegen History Centre, which features Viking artifacts and interactive exhibitions.
The bounty of nature: Haugesund is surrounded by stunning natural landscapes, including mountains, fjords, and forests. Explore the wonders of nature on scenic drives in your rental car and enjoy outdoor activities such as hiking, fishing, and bird watching.
Warm hospitality: Experience the warm hospitality of the locals, who are known for their friendly demeanor and outgoing nature. Chat with the locals to learn more about their traditions and customs, and you may make lasting contacts.
Discover the hidden gems of Haugesund and let the charm and authenticity of the city leave a lasting impression on your travel memories. Whether you are looking for adventure, interested in culture, or love the beauty of nature, Haugesund offers an enriching experience that will touch your heart and soul. So embark on a journey of discovery and make the most of your visit to this charming Norwegian gem.
Basic info and car hire in Haugesund
Location: Norway
Population: 37,444
Official language: Norwegian
Currency: Norwegian krone ( NOK ) 
Weather: Haugesund has an oceanic climate
Internet coverage: Hotels, bars, restaurants, and cafes offer Wi-Fi.
Road conditions:  Road conditions in Haugesund are generally good, but it's always a good idea to be prepared for the unexpected. Be sure to check the weather forecast before you leave and pack a winter coat if you are travelling in the winter.
Car hire in Haugesund:  Haugesund car hire is a great way to see all of these attractions. Car hire in Haugesund is a great way to see the city. There are many different options for car hire, so be sure to do your research before you book. Car hire can be a great way to see all of the sights that Haugesund has to offer.
 Driving in Haugesund
Welcome to Haugesund, a picturesque town on the west coast of Norway known for its stunning coastal landscapes and vibrant culture. When visiting this enchanting destination, a rental car will enhance your experience and give you the freedom to explore the city at your own pace.
Smooth roads and scenic drives: Haugesund has well-maintained roads and a well-organized transport system, which makes driving around the city a pleasant experience. From the moment you set off in your rental car, you have access to a variety of scenic roads leading to breathtaking viewpoints overlooking the North Sea, majestic fjords, and charming coastal villages.
Convenient parking: When you explore the city in a rental car, you have the advantage of convenient parking. Whether you want to explore the bustling city center or drive to nearby attractions, there are several car parks and roadside parking spaces available.
Explore the city's surroundings: With your rental car, you have the freedom to explore the breathtaking natural beauty around Haugesund. Drive to nearby hiking trails, quiet beaches, and lush forests to experience Norway's unspoiled wilderness firsthand.
Discover the local cuisine: When you explore Haugesund by car, you can easily enjoy the local culinary delights. Drive to charming fish restaurants and traditional Norwegian eateries to enjoy freshly caught dishes and regional specialties.
Culture and history at your fingertips: Your rental car opens the doors to Haugesund's vibrant cultural scene. Drive to museums, galleries, and historical sites to immerse yourself in the city's rich heritage and artistic expression.
Safety first: When driving in Haugesund, follow the local traffic rules and speed limits. Drive carefully, especially in areas with pedestrians and cyclists, and watch out for stunning distractions along the way.
Unforgettable experiences: Whether you are taking a short city tour or a day trip along the Norwegian coast, with a rental car in Haugesund you will create unforgettable memories and capture stunning photos from your trip to Norway.
From scenic drives to coastal adventures, a car hire in Haugesund offers you the ultimate comfort for your explorations. Enjoy the freedom to follow your itinerary, discover hidden gems and experience the true essence of this captivating Norwegian city. With your reliable rental car, your Haugesund adventure awaits!
Age limits: The minimum age to rent a car is 18 years old and with some suppliers for people over 75 years of age. Drivers need to have held a valid driving license for a minimum of 12 months. Young driver fees may apply to many car rental companies for people under 25 years of age. This information is visible in the search engine Orbit Car Hire
International Driving Permit:  An International Driving Permit is required in addition to a National Driving License if the National Driving License you or any of the Additional Drivers hold is not clearly identifiable as a Driving License, eg, it is in a non-Latin alphabet (eg Arabic, Chinese, Cyrillic, Japanese). It can also depend on the country or car rental company you are renting with. If you have found a car on our website, you can press the rental terms link from the supplier for more information about driving license requirements. You will need to have identification with you such as a passport and ID cards. When you pick up your rental car you need to have your voucher with you.
Additional papers:   A credit card in the name of the main driver needs to be presented. A security deposit may be required while renting a car so the credit card must have sufficient funds. You can find details about the security deposit listed while booking the vehicle as well as on your voucher. It is important to have a valid driving license with the name of the main driver as well as additional drivers when it applies.
Additional requirements:  A warning triangle in case of a breakdown. It's also recommended to have: Spare bulbs for your car's external lights, a fire extinguisher, a first-aid kit, and a reflective jacket. If there is snow or ice covering the roads, winter tires, studded tires or snow chains are compulsory (motorhomes & RV's over 3,500kg must use snow chains). You can be fined for traveling on icy/snowy roads using summer tires only. You can expect your vehicle to be checked at or near the border in winter – if you are not carrying or using the right tires you must purchase them or return to the border.
Children in the car:  Seat belts are compulsory for both drivers and passengers. Children under 36 kilograms or 135 centimeters in height must use a car seat.
Driving side of the road: In Norway, you drive on the right side of the road.
Lights:  Headlights set to dipped beam must be used whatever time of day you're driving and regardless of whether it's sunny or not. This is to make sure you're always visible to other drivers so you stay safe.
General speed limits: Norway has four general speed limits; Residential areas – 30km/h, Other built-up areas – 50km/h, Rural roads – 80km/h, Motorways – 90km/h
Car Hire in Haugesund
Most popular car hire at Haugesund
The most selected hire car in Haugesund is Ford Fiesta, with Renault Clio and Seat Ibiza also popular options. The most popular car types in Haugesund are mini, economy, and compact.
Popular Driving Routes
Popular One-Way car hire from Haugesund
Want to rent a car for a one-way trip? No worries! Orbit Car Hire offers a variety of one-way Car Hire options in many locations outside of Haugesund. One-way car rental is ideal for cross-town or cross-country travel, saving time by not returning to your original location. Start your reservation with Orbit Car Hire and find great options on one-way car hire at locations across the Norway.
Haugesund-Bergen (1654km with approximately 22 hours of drive)
Haugesund-Oslo (1293km with approximately 16 hours of drive)
Haugesund-Tromsoe (532km with approximately 8,5 hours of drive)
Haugesund-Molde (1187km with approximately 16 hours of drive)
Popular day trips from Haugesund
Haugesund, a coastal gem in Norway, offers more than its own enchanting beauty. Venture beyond the city limits and discover the hidden treasures of the surrounding region on a day trip from Haugesund. With a rental car, you can make these unforgettable trips and create memories you will never forget.
1. Trolltunga - The Spectacular Cliff Hike:
Make your way to the iconic Trolltunga, a stunning rock formation that towers horizontally above Lake Ringedalsvatnet. The scenic drive to this hiker's paradise takes about 3.5 hours, but the reward is an epic hike with breathtaking views of the Norwegian fjords and mountains.
2. Preikestolen (Pulpit Rock) - a natural wonder:
Hop in your rental car and head to Preikestolen, one of Norway's most famous landmarks. The drive and hike take about 2.5 hours each way, but when you stand at the top of the 604-meter cliff, you'll be speechless as you gaze at the Lysefjord below.
3. Kjerag - The majesty of the Lysefjord:
For the more adventurous among you, Kjerag offers an unforgettable experience. Embark on a 3.5-hour drive to tackle the challenging hike to Kjeragbolten, a floating boulder wedged between two cliffs. The hike rewards you with breathtaking views of the Lysefjord and surrounding landscapes.
4. Bergen - The colorful Hanseatic city:
A 3-hour drive brings you to the charming city of Bergen, a World Heritage Site at UNESCO. Stroll along the iconic Bryggenkai, visit art museums, and sample fresh seafood at the bustling fish market.
5. Stavanger - A fusion of nature and culture:
Explore the picturesque city of Stavanger on a 2-hour cruise. Admire the vibrant street art, visit Stavanger Cathedral, and take a boat trip to Lysefjord to see the majestic rock pulpit from a different perspective.
6. Eidfjord - Majestic waterfalls and fjords:
Embark on a 3.5-hour drive to Eidfjord, set amidst breathtaking fjords and waterfalls. Explore the famous Vøringsfossen waterfall and immerse yourself in the silence of the Norwegian wilderness.
7. The Porsgrunn Archipelago - an island escape:
After about a 3-hour drive, you'll reach the Porsgrunn Archipelago, a hidden paradise of quiet islands. Enjoy a leisurely day of picnicking, swimming, and sunbathing in this coastal wonderland.
Discover the magic that lies beyond the city limits of Haugesund with these incredible day trips. With a rental car, you'll have the flexibility and convenience to explore the breathtaking landscapes and cultural treasures of Norway. Discover the diversity of this beautiful country and make the most of your Norway adventure from Haugesund!
What to see in Haugesund
Located on the stunning west coast of Norway, Haugesund is a picturesque town that captivates travelers with its captivating blend of history, culture, and natural beauty. With a rental car, you will embark on an unforgettable adventure through the enchanting landscapes and cultural delights that Haugesund has to offer.
1. Haraldshaugen - Norway's National Monument:
Begin your journey at Haraldshaugen, a site of great historical significance. This iconic monument commemorates the unification of Norway under King Harald Fairhair, who was born here in the 9th century. Stroll through the beautiful park surrounding the monument and take in Norway's rich history.
2. Avaldsnes Viking Farm - A glimpse into Viking life:
Immerse yourself in the world of the Vikings at Avaldsnes Viking Farm, a living museum that recreates the daily life of these fierce warriors. Nearby, you can experience authentic Viking activities and traditions in this experience.
3. The beaches of Karmøy - peace and serenity:
Take a scenic drive to the enchanting beaches of Karmøy, just a short distance from Haugesund. Relax on the sandy beaches, swim in the crystal clear waters, and enjoy the peaceful atmosphere that the Norwegian coast is known for.
4. Haugesund City Center - Lively shopping and restaurants:
Explore the heart of Haugesund in its charming city center. Stroll the pedestrian-friendly streets lined with boutiques, cafes, and restaurants. Enjoy a delicious meal of local Norwegian cuisine or sample international delicacies.
5. Akrafjorden - Majestic Fjord Excursion:
Rent a car and head to Akrafjorden for a scenic fjord adventure. Drive on the blue waters of the fjord, marvel at the waterfalls, and take in the breathtaking scenery around you.
6. Haugesund Museum - A Cultural Odyssey:
Discover the rich cultural heritage of the region at the Haugesund Museum. This facility houses exhibits that showcase the town's maritime history, folklore, and art, and provide a glimpse into the lives of its inhabitants over the centuries.
7. The island of Røvær - a secluded paradise:
Take a short ferry ride to the idyllic island of Røvær, where you can relax in the tranquil atmosphere. Enjoy hiking trails, watch wildlife, and enjoy a peaceful escape from the hustle and bustle of city life.
The appeal of Haugesund lies in its ability to combine the past and the present, offering every visitor a diverse range of experiences. Let Haugesund enchant you and immerse yourself in the city's historical sights, natural wonders, and vibrant culture.
Drive your rental car beyond Haugesund
With its breathtaking landscapes and pristine wilderness, Norway is a paradise for adventurers who want to immerse themselves in the wonders of nature. When planning your Norway adventure, consider the convenience and flexibility of a rental car to explore this Nordic gem. With a reliable vehicle, you can traverse the scenic routes of Norway, discovering hidden treasures and creating unforgettable memories along the way.
Fjordland: The majestic fjords of Norway are a symbol of the country's natural beauty. Drive along winding roads that hug the deep blue waters and experience the grandeur of these steep-sided valleys carved by glaciers. Geirangerfjord and Nærøyfjord, both UNESCO World Heritage Sites, offer some of the most breathtaking views in the world.
National Parks: Norway has a multitude of national parks, each with its own charm. Explore Jotunheimen National Park, home to Norway's highest peaks and impressive glaciers. Drive through Hardangervidda National Park, known for its rugged plateaus and waterfalls. Be sure to venture into Dovrefjell-Sunndalsfjella National Park, where you may encounter wild musk oxen roaming free.
The Atlantic Road: take a scenic drive along the Atlantic Road, an engineering marvel that winds through small islands and skerries, connecting the mainland to the island of Averøy. Marvel at the breathtaking coastal scenery and watch the waves crash against the rugged coastline.
Lofoten Islands: A visit to Norway is incomplete without exploring the enchanting Lofoten Islands. Drive the E10, which spans several of these islands, and experience breathtaking seascapes, fishing villages, and towering mountains. The midnight sun and northern lights add to the allure of this Arctic paradise.
Arctic Circle: Cross the Arctic Circle and experience the unique phenomenon of the midnight sun during the summer months. Drive to Nordkapp, the northernmost point in Europe, and feel like you are on the edge of the world.
Waterfalls and Glaciers: Norway is littered with magnificent waterfalls and glaciers that will amaze you. Experience the majestic Seven Sisters waterfall in Geiranger, the thundering Vøringsfossen in Eidfjord, and the mighty Jostedalsbreen glacier, the largest glacier in mainland Europe.
Norway's panoramic roads: Norway's designated scenic roads offer some of the most scenic drives in the world. Take the Trollstigen route to experience hairpin turns and panoramic views, or drive Gamle Strynefjellsvegen for a trip back in time.
When traveling through Norway by car, you have the freedom to enjoy the country's natural beauty and stop whenever and wherever you want. Whether you want to see the Northern Lights, hike in the national parks, or marvel at the fjords...
Book your rental car today and embark on an epic journey through the scenic wonders of Norway. Experience the thrill of exploring one of the world's most fascinating destinations, all from the comfort of your own car. Start your unforgettable road trip through Norway today!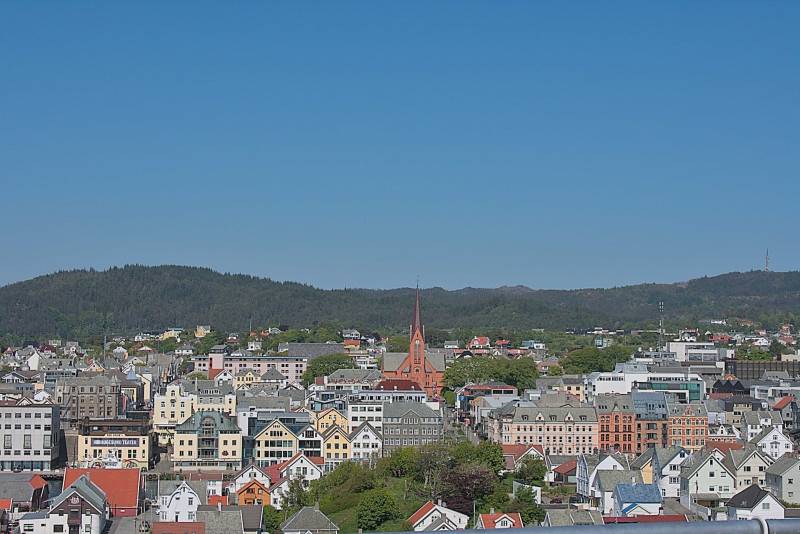 Where to eat, drink, and party in Haugesund
In the charming city of Haugesund in Norway, gastronomy takes center stage, offering all visitors a delicious culinary experience. Thank you to its coastal location, Haugesund offers an abundance of fresh seafood to tantalize the palate with dishes such as herring, salmon, and cod. For a truly authentic treat, try "rakfisk," fermented fish, a local delicacy. Explore the city's restaurants and cafes and enjoy traditional Norwegian dishes paired with warm hospitality. We invite you to embark on a culinary journey through Haugesund and enjoy every moment and taste of this vibrant city.
Best restaurant in Haugesund
Haraldsgata 114
Svein Erik's Matbar
Hos Naboen
Egon Haugesund
Sjøbua
Fish and Cow
FAQ
What you need to know about renting a car
How to make a booking with Orbit Car Hire?

You can easily book your vehicle with Orbit Car Hire. First, you must choose the date and location of your rental in our booking form. In the next step, you can pick out the vehicle you want from the list provided. After filling out the personal information form, there is a step where you choose the payment method, and you simply fill in your credit card information. Finally, you can print out your voucher, which is needed at pick-up time.
What are the charges for security deposits?

Every car rental has a security deposit policy. You will find the information about the security deposit while booking the vehicle or on your voucher. 
What if I would like to change my booking?

If you need to change the booking you made through Orbit Car Hire. Please contact our customer support team at customerservice@orbitcarhire.com or by phone at +44 20 8089 0089. You can cancel your booking free of charge at least forty-eight hours before your rental is due to start. For further information, please read the Terms of Use. 
How do I cancel my booking?

You can cancel your booking free of charge at least forty-eight hours before your rental is due to start. For further information, please read the Conditions of Use. Our customer service team will address your requests in due time:
When do I pay for the rental car?

You pay a small deposit when making the booking as a guarantee. The remaining balance is paid when you pick up your rental vehicle. Please keep in mind that the payment at the counter is paid in local currency. 
What is included in the price?

Most of the reservations made by Orbit Car Hire include unlimited mileage, local tax, mandatory fees, and collision damage waiver. In steps 1 and 2 in the booking process or on your voucher, you can see all the details about your booking inclusions.
Are there any hidden fees?

There are no hidden charges! All mandatory surcharges and fees are presented in the 3rd step of the booking process and our Terms and Conditions. Please note that additional charges may apply for some rentals in the case of:

Out-of-hours surcharge (when picking up the vehicle outside of office hours),
One-way fee (when returning the vehicle at a different location),
The service charge for fuel (prepaid fuel policy),
Young/senior driver fee (this condition is set by the car hire company and is usually not about the regulation of the specific country),
Excess and deposit amount (before hiring, you need to make sure your credit card limit is high enough for the deposit amount to be blocked, which usually equals the excess amount or higher).

We advise our clients to read the Terms and Conditions carefully before the rental to avoid surprises. Our knowledgeable customer service agents will gladly help you with any questions via phone, email, or live chat during our opening hours.
What is a voucher, and why do I need it?

A voucher is a document that confirms your booking, the price for your booking, and the payment of your booking. It is mandatory to have your voucher with you at the time of pick-up. If you do not have the voucher at the pickup, the vehicle provider may refuse to release the vehicle to you or change the rental price.
What is an airport or premium location fee?

A Premium location/airport fee is a fee that covers the location service costs. This fee is usually included in the price but may still occur at some locations and is charged locally.
What is Premium Coverage, and how does it work?

Premium Coverage is an optional service by Orbit Car Hire that, if accepted, covers your financial accountability for damage or theft to the hired vehicle. This is not insured with a car hire company that reduces the excess amount, but a cover refunds you if the car hire company charges you for damage or theft. With this option, you will be reimbursed up to 3000 EUR. You can read the Terms and Conditions or contact us for more information.
How do I find cheap car hire online?

Prices vary frequently. It is best to book a car 3 to 8 weeks before your desired pick-up date - this will ensure you get the cheapest rental rate. Alternatively, it is also possible to find cheap last-minute car hire. 
How many countries do you compare to?

We at Orbit Car Hire compare car hire prices in over 140 countries, including popular destinations within Europe such as Portugal, Spain, Turkey, Greece, Cyprus, Iceland, Croatia, Malta, France, Slovenia, and Germany. 
What currency should I use to pay for the car?

You can pay the confirmation fee on Orbit's page in EUR, GBP, ISK and USD. When you pick up your car hire, you will pay the remaining balance in the currency in the pickup country. 
Can I rent a car from inside the terminal?

You can hire a car from inside the terminal. When you compare our offers, you can filter "In Terminal" to see all the offers we have that are inside the terminal. 
What is the cheapest car to rent?

The cheapest car to rent is the Fiat 500, Volkswagen Up and Fiat Panda. 
Can I add a driver to my booking?

You can always add a driver to your booking when finding your car hire deal on Orbit Car Hire. If you have already made a booking, you can contact us to add the additional driver. You can also add a driver to your booking when you pick up the vehicle. 
What payment methods are accepted

You can pay with a debit card and credit card when making a booking with Orbit Car Hire. We accept Mastercard and Visa. 
Can I drop off my car at a different location?

Yes, you can. When you look for car hire deals on our webpage, you can press "Yes" to "Different drop off location" and see all the best deals for one-way car hire. 
How can I add a flight number to my booking?

You can add a flight number on our webpage when you make a booking. If you already have a booking, email us at customerservice@orbitcarhire.com, and our customer service will add your flight number to the booking. 
Do I have to pay for toll roads?

If you drive where toll roads are required, you are responsible for paying for the toll roads on which you drive the rental vehicle. 
What does deductible mean?

If a rental car is damaged or even stolen while on rent, there will be a limit to how much the renter has to pay for it to be repaired or fixed. Excess (also known as deductible) is a name for the amount that has to be paid. This excess is different between countries and car rental companies in each country. Depending on the car rental company, this can include fire, vandalism, theft, or loss of use while the car is being repaired. You can read more about deductibles right here.
What is Collision Damage Waiver

Collision Damage Waiver, or CDW, is a basic car rental insurance offered to renters by rent a car company. CDW limits your financial liability in case of damages to the body of the hired vehicle with an excess. The driver is responsible for paying for the excess, but the car rental company waives the rest of the cost. This excess can be different between rent a car company.
What is Theft Protection

Theft Protection is a car rental insurance that car rental companies offer. It protects the renter up to a certain amount from the risk of stealing the rental car or somebody trying to steal it. There is an excess, also known as a deductible, that comes with each Theft Protection. This excess is the limit to what the renter would have to pay if the car is stolen or if somebody tries to steal it.
Which brands can I compare with Orbit?

With Orbit Car Hire, you can compare car hire with all the major car rentals like Europcar, Enterprise, Alamo, Sixt and Budget. You can also compare over 100 local companies from all over the world. 
Find The Best Car Hire Companies In Haugesund
Best of Norway
Most Popular Cities