Travelling with more than 3 friends or want to take your extended family on a road trip? Do some of your friends decide to travel at the last minute and you want to save a spot for them? Or you just want more space and a comfortable ride? No problem. Your ideal solution is a 9 seater car rental that can solve your problems.
In this blog, we will go over the benefits of renting a 9 seater passenger van
Rent a 9 seater car

Why you should hire a 9 seater car?

Make savings and enjoy your 9 seater car hire even more

Keeping the group together

Family-friendly car hire

Rent a car and get a proper insurance
Rent a 9 seater car
Passenger Vans are a great way to travel comfortably and affordably. They combine style, space, and safety to give you an enjoyable driving experience. There are many options available, from low-budget to more expensive models. At Orbit Car Hire, we offer a variety of different brands of 9 seater cars. The seats are in three rows, with the second and third rows usually folding down for even more cargo space.
All seats are built for comfort and safety and you can easily add child seats. These vehicles are usually taller than regular car with larger windows that offer good visibility. Depending on the model, there are a number of features that may be available.
Why you should hire a 9 seater car?
The more, the merrier

Ideal for a larger group of friends, work colleagues or extended family travelling together.

You only need one driver so the rest can relax- Minimise and optimise costs (fuel, tolls...)

You only need to find a parking space

More legroom

Folding seats with extra space for luggage when travelling with less than 8 people

Higher seats with better visibility out of the windows- Great choice between low-budget and more expensive, high-end vehicles
1. Make savings and enjoy your 9 seater car rental even more
You can optimise your travel costs if you rent a 9-seater car. Instead of having two or three cars, you only have one, so the toll costs are lower. You can also save on fuel costs, especially if you drive smart. When looking for a parking spot or parking your car in a garage, you only need to look for a spot and save on parking costs. You'll also save on the cost of the international driving permit since you'll only have one driver. Cheque out our blog to see which countries you need the international driving permit.
2. Keeping the group together
Before you rent a car, you need to think about what kind of experience you want to have, how much room you have, how long you will be driving, how many of you will be driving, etc. Renting a car with 9 seats is a comfortable way to travel and is suitable for many possibilities.
It is perfect for a group of friends going on a city trip or going to a concert or sporting event. Instead of having multiple cars, more drivers, and higher costs for tolls and fuel, you can have the whole group together and lower your travel costs. Group travel can be fun and economical!
In this case, the passengers can get a comfortable night's sleep while only the driver has to stay awake. This is a great choice for smaller sports teams, where the bus can drive and all the players can rest before the next game. And the sports club will be happy with financial benefits. A vehicle that can carry 9 people is also a good option for business trips where teams of work colleagues need to travel together to different locations or to trade shows where materials also need to be transported. This way you can save on train tickets or taxis and have more flexibility to better plan your trips.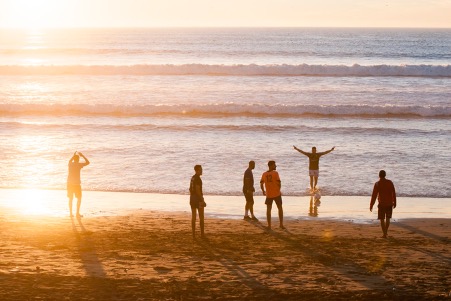 3. Family-friendly car hire
Want to spend some quality time with your extended family? Are you going to a theme park or going on a family trip and want everyone to go? Renting a 9 seater car to drive with your family is the best solution for a great vacation, as you can take your parents or grandparents with you, who may no longer drive, but can help with animating the kids in traffic.
The seniors can stretch their legs and there is enough space for the stroller. Since the 9 seater offers a good view through the large windows, your kids will also have a better travel experience and a great time watching the scenery change through the window.
4. Rent a car and get a proper insurance
With our partners we offer a wide range of 9 seater minivans, you can choose from low budget to more expensive vehicles. Few car rental companies lend such cars to young drivers but set the minimum rental age at 21 or more, which also depends on the model of the car you want.
We advise you to check the terms and conditions of the car rental company. Nonetheless, whatever you decide, we advise you to take out appropriate insurance. If you book on our website, we recommend our Premium Coverage. It covers your financial responsibility in case of damage or theft of the rental car, as damage to a larger car usually means higher repair costs. For a seamless trip, you can also choose an additional driver, for this option and cost, please check the terms and conditions of the car rental company.
Before you start your journey, check the car's service history so you can be sure it has been properly maintained and will get you to your destination. If you rent your 9 seater minivan from a well-known car rental company, this is usually not a problem. However, if you rent from a lesser-known company, make sure you have a properly maintained car. You can find more information about rental car sizes right here.
You can get all the quotes for 9 seater rental cars on our website or you can call our Customer Service. Visit our website today and get the best car rental for your next vacation!