Traveling with children is a very enjoyable experience as they bring a whole new perspective to your trip. There are many destinations that are perfect to travel with young children as well. However, taking young children on a trip means that you need to take extra care of them to ensure that they are safe. You will also need to have a child seat for the child to seat in during the ride.
In this blog, we will go over the following features about child seats in car hire.
Taking your own child seat with you

Hiring the child seat from the car hire agency

Types of car seats

Baby seat

Child seat

Booster seat

Where to place the child seat

The cost of renting a child seat

Law regulations
For your next family trip, you will need a child seat while driving. You have the option of bringing your own seat, or you can rent a seat from the rental agency for an extra fee. Child seats are divided into 3 different categories. Baby seats, child seats, and booster seats. They are categorised according to the age and size of the child and each car rental company gives you the option to choose which one to add to your reservation if you need it. Read on to find out all the information you need to make your next car rental with your kids as worry-free as possible.
Taking your own child seat with you
If you already have a child seat, you can take it with you on your trip and avoid the cost of renting a child seat from the car rental agency and possible complications if they don't have one available.
Before taking it with you, find out the regulations regarding the type and size of the child seat in the country you are travelling to so you can be sure you have the right one. Some airline companies such as EasyJet and British Airways will allow you to take a child seat on the plane for free, so it's a good idea to consider this when making your decision too. Another advantage of having your own child seat is that you will know exactly how it works and will have no problems installing it in the car.
Hiring the child seat from the car hire agency
If you are travelling with a lot of luggage or multiple children, it may be wise to rent the child seat directly from the car rental agency directly instead of bringing it from home. You have the option to add the child seat at the counter and pay with the rest of the reservation. Note that in this case, the availability of the seat cannot be guaranteed as the car rental companies usually have a limited number of seats available at any given time. Therefore, if you are travelling during the peak tourist season when demand is at its highest, there is a chance that they will not be able to accommodate you at the last minute. If you know that you will need a seat when you arrive for your car rental, it is advisable to contact the car rental company in advance and reserve it. This way, you can ensure that it will be waiting for you when you arrive, and you will have a clear idea of the total cost of your rental in advance. If you take the child seat from the agency, they will give you instructions on how to fit it or point you in the direction of where you can find detailed instructions, but you will usually have to fit the seat yourself, so we would advise you to find out exactly what you need to do beforehand if you have no experience of doing so.
Types of car seats
Baby seat
As the name implies, it is intended for babies. That usually means from birth to about 2 years of age. Babies and toddlers should ride in a rear-facing seat, and so this seat is also designed to be installed in a car. Note that some modern versions of baby seats can be installed both forward-facing and rear-facing, but the rear-facing position is still considered safer.
Child seat
The standard child seat, suitable for all children who outgrow their rear-facing baby seat. You will use this until your child is big enough to use a booster seat instead. Since it's the most common, most car rental companies also have the largest number of them for rental. If you take it with you, make sure you read the owner's manual carefully and check that it fits comfortably.
Booster seat
Instead of actually strapping your child, a booster seat simply raises or "boosts" them, so that the regular seat belt fits better. They are only meant for children in the forward-facing position when they have outgrown their booster seat. Usually, this applies to school-age children. The minimum weight for use varies from supplier to supplier but is usually 15kg upwards. You can then use this seat until your child is old enough to no longer need a car seat.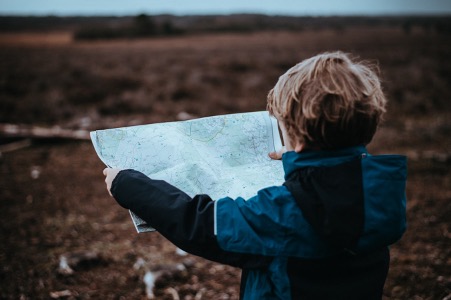 Where to place the child seat
You can install the child seat on one of the 2-3 rear seats or the passenger seats. However, depending on the exact model of the car and the type of child seat, one may be more appropriate than the other. Most manufacturers recommend installing the baby seat in the front seat facing the rear, and a child or booster seat should be installed in the rear seat facing the front.
Another important thing to keep in mind is that you need to disable the airbag when you install the seat in the front. If you are not sure how to do this, the staff at the rental station can help you here.
The cost of renting a child seat
The cost depends on the car rental. Those that allow you to reserve the child seat in advance usually charge more than those that only allow you to add it at the counter. The price for the child seat is usually charged on a per-day basis, but each company has an upper limit, with Enterprise, National and Alamo being the lowest at around €60 per rental and Hertz, Dollar and Thrifty being the most expensive at around €90 per rental. When choosing at the counter, car rental companies divide the vehicles into different categories, which also have different prices. The categories are usually divided according to the age and weight of the child for which the seat is suitable.
Law regulations
In most countries a baby, child or booster seat is mandatory for children up to the age of 12-13 years or up to a certain height, whichever comes first. We recommend that you check the regulations of the country you are travelling to before renting a car so that you get the right seat and avoid unnecessary problems during your holiday.