Learn everything about driving in Slovenia for a road trip. Learn about roads, parking, driving rules, and more in this ultimate guide.
Slovenia is a country that will keep you amazed everywhere you go. With its magnificent mountain views and cute little villages. Slovenia is a country that has everything you need for a holiday. One day you can go from exploring the Julien Alps to lying on the beach by Portoroz. 
Driving in Slovenia is the best way to see everything that this small country has to offer. It is easy to navigate, and the size of the country is only 20,273 km². Therefore, you can easily cover the whole country in a few days.
Unfortunately, public transportation, such as trains and buses, can limit you from getting the most out of your trip. Still, with a car, you can explore every part of Slovenia at your own pace. 
If you are preparing a trip to Slovenia, read along and get all the tips you need to know before driving in Slovenia.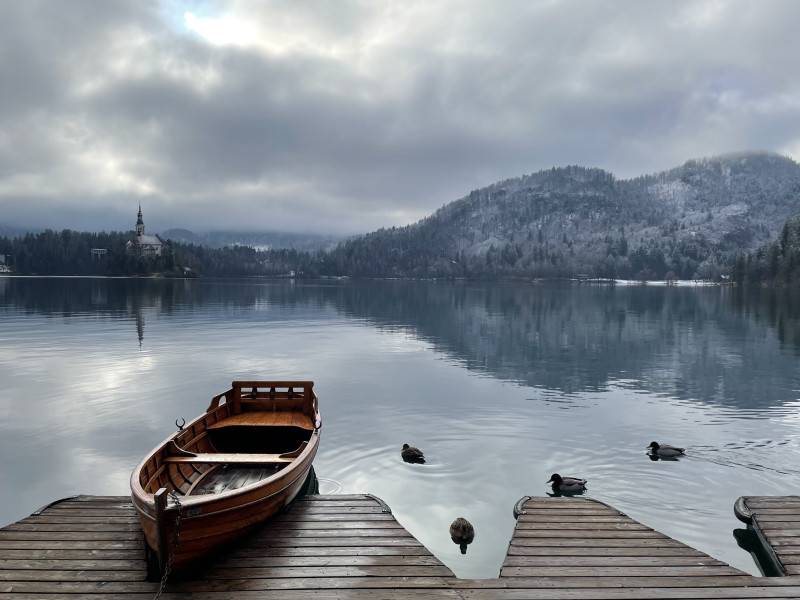 What do I need to drive in Slovenia?
Age Requirements - You will find that rental companies allow drivers from the age of 18 up to 70 years of age. This number can be different between rental companies. Drivers under 21 can expect to pay a young driver fee and be limited to specific vehicles. 
Required documents - You must present a valid original driving license that has been held for a minimum of one year (In some cases, it can be two years). An International Driving Permit is required in addition to a National Driving License if your National Driving License is not an EU license. Remember that the IDP is only valid when used with your National License. 
Other documents - You must present your passport and Identification card of your country of residence. You will also need a valid credit card when picking up your rental vehicle in Slovenia. 
Suppose you pass through Slovenia with your car or a rental car from another country. In that case, You will need your National Driving License, Passport, or National ID. In addition, an international Driving Permit will be required if your National License is in the non-Latin alphabet. 
 Driving rules in Slovenia 
You drive on the right-hand side of the road.
Always wear your seatbelt. 
Children under 1.5m should always have a relevant booster seat.
Avoid crossing borders into or from Slovenia at the end of the week during the summer, as traffic jams often occur.
The traffic rules are very similar to those in other European countries. Stick to the speed limit and do not use the phone while driving
You can listen to traffic updates on the radio via Radio Si. The news and traffic updates are broadcasted in three different languages: Slovenian, English, and German.
Make sure that you purchase a vignette before using the motorways. 
Respect nature and do not drive off-road. 
Along the motorways, emergency call boxes are installed at intervals of 2km, connected to the SOS network. 
In case of heavy traffic or roadblocks, make sure that you keep your car at the end of the lane. So the middle of the road stays clear in an emergency for priority drivers. 
You can expect many roadworks, especially in the autumn with slower traffic. When there are roadworks, they will be very clearly marked with signs and instructions. 
Watch out for thunderstorms that can happen during the summer period. 
For road information, visit the official webpage for traffic updates.
Toll Roads in Slovenia 
When you drive in Slovenia, you can avoid toll roads. However, you will find it challenging, making each drive much longer. While you go on the motorway, you need to have a vignette.
In 2022 Slovenia launched its E-Vignette, making it accessible to purchase the vignette online for your car. You will also need to pay for tolls while crossing borders to its neighbouring countries. 
If you do not purchase the Vignette, you will receive a fine of 300 EUR. So make sure that your car has it before getting on the road. 
Speed limits in Slovenia 
The speed limit varies on what type of roads you are driving. While driving in villages, the speed will be 50km/h, and near schools, it is 40km/h, and on the motorway, it is 130km/h. Here is a detailed list of the speed limits: 
Near schools, it is 40km/h
In urban areas, it is 50km/h 
Outside metropolitan areas, it is 90km/h
On dual carriageways, it is 110km/h 
On motorways, it is 130km/h 
Is it easy to drive in Slovenia?
Driving in Slovenia is a great experience and the best way to explore the country. It is relatively easy to drive in Slovenia, and drivers unfamiliar with driving in foreign countries will find it a stress-free experience. 
Local drivers are generally patient and calm on the road. The roads are in excellent condition, and the weather is mild and peaceful. 
For those wondering how to drive in Slovenia, the best advice is to stick to the driving speed and give yourself enough space from other vehicles on the road. 
Part of passing through Slovenia is the stunning views it has to offer. However, rushing yourself and driving too fast can result in accidents, so please avoid doing so and enjoy the scenery to its fullest. 
Are there speed cameras in Slovenia?
There are fixed and mobile speed cameras in Slovenia. You will find them on the motorway, and they are also frequent inside villages. So, stick to the speed limit while passing through towns at 50km/h. If you are driving a rental car, the fixed cameras will send the speeding fine to the rental company, which will then pass it to your address. 
Drink driving limit in Slovenia
The legal limit for drunk driving in Slovenia is 50mg of alcohol per 100 ml of blood or 0.24 milligrams of alcohol for exhaled air. The law is strict with its zero-tolerance policy for beginners and professional drivers. 
Parking in Slovenia
Parking in Slovenia is relatively straightforward. You can find three colour zones; Blue marked stand for short-term (15-30 minutes) parking, marked yellow for reserved parking, and white free or paid parking lots. 
You will easily find parking, and if they are paid, you will find payment machines that accept cash. You can also use the Upark app to pay for parking. 
Is it easy to park in Ljubljana?
It is generally easy to park in Ljubljana, and there is no problem finding parking spaces in the city centre. It is free to park from 3 pm on Saturdays and Sundays. If you visit the city for one day, you will find parking by Tivoli Park and a parking garage across the city. 
What not to do while driving in Slovenia
While it is easy to drive, there are only a few points you should avoid doing while driving:
Do not stay on the left lane, as drivers can get frustrated if they prefer a higher speed than yours.
Only use the left lane on motorways to overtake other vehicles.
Do not speed in villages or cities.
With speeding cameras and narrow roads in towns, it is essential to respect the legal speed. And the final tip is to respect nature, meaning you should never drive off-road since nature is fundamental to the locals. 
Renting a car in Slovenia 
Many car rental companies offer a great variety of vehicles to choose from. Renting a mid-size vehicle such as Skoda Octavia or similar is a popular choice.
It can have plenty of luggage and are great for driving motorways and narrow mountain roads. However, you will find a vehicle suitable for your needs, whether a small mini car or a larger passenger van.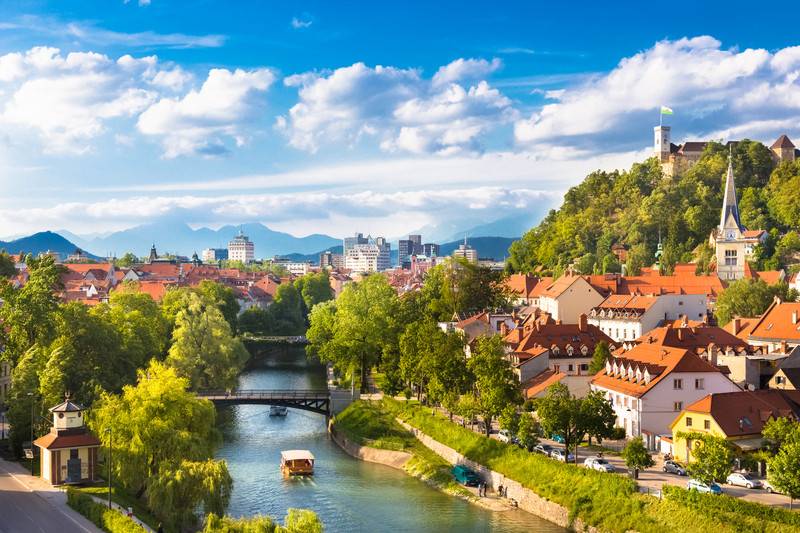 Flexibility in Booking a Slovenian Car Rental 
Most car rental companies in Slovenia are flexible with rental duration, date, and pickup locations. Flexibility is acceptable if you work with an excellent rental company. 
The most common pickup point for rental cars is Ljubljana Airport, a 20-minute drive from Ljubljana. You can also return the vehicle to other locations like Lake Bled. 
If you are still determining how long you will need a car, ask the car rental company about their flexibility before deciding which car rental to use. 
We advise you to book in advance, especially in the summer, as availability can be limited. However, during the off-season, you will not counter any difficulties in renting a car in Slovenia just a day or two in advance. 
How much does gas cost in Slovenia?
The price of petrol (95 Octanes) is around 1.48 EUR per litre (1.53 USD) or 5.8 USD per gallon. For Diesel, it is about 1.72 EUR per litre or 1.78 USD. The cost can fluctuate a little, but generally, it is pretty stable. 
It would be best if you filled the tank from petrol stations in villages and cities. It is because gas prices on Slovenian motorways are higher and can be up to 0.4 EUR per litre more expensive from local petrol stations. 
Are there any laws I need to know when driving in Slovenia?
Everyone must wear seatbelts, and children under 1.5 meters must have appropriate child seats. 
Are there many roundabouts and one-way streets?
Slovenian roads are generally only one or two lanes. However, you can see a few one-way streets in cities and villages. It can cause frustration while visiting Ljubljana for the first time. 
You may come across one-way roads in the countryside, but it is less stressful and easy to navigate. 
There are roundabouts you will come across in Slovenia, mainly in Ljubljana or other larger towns. The outside lane will have priority. However, you can change lanes inside the roundabout to get out. Roundabouts in Slovenia are generally insignificant and will not cause much confusion for unfamiliar drivers. If you want to be completely safe, use the outside lane. 
What should I do if I run into trouble or an emergency?
The emergency number in Slovenia is 112. 
In case of breakdowns of a rental car, contact your car rental company for assistance. 
The official road assistance and towing number in Slovenia are 1987 AMZS. 
The official police phone number is 113. 
If you as a tourist have a complaint, comments, or suggestion, you can contact the toll-free number 080 1900, which is open 24/7. 
If your vehicle breaks down on the motorway, park at the side of the road, put the hazard lights on and set the warning triangle a few meters behind the vehicle. 
Can foreigners drive in Slovenia? 
Foreigners can drive in Slovenia. However, suppose your driving license is issued outside of the EU. Then, you must have your National License and an International Driving Permit to drive in Slovenia. 
We hope you will have a great experience should you choose to drive around Slovenia. It allows you to explore this unique country on your terms and at your own pace. Remember to read our 7-day trip itinerary to get the most out of your visit.
Have you got questions? Contact us today for more information.