Besides sitting next to a driver, sitting on the bike seat is the best place to travel. Travelling by bike can be a dream come true if you know what your limits are and what you want to accomplish with it. Cheque out our favourite bike travel destinations and a few tips on how to organise your bike tour or bike day on vacation.
1.) First and foremost, you need to know your limits. If you love biking but don't do it regularly, you might want to choose a destination that is great for bikers but also suitable for beginners.
- If this is your first time adding a bike to the travel equation, renting one at your destination might be just what you need. There are many great bike paths in Europe that you can explore every day or every other day, but in the evening you can still head back and lounge at the hotel you have rented for a week or two.
If you consider your bike a soulmate that brings you happiness and can't imagine a sunny day without it, then you're definitely ready for classic bike travel - with long hours on the road, ascetically light travel bags, and a new horizon every night.
2.) Be prepared. Whether you're staying in a hotel and exploring the area on two wheels or doing an entire bike tour, you need to be prepared. Explore your options before the trip. Consider how much junk you'll need, and decide between saddlebags and trailers that allow you to pack the tent, sleeping bags and camping cooking gear.
3.) Be realistic. What is your cycling endurance? How good are you at climbing hills? Consider your abilities because there will be no way out when it will be just you and the road. Put together your itinerary, don't overwhelm yourself with routes that are too long, check road conditions, book hotels and mark all possible stops - petrol pumps, diners, B&Bs, camps, cycle hotels, hospitals, pharmacies, tourist information, bars and so on.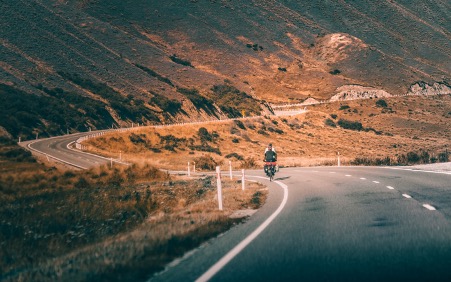 4.) Find your ideal stretching patterns. With hours of cycling every day, your muscles will eventually become hard and tough, some groin and lower back pain will occur, and leg cramps are a possibility. But much of this can go away if you do some stretching in the morning and yoga in the evening. If you're travelling by bike trailer or driving and just adding some recreational cycling into the mix, pack your foam roller because it can save you a lot of pain.
5.) Travel light, but not too light. Sure, every extra pound becomes extra effort when you pedal, but you don't want to hop on the saddle unprepared. Gloves, helmet, goggles and extra shorts, light jacket and matching underwear and shirts that you can wash and dry the same day, bike tools in case something goes wrong, maps and geo navigation so you don't get lost, money and personal documents so you're prepared, and wet wipes and essential cosmetics (aeroplane size) so you can take care of yourself. These things are a must. Don't even get us started on suitable storage, camping gear, and luxury items like books and your favourite energy bars...
6.) Give yourself some rest. There is no point in overtaxing yourself. If you're going on holiday by bike for the first time, plan a day or two off - every three days, for example. You can book a hotel and a car and take a rest day, but still, explore your surroundings and enjoy the ride.
Top Europe destinations for bicyclists
Cycle across Italy:
Fano, Italy –Porto Santo Stefano, Italy

Kranjska Gora, Slovenia – Udine, Italy – Kranjska Gora, Slovenia

Tolmin, Slovenia – Udine, Italy – Conegliano, Italy – Treviso, Italy – Lignano Sabbiadorro – Monfalcone – Gorica, Slovenia – Tolmin, Slovenia
Provence bike trails:
Cycling Tour of Mont Ventoux (advanced)Starting & final point: Villes-sur-Auzon, France

Nice, France – Avignon, France – Nice, France
A great agency for self-guided bike travel is Provence Cycling Holidays.
Spain pedalling:
Andalucía trailMalaga, Spain – Seville, Spain

Cordoba, Spain – Seville, Spain – Beja, Portugal – Badajoz, Spain – Cordoba, Spain

Tenerife, Canary Islands, Spain – Puerto de la Cruz – Teide – Masca  
Island hopping trail split, Croatia – Hvar, Croatia – Korčula, Croatia – Dubrovnik, Croatia

Zadar, Croatia – Šibenik, Croatia – Murter, Croatia – Zadar, Croatia
Want to go hiking around the world? Read our blog about our top 6 climbing destinations around the world.