9.0
Find your rental car in Formentera
Cheap car hire deals in Formentera
About Formentera
Formentera is the smallest and the westernmost island of Spain. It has about 10,000 inhabitants and lies only 13 km off the south coast of Ibiza. Its area is 68.5 square kilometres. Formentera is famous for its secluded beaches and rich natural landscape. Many holiday resorts have sprung up on the coast of Formentera, such as Playa d'en Bossa, Port des Torrent or Cala Saona. In 1982, an underwater nature reserve was established around Ibiza and Formentera, making it one of the first underwater parks in Spain and a popular diving area to this day!
Basic info and car hire in Formentera
Location: Mediterranean
Population: 12.216 (2018)
Official language: Castilia Spanish, Catalan
Currency: Euro
Weather: The climate in Formentera is the Mediterranean, with mild winters and hot, sunny summers that are somewhat humid but tempered by sea breezes. On the Island, the average temperature ranges from 9.5 °C (49 °F) in January and February to 24.5 °C (76 °F) in August.
Internet coverage: Hotels, bars, restaurants, and cafés offer Wi-Fi.
Road conditions: Most roads on Formentera are in good condition, ​areas with road works are generally sufficiently signalled.
Car hire in Formentera: The most common pick-up point for vehicles in Formentera is by the port. Please note that prices vary frequently. It is best to book a car 3 to 8 weeks in advance of your desired pick-up date - this will ensure you get the cheapest rental rate. Alternatively, it is also possible to find cheap last-minute car hire. Find the best deal on car hire in Formentera!
 Driving in Formentera
The roads are mostly quiet so you can really enjoy your drive. The longest route is 312 km (193 miles) and loops around the island, so you can drive around the entire island in about 6 hours. To drive a car in Formentera, you must be 18 years old, have a valid driver's licence, and show valid proof of insurance for the vehicle you are driving. On Formentera, vehicles drive on the right-hand side of the road. The speed limit on the motorway is 120 km/h (75 mph). On normal roads the speed limit is 90 km/h (75 mph), on urban roads, it is 50 km/h (50 mph), and on all other through roads, there is a speed limit sign.
It's good to know that Spain has strict drink-driving laws, allowing only 0.5 milligrams of alcohol per millilitre of blood - stricter than in the UK, where the limit is 0.8. Novice drivers are effectively banned from driving under the influence with a very low limit of 0.1 mg/l. Seatbelts front and rear are compulsory everywhere. 
Age limits: The minimum age to drive a car in Spain is 18 years. However, most car rental companies require you to be at least 21 to rent a car and at least 25 years to avoid paying an additional young driver fee. 
International Driving Permit: Yes, if you are a non-EU licence holder.   
Additional papers: Identification(passport), a valid driving licence, and valid proof of insurance. (It is advisable to buy insurance at the car hire agency in case your policy doesn't cover you while driving in Spain)
Additional requirements: Glasses (in case you need glasses, it is imperative that you always have a spare pair in the car), light bulbs (are usually already in the car and are provided by the car rental company), warning triangle (2 are required for all vehicles registered in Spain and 1 if coming from abroad), high visibility vest (recently made compulsory)- First aid kit (not actually compulsory, but we strongly recommend you have it with you, just in case).
Children in the car: If you are travelling with children under 12 or less than 135cm tall, you are required by law to have a child seat in your car. If you do not have your own, most car rental companies will provide one for a fee. However, it is advisable to request such a seat before collecting the vehicle, otherwise one may not always be available. 
Driving side of the road: Right Side. 
Lights: Check that all lights are working, clean, and correctly aimed.
General speed limits: The speed limit is 50 km/h in cities, 90 km/h on rural roads, and 120 km/h on the motorway.
Parking suggestions: It is easy to find parking in Formentera. In La Savina, you will have to pay for parking your rental car. 
Car Hire in Formentera
Most popular car hire at Formentera
The most selected hire car in Formentera is the Peugeot 208, with the Renault Captur and Toyota Aygo also being a popular option. The most popular car types in Formentera are mini and economy. 
Popular Driving Routes
Popular One-Way car hire from Formentera
Want to rent a car for a one-way trip? No worries! Orbit Car Hire offers a variety of one-way Car Hire options in many locations outside of Formentera. One-way car rental is ideal for cross-town or cross-country travel, saving time by not returning to your original location. Start your reservation with Orbit Car Hire and find great options on one-way car hire at locations across the Balearic Islands .
What to see in Formentera
Formentera is the smallest of the Balearic Islands and lies south of Ibiza and north of Maó (Mahon) in Spain. The island is famous for its tranquil atmosphere, crystal clear waters and fine white sandy beaches. It is also popular with campers as the prices for food and accommodation at the campsites are relatively cheap. However, it is worth staying in one of the local hotels or flats, as this gives you access to amazing places like Cala saona with its clear turquoise waters. There you can see fish swimming around in front of your eyes! Other activities include hiking on marked trails through pine forests next to magnificent cliffs, diving in beautiful bays, cycling on scenic roads, visiting caves and historical sites.
Drive your rental car beyond Formentera
Car trips on Formentera are a great way to explore the island. You can either take your car or rent one, but keep in mind that you will need a rental car on this small island. Everything is a bit scattered and a good way to get around without getting too hot is by bike! If you want to drive around the island, allow at least 30 minutes for the route. The roads are not too busy, so you will not be hindered by cars blocking the roads. Keep your eyes open for some beautiful beaches and many "calas", pretty little coves that are popular with visitors and locals alike. There are also some caves that have been converted into restaurants. So it's worth exploring and enjoying the island.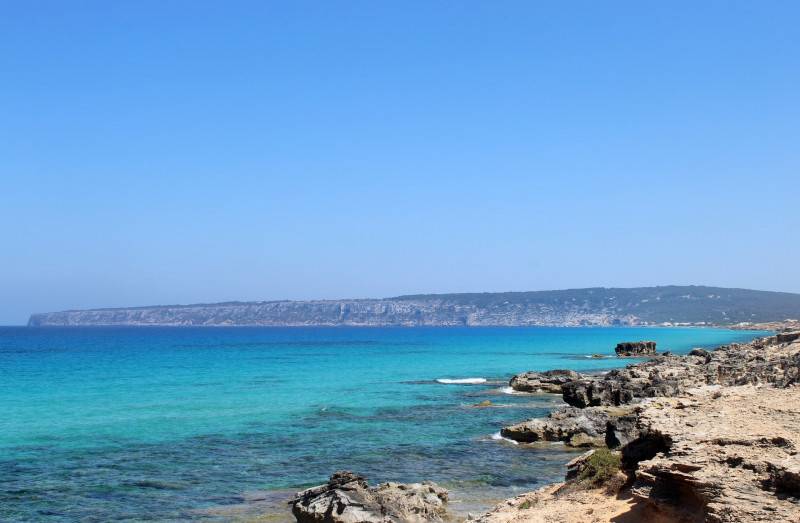 Where to eat, drink, and party in Formentera
When it comes to food, Formentera is all about tradition. The island's typically simple cuisine has been at the heart of its culture for centuries - and will continue being so long as there are still dishes that can only exist here on this small dot in Spain!
Formentera is a paradise for foodies! The island offers many different fruits and vegetables that you can't find anywhere else. We recommend trying the goat cheese, which has an intense flavour thanks to its combination with fresh herbs; or honey produced by bees living on this dry landscape that is on Formentera. 
FAQ
What you need to know about renting a car
What do I need to rent a car in the Balearic Islands?

A credit card in the name of the main driver needs to be presented. A security deposit may be required while renting a car so it is important that the credit card has sufficient funds. You can find details about the security deposit listed while booking the vehicle as well as on your voucher. It is important to have a valid driving license with the name of the main driver as well as additional drivers when it applies. An International Driving Permit is required in addition to a National Driving License if the National Driving License you or any of the Additional Drivers hold is not clearly identifiable as a Driving License, eg, it is in a non-Latin alphabet (eg Arabic, Chinese, Cyrillic, Japanese). It can also depend on the country or car rental company you are renting with. If you have found a car on our website, you can press the rental terms link from the supplier for more information about driving license requirements. You will need to have identification with you such as a passport and ID cards. In many European Union countries, a National ID is sufficient. When you pick up your rental car you need to have your voucher with you.
How old do I need to be to rent a car?

The minimum age to rent a car is 19 years old and with some suppliers for people over 75 years of age. Young driver surcharges may apply to many car rental companies for people under 25 years of age. This information is visible in the search engine with Orbit Car Hire.
Do I need car rental insurance?

Insurances are very important when renting a car and can be different between countries. When renting a car in the Balearic Islands with Orbit Car Hire the prices will include mandatory insurances in the country.
Do I need a credit card to rent a car?

In most cases, a credit card is required to be presented in the name of the main driver. A security deposit may be required when renting a car so it is important to have sufficient funds on the credit card. When searching for a car at Orbit Car Hire you can see credit card requirements from all our suppliers.
Do I need an international driving license in the Balearic Islands?

Drivers licenses issued in the Balearic Islands or within the European Union does not have to provide an international drivers license. For drivers with a license issued outside of the EU will need to have an international driving license as well as your standard driving license. You must have both licenses with you at all times while driving a car in the Balearic Islands.
How do I find the cheapest rental deal in the Balearic Islands?

You can find cheap car hire by comparing prices with all major car rentals at Orbit Car Hire. A good idea can be to book in advance as the prices can raise the closer to the travel period gets. You will find the mini car category or economy cars to be the cheapest car categories. Vehicles such as VW UP and Fiat Panda often provide the best prices.
What is the best car rental company in the Balearic Islands?

You may find excellent service provided by companies such as Europcar, Enterprise rent a car, Centauro and OK Rent a Car.
What are the types and makes of rental cars that are available in the Balearic Islands?

You will find car types such as mini, economy, compact, Full-Size and luxury cars. Popular rental cars are VW Polo, Fiat Panda, VW Polo, Ford Fiesta, Fiat 500.
Does my rental car have unlimited mileage when I rent a car in the Balearic Islands?

Most car rentals in Balearic Islands offer unlimited mileage in their offers.
Car Hire Locations in Formentera
1 location(s) found
Find The Best Car Hire Companies In Formentera
Best of Balearic Islands
Most Popular Cities