Get our tips on driving in Iceland so you can have a safe, fun drive across the country. Here are some of the best tips for navigating this beautiful part of Europe!
Iceland is a great tourist destination with plenty of things to do and see. Some of the highlights include the beautiful scenery, glaciers, hot springs, and whale watching. Iceland is also known for its friendly people and unique culture.
There are plenty of restaurants and bars in Reykjavik and shopping and nightlife options. Overall, Iceland is a great place to visit for an adventure or relax and take in natural beauty.
Why should you rent a car in Iceland?
Iceland is a small country if you look at the population. However, the island itself is enormous. It is 103.502 square meters in size or roughly the same size as Kentucky state in the US.
So having a car will make your trip easier and better to explore all of Iceland's untouched nature. Public transportation is limited in Iceland, so having a rental car can be essential.
Driving in Iceland
If you're planning on driving in Iceland, you'll need to be aware of the unique conditions of operating in a country that features such dramatic landscapes. To help you plan your trip and stay safe while driving, here's an introduction to some of your needs to know before hitting the road in Iceland.
For one, Iceland has a lot of narrow roads that can be difficult to navigate, so it's essential always to be aware of your surroundings and keep an eye out for oncoming traffic. Additionally, many of the roads in Iceland are unpaved, making them slippery and dangerous during bad weather.
Check the weather forecast before setting out on your drive, and adjust your driving plans accordingly.
Another thing you'll need to keep in mind when driving in Iceland because the country sees a lot of severe weather events. Blizzards, rainstorms, and even volcanic eruptions can cause dangerous road conditions, so preparing for the worst is essential.
Make sure you have a full tank of gas before setting out.
Finally, remember that Iceland's roads are often very curvy, so take your time driving and don't over-speed. The scenery is worth bearing in, but it's best to do so safely from behind the wheel. With these tips in mind, you're ready to hit the road in Iceland and explore this beautiful country!
Is it a good idea to rent a car in Iceland
It is a great idea to hire a car in Iceland. Having the right rental car can be essential with the unique landscape and endless ways to travel around the island. In addition, it will allow you to do self-driving at your own pace.
Iceland car rental age
The minimum age to rent a car is 20 years in Iceland. Some companies will allow down to 18 years old to rent a car, but there will be a young driver fee.
Tips for driving in Iceland
The speed limit on the ring road is 90km/h. There are many speed cameras across the island
It is a great idea to rent a 4x4 during the winter due to weather conditions.
Watch out for the wind in Iceland.
Icelandic roads can be narrow and with many potholes.
There is 0 tolerance with drink driving in Iceland.
Watch out for sheep during the summer. There are more sheep than people in Iceland, and during the summertime, they are accessible in the mountains and can get close to roads.
Do not stop in the middle of the roads to take photos. Make sure to park the car safely off the streets.
Off-road driving is strictly forbidden and can result in a hefty fine
Commonly, rental cars come with manual gears in Iceland. So look out for the transmission type if you are not used to a manual transmission.
Crossing rivers is the driver's responsibility as water damage is not covered in the car insurance.
Read over the rental agreement before driving from the rental car office.
Watch out for single-lane bridges. Iceland is unique as it still has one-lane bridges on the ring road.
Which side of the road do they drive on?
In Iceland, they drive on the right side of the road. So renting an automatic car can be an excellent idea for people used to driving on the left side.
Do I need an international driving license to drive in Iceland?
An International Driving Permit is required in addition to a National Driving License. However, suppose the National Driving License you or any of the Additional Drivers hold is not identifiable as a Driving License. In that case, e.g., it is in a non-Latin alphabet (e.g. Arabic, Chinese, Cyrillic, Japanese).
It can also depend on the country or car rental company you rent your car. If you have found a car on our website, you can press the rental terms link from the supplier for more information about driving license requirements.
Can I rent a car in Iceland with a US driver's license?
Yes, you can rent a car in Iceland with only a US driver's license without any problems.
Can you sleep in your car in Iceland?
You can sleep in your rental car in Iceland. However, it is strictly forbidden to sleep in the car unless you park it at a camping ground.
You will find camping grounds all over the country. They are open the whole summer months.
Is driving safe in Iceland?
Driving in Iceland is very safe. Thefts in cars are very uncommon, and Iceland is one of the safest countries in the world. It is because Icelandic drivers are patient and calm on the road. As long as you stick to the Iceland driving rules and do not drive off-road, Iceland is one of the safest countries.
Headlight usage in Iceland
Headlights need to be on at all times in Iceland, both during daylight and nighttime. Make sure to check the lights on the car before driving to ensure that they are working correctly.
Do I need winter tires in Iceland?
By law, it is required to have winter tires from November 1st until April 15th. Having studded winter tires is highly recommended for winter driving and most car rentals will offer that included in the price. From April 16th Until October 31st, you do not need winter tires in Iceland.
Is it challenging to drive in Iceland?
It is relatively simple to drive in Iceland. However, it can be challenging during the winter months with the high winds and icy roads.
However, you will not have difficulty driving during the winter months with the right vehicle and proper tires. Just watch out for the wind, hold the doors and park into the wind, and you will be excellent while driving around Iceland.
When it is best to visit Iceland?
The best time to visit Iceland is in April/May and September/October as the weather is overall perfect and prices are typically lower.
If you are looking to explore the highlands of Iceland, It is best to visit between July and August. The F-roads in Iceland are only open for about three months per year. So staying in July and August, you will know that all-mountain roads will be available during the summer months.
If you want to see the Northern Lights in Iceland, the best time to visit is between November and February. It is due to the darkness and weather conditions. In other months the Aurora is limited or non-existent.
For travellers that want to visit Iceland when it is the least number of tourists, it is recommended to come either in November or April. These months have the lowest visits in Iceland throughout the year and will give you more freedom to explore nature without crowds.
Renting a car in Iceland
If you're planning on renting a car while in Iceland, you should keep a few things in mind. First, make sure you have a valid driver's license from your home country. You'll also need to be at least 20 years old to rent a car in Iceland.
When it comes to picking out a rental car, there are a few different options. If you're looking for the most affordable option, consider renting a four-wheel-drive vehicle. These vehicles are perfect for exploring Iceland's rugged terrain. However, if you're looking for something a little more luxurious, plenty of convertible and luxury cars are available for rent.
No matter what type of car you decide to rent, be sure to familiarize yourself with the driving laws in Iceland. The country has several unique rules and regulations, so it's important to know what to expect before getting behind. For example, driving while intoxicated in Iceland is illegal, and you must keep your headlights active.
Overall, renting a car in Iceland is a great way to explore the country's stunning landscapes. First, just familiarize yourself with the local driving laws and pack accordingly for your trip. Then, with a little bit of preparation, your rental car can help make your Icelandic vacation unforgettable.
Where should you pick up a car in Iceland?
The most popular pickup location is at the Keflavik International Airport. Many rental companies in Iceland provide offers there, and the price is typically the cheapest at this location.
You can also pick up the car from Reykjavík city, but many companies will require a premium location fee or have higher prices for Reykjavík. Therefore, we recommend renting a car at Keflavik International Airport (KEF).
Many local companies provide a free shuttle service between their offices and the airport. In addition, major international companies like Europcar, Hertz, and Avis have offices inside the arrival hall.
Is renting a car in Iceland worth it?
Hiring a car in Iceland is worth it. Since public transportation is not the best, and the island itself is vast, having a rental car is the best option to explore all the fantastic waterfalls, geysers, lava and lagoons around the country.
How much does a rental car cost in Iceland?
On average, a rental car in Iceland costs 60,53£ (79,38$) per day
Prices from May 2022 1 week per day
Prices during the high season (June-September) can be higher, with an average daily cost of 147,70 Pounds per day (163,16 USD) prices from July 2022, 1 week
Car rental prices for the low season (mid-winter) are relatively lower, with an average daily cost of 57,88 Pounds per day (75,83 USD). Price from November 2022 1week
What is the best rental company in Iceland?
There are many great car rental companies in Iceland. Here is a list of companies with excellent service and vehicles:
Icerental4x4
Enterprise Rent a Car
Blue Car Rental
Alamo
Europcar
Lotus Car Rental
ACE Rent a Car
SurPrice Car Rentals
Local or an international company, what is better?
Iceland has many great local rental car companies that offer some of the best customer service and great vehicles. When you go with a local company, you tend to receive a better price without sacrificing the service and quality.
On the other hand, going with an International company is always a secure option. They are well trusted globally with their customer service and a strict policy of new vehicles with low mileage.
What is required to rent a car in Iceland?
To rent a car in Iceland, you will need a valid driver's license, a credit card in the driver's name, and a Passport or National ID. In addition, most companies will require a security deposit when you pick up your vehicle.
When is the best time to rent a car in Iceland?
The best time to hire a car is in May and October, prices tend to be lower so you can save money, and the conditions to travel are excellent.
Driving in cities
Reykjavík
Reykjavík is a great city to drive in. The roads are well-maintained, and there is very little traffic, which makes for easy driving. However, one thing to remember is that the streets in Reykjavík are narrow, so it's essential to be careful when turning or changing lanes. There are also a few one-way streets, so check the signage before you start driving.
Another thing to watch is the weather; the roads can get icy and slippery during the winter months, so take it slow and be cautious when driving.
Finally, an important thing to keep in mind is that at a red light, turning right is forbidden in Reykjavík and Iceland in general. Overall, though, Reykjavík is a great city, and it's worth renting a car to explore all that it offers.
Akureyri
There are a few things to keep in mind when driving in Akureyri:
The roads can be pretty narrow, so be careful when turning.
There is a lot of traffic in the city, so watch out for pedestrians and cyclists.
The speed limit is 50 km/h in most city areas, so obey it.
Driving in the countryside
Suppose you're looking for a fantastic driving experience. Few places can offer as much natural beauty and diversity as Iceland, and the roads are well-maintained and easy to navigate. Whether you're exploring the Ring Road or venturing off the beaten path, there's no shortage of stunning scenery to take in.
Keep your eyes peeled for waterfalls, glaciers, and otherworldly landscapes - you'll never want to drive through Iceland without a camera! Just drive carefully, as the roads can be winding and unpredictable.
However, with a little bit of caution and common sense, you'll have a wonderful time cruising around this incredible country.
Road conditions in Iceland
The road conditions in Iceland are usually quite good, but they can sometimes be quite dangerous. It is especially true during the winter when there is a lot of snow and ice on the roads. It is a great idea to drive slowly if you are driving on icy roads.
Drivers need to be very careful when travelling in Iceland during the winter, as the streets can be slippery. There have been several accidents in Iceland due to bad road conditions, so it is essential to be careful when driving in Iceland.
Toll roads in Iceland
In Iceland, there is only one toll road. The road is a tunnel named Vaðlaheiðagöng, a 7,5km long tunnel that goes through a mountain up north by Akureyri. Vaðlaheiðagöng was opened in 2019, making the Icelandic ring road shorter by 16km. In addition, it meant that drivers did not have to go over a mountain called Víkurskarð which could be challenging during the wintertime.
Passing through Vaðlaheiðagöng, the fee is 1.500 ISK per trip. You need to go to their web page to pay for this toll road. Unfortunately, there are no toll booths or machines to make the payment before entering the tunnel.
When passing Vaðlaheiðagöng, you only have 3 hours before or after you pass it to pay online. If the toll is not paid on time, the car rental company will receive the fine and add their service fee on top of the toll.
If you travel to Iceland during the summertime, you can easily skip the tunnel and drive over the mountain as it is only 16 kilometres long. The road condition is perfect over the summertime. If you are travelling during the wintertime, we recommend passing the tunnel.
National parks in Iceland
If you plan to visit any national parks with your rental vehicle you might need to pay for parking. At Thingvellir national park and Vatnajökull national park, you will find parking that requires paying for. It is very simple to pay for parking at these parks as payment machines are well marked.

Parking in Iceland
If you're planning on driving in Iceland, be aware that parking can be challenging to find and quite expensive. There are several parking lots downtown in Reykjavik where you can park your car for a fee. There are also some metered street parking spaces, but these can be hard to find and fill up quickly.
Parking is usually free outside of the city but always check the signs. Also, when driving in Iceland, be sure to note any special parking regulations that may be in effect. For example, during the winter months, it's common for cars to be banned from parking on streets overnight so that snowploughs can clear them.
If you're not familiar with Icelandic parking laws and regulations, it's best to ask someone before you park your car.
While parking can be a bit of a hassle in Iceland, it's essential to be aware of where you can and cannot park. Be sure to read all signs carefully, and always pay attention to the time limit to avoid getting a ticket. With a bit of planning, you can easily find a safe place to park your car while enjoying all that Iceland offers.
Parking in Reykjavík
When you park in Reykjavík you will most likely need to pay. In downtown Reykjavík, you will find that all parking spaces require payments. It is very easy to pay for parking, you will find parking meters all around the town where you can pay with your credit card. Just make sure to pay for the time you need, to avoid unnecessary fines.
If you park overnight, you do not need to pay. Payments are only required between 08:00 and 18:00. If you are parking overnight, you can pay the evening before until the time you plan to leave which is very convenient.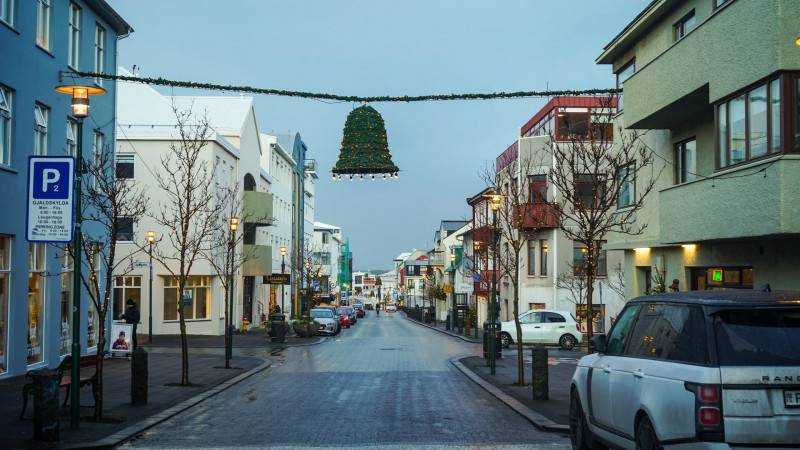 Gas stations in Iceland
There are plenty of gas stations in Iceland, so you'll never have to worry about running out of fuel while driving around the country. Most gas station are open 24 hours a day, so you can always fill up when convenient for you. In addition, gasoline prices are generally very reasonable, especially compared to other countries in Europe.
When choosing a gas station, it's always best to go with a major brand like N1 or Olís. It is because these stations typically have the most convenience. However, some smaller independent gas stations can be worth checking out if you're looking for a bargain.
No matter where you end up filling up your tank, driving in Iceland is an experience you won't soon forget. The country's stunning landscapes and unique roads make it a true paradise for any car lover. So don't forget to stop and enjoy the view every once in a while - you might just see something incredible!
Budget gas stations in Iceland
There are a few budgets gas stations around the island. These areas follow:
How expensive is gas in Iceland
Gas in Iceland is among the most expensive in the world. For petrol, prices can vary from 267.80 ISK per litre to 302,90ISK per litre (April 2022).
For diesel, prices differ from 274,70ISK per litre to 303,90 ISK (April 2022). You can follow this webpage for live updates on gas prices in Iceland.
Traffic rules in Iceland
In Iceland, it is illegal to drive on the right-hand side of the road. So instead, all traffic must stay to the left. It can be confusing for visitors from countries were going on the right is the norm, so paying attention and staying alert while driving in Iceland is essential.
There are a few other things to keep in mind when driving in Iceland:
Always yield to oncoming traffic when turning onto the main road from a minor side street.
Beware of blind spots when passing other vehicles; use your mirrors and turn your head to check for approaching traffic before changing lanes.
Remember that roads can be icy and slippery during winter conditions, so take extra care when driving in winter weather.
Following these basic traffic rules will help you stay safe and avoid getting into accidents while driving in Iceland.
What are the speed limits on Icelandic roads?
Speed limits in cities are from 30km/h to 80km/h.
Speed limits on route one on the highway are 90km/h.
Speed cameras in Iceland
You will find several speeding cameras in Iceland. Many of them are within the capital area.
You will also find speeding cameras when driving outside of Reykjavík, both towards the south coast and when heading up north.
Blood alcohol limit
There is zero drunk driving tolerance in Iceland. So, make sure to not drink at all whiles driving.
Car rental insurance in Iceland
Insurances in Iceland are different compared to other countries over the world. The excess amount is also higher than known elsewhere but does not let that scare you. Hiring a car is fun and straightforward, with the right coverage and knowledge about Iceland.
All rental cars will come with the standard Collision Damage Waiver and Theft Protection. Then you can also see insurances like Super Collision Damage Waiver and Sand & Ash insurance being offered by the local companies.
Collision Damage Waiver (CDW)
The CDW is the primary insurance that will cover you up to a certain amount in case of a collision. This amount can differ between car categories and rental agencies. For example, the average rental excess amount in Iceland is 350.000 ISK.
If you would have a collision with your vehicle in Iceland, you would only need to pay the excess, and the car rental will cover what goes over this amount. If the amount is lower than the excess, you will only be charged for the amount that will cost to repair the vehicle.
If you purchase Premium Coverage from Orbit Car Hire, you will be refunded the amount charged back to your card after returning the vehicle.
Theft Protection
Iceland is considered to be one of the safest countries globally. Even so, minor thefts can happen like elsewhere.
Theft Protection will cover your Iceland rental car if it gets stolen and any damages that might occur.
However, it is essential to remember that Theft Protection in Iceland does not protect your personal belongings if stolen from the car.
Super Collision Damage Waiver (SCDW)
SCDW is an upgraded version of the standard Collision Damage Waiver. By purchasing SCDW, the excess amount (deductible) will be lowered significantly.
The rental excess for SCDW in Iceland is, on average, around 100.000ISK.
Gravel Protection
Gravel insurance is important in Iceland. Gravel insurance means that the front windscreen, headlights and fog lights are covered in case of a chip or a crack due to loose gravel hitting the car.
This can happen on gravel roads but also on an Icelandic road trip.
Sand and Ash Insurance in Iceland.
It is probably the unique insurance you will find in Iceland. And yes, it is not something made up. On the contrary, it's natural and essential insurance.
In Iceland, the wind can be extreme. And there is a large area of sand lying around the island and ashes from volcanoes. When the wind picks up, the sand can blow with the wind hitting the vehicle with force resulting in significant damage to the painting of the car. The slide on the car paint can ultimately damage, resulting in damage that can cost up to 10.000 EUR.
This type of damage might not be commonplace, but if it happens, it is expensive. And for that reason, car rental companies in Iceland offer Sand and Ash insurance.
When is the most common time that sand and ash damage occurs?
Suppose you are thinking about when it can be most essential to have this insurance, while in Iceland, there are a few things to consider.
First, it is highly recommended to have Sand and Ash Protection during the wintertime, especially in February, March, and April. The snow starts to melt at this time, resulting in the sand being loose, and the wind is also more potent during this time of the year.
If you are planning a trip to the south coast of Iceland, then it is essential to have sand and ash protection. The south coast has around 150km of pure black sand that can easily blow with the wind resulting in significant damage.
With this being said, there is no need to worry about driving in Iceland. If you have excellent protection, whether through Orbit, directly with the local supplier or your credit card, you can move around Iceland without any worries.
Essential websites to monitor while visiting Iceland
Here are some great websites to monitor while driving around Iceland.
The emergency number in Iceland
The emergency number in Iceland is 112.
Summary
In Iceland, it is vital to be aware of the conditions of the roads as they can change rapidly. It is also important to drive defensively and be mindful of other cars. The following are some tips for driving in Iceland:
Be aware of the conditions of the streets and plan your route accordingly.
Drive defensively and be aware of other cars on the road.
Be prepared for sudden changes in weather conditions.
Pay attention to speed limits and obey all traffic laws.
Driving off-road is strictly forbidden
Iceland's f roads are only open over the summer months.
Exercise caution when driving in rural areas or on unpaved roads.
Be aware of wildlife on the roadways.
Following these tips will help you to stay safe while driving in Iceland. Remember to always drive with caution and be prepared for the unexpected.