When it comes to car rentals, many things need attention before starting the booking process. For example, what type of vehicle will work best, and how much time do I have until my flight leaves? This article has all the information necessary on selecting an appropriate rental with everything from safety features in cars today down right up to where they'll take away our old clunker when we return!
Before renting a car 
A few things can play a vital role in our car hire experience when selecting our dream vehicle for our holidays. First, choose the right vehicle for your needs.
Next, you'll want to consider how many people you'll be transporting, what terrain you'll be driving on, and whether you need special features like four-wheel drive or GPS. So make sure to select transportation with enough car seats.
Hiring a car can be expensive, but there are ways to save money. For example, if you plan to rent a car for more than one day, ask the company about discounts for longer rentals. You can also save money by choosing a smaller car model.
Car rental types 
When comparing car rental prices, we might notice that all the vehicles get defined by car category. So it is essential to understand what those car categories stand for. So when we select our rental car, we keep a few things in mind. 
Do we need an automatic or manual transmission
How many passengers will be during the trip
How much luggage space is needed
Diesel/Petrol engines
Standard 2WD or 4x4
If you rent a car in Europe, it is good to know that most rental cars will come with manual transmissions. So if you need an automatic vehicle, make sure to use the filter in the search engine to see only automatic car rentals. 
What is included in the price? 
The cheapest offer is not always the best offer. You can often find cheap car rental deals, but the hidden cost will lie in the mileage. So you must have a clear idea of how many kilometres you will drive to decide if limited miles are enough or if it's better to hire a car with unlimited kilometres. 
All car hire companies in Europe will provide complimentary insurance included in the price. The most common insurances included in the deals are the Collision Damage Waiver and Third Party Liability insurance.
Although you find all deals with Collision damage waiver included, the excess that comes with the agreement can differ between countries, companies and car categories. 
Cancellation protection 
We all know that unexpected things can happen, such as needing to cancel our trip or make amendments. Free cancellation is an excellent option for that "in case" moment.
With Orbit, you will have free cancellation up to 48 hours before the rental with a full refund option. You can also make free amendments at all times before the rental period. 
Meet the Driving Requirements 
Hiring a car can mean that the driving requirements will differ between countries and companies. Ensure that you fit all the needs; this can be things like driver's age, where most companies have a minimum and maximum age of the driver and may charge a young driver fee.
Also, consider that many companies will require that you have held your license for 12 months before hiring a car, and some even up to 4 years. 
Get to know the local traffic. 
If you are new to a city, it is essential to familiarise yourself with the local traffic rules. For example, in some cities, you are not allowed to turn right at a red light. In others, you can only turn right from the left lane.
Traffic rules vary from city to city and even from street to street. So you must know the specific regulations for each area you drive in. You can learn about local traffic rules by visiting our detailed travel guides like our guide to driving in Croatia. 
Once you know the local traffic rules, you should obey them. Ignorance of the law is no excuse, and you can get a ticket if you break the rules. So take the time to educate yourself about what you can and cannot do on the roads in your area and drive safely!
If you are planning a trip to Europe, don't miss out on our guide to road signs in Europe. We also have excellent road sign guides for Spain, Germany and France that can help you gather information before driving your rental car. 
 Go over the terms and conditions of the car rental company. 
When you rent a car, you must know the rental company's terms and conditions. Some companies have strict policies, while others are more relaxed with them. Read the company's policies carefully before signing any contract or agreement.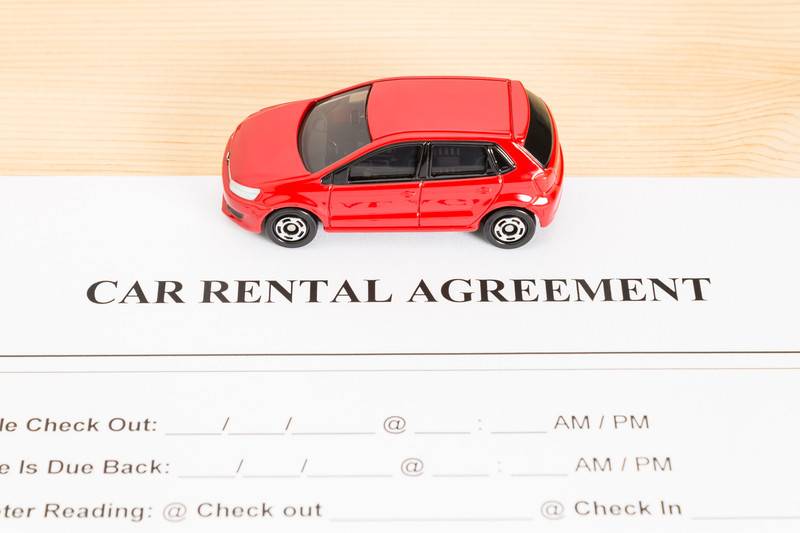 Pay particular attention to the following points: 
The amount of insurance coverage the company will provide you 
The amount of liability for which you are responsible in the event of an accident
What is not covered by insurance
The charges for cancelling or changing your reservation
The age restriction for drivers
The type of vehicles you can hire
If you have any questions about the rental company's policies or procedures, ask before signing the car rental agreement. You must understand all the terms and conditions before agreeing to them. This way, you can avoid any unpleasant surprises or fees afterwards.
Do I need International Driving Permit when renting a car? 
Having an IDP can be needed under certain circumstances. For example, an International Driving Licence is required in addition to a National Driving License if the National Driving License you or any of the Additional Drivers hold is not identifiable as a Driving License. E.g., it is in a non-Latin alphabet (e.g. Arabic, Chinese, Cyrillic, Japanese).
If you have found a vehicle on Orbit, you can press the rental terms link from the supplier for more information about driving license requirements. 
What about DVLA Documents?
When hiring a car in the UK, you might be required to have a DVLA code with you. You can read this excellent guide to DVLA from our blog to get more information about this topic. 
Make sure to have a valid credit card with sufficient funds 
When we rent a car, we will need to leave a security deposit while the rental period is active. Most companies will require that you have a valid credit card in the main driver's name for the security deposit.
In Europe, many companies will also allow debit cards to leave a deposit. You can see the deposit amount for all deals found on Orbit if you press "Rental Terms "when searching for offers on our webpage. 
Additional Drivers in car rental  
When you rent a car, you may wonder if you need an extra driver. The answer is that it depends on the car rental company and their policies. Some companies allow anyone with a valid driving licence to drive the rental car, while others require you to add a driver to your contract.
If you are not sure whether you need to add a driver, you should check beforehand with the car rental company. This way, you can be sure that you will not have any surprises when you pick up the car.
Insurances 
Although your car hire deal will include rental car insurance, you can also get additional coverage to enjoy a stress-free car rental.
With Orbit, you can purchase Premium Coverage, covering almost all damages to your rental car. 
You can also purchase additional insurance directly with the rental company when you pick up your vehicle. 
Make sure to have a voucher.  
Car rental companies require that all renters have a voucher when picking up the vehicle. You will receive a car rental voucher in an email after making a booking online. You can also access your voucher here at any time. The voucher includes all the essential facts you need to hire a car.
What to keep in mind at pickup 
Late pickup  
If you are running late to pick up your rental cars, you must contact the rental company directly to notify them of the delay. Otherwise, they might consider that the rental is a "no-show ". Most rental agencies will have a grace period of 2 hours for late pickups. 
Have all the necessary documents with you 
Ensure that you have all the required documents when you pick up your rental car. If you do not have the necessary documents, the rental agency might decline the vehicle and leave you stranded. The documents needed are as follows: 
Driving license
Passport
National ID
International Driving Licence (If appropriate)
Booking voucher
Credit Card
Additional extras you might need 
If you need any extras, it is good to book them in advance. The companies cannot guarantee that they have all reserves available when you arrive at the counter unless it's been pre-booked. It can be sat navs, snow chains or child seats. 
Car rental insurances 
When you pick up your vehicle, make sure that you know what insurance you have, and if you need insurance, you can always speak to the agent who will give you ideas on what types of insurance might be suitable to have before heading on the road. 
Planning to cross borders with your rental car? 
If you plan to visit other countries with your rental car, notify your rental company. You might need to pay for a cross-border fee at the counter. It is always essential to have permission to cross borders to avoid unnecessary expenses when returning the vehicle. 
Car hire roadside assistance 
When you are at the rental desk, ask about their roadside assistance policy. Understanding what's in this assistance is essential so you will not be stranded due to an emergency while on the road. 
Inspect the rental car 
When you pick up your vehicle, it is essential that you inspect the vehicle before signing the agreement and leaving the parking lot. Taking photos of all sides of the vehicle and all pre-existing damages. Double-check the fuel gauge if it has a full tank. It can also be a good idea to check the spare tyre.
If you notice any damages that are not on the agreement, let the agent know and have them add them to the damage report. 
Check the safety features of the vehicle. 
Go over the lights on the vehicle and check the wipers and seatbelts. Ensure that all safety features are working correctly before leaving the rental office. Ensure that the owner's manual is presented inside the glove compartment.
We have created an ultimate car hire checklist with all the important details that are great to keep in mind before leaving the office. 
On rental 
What if there is a problem while I have the car? 
If you happen to have a problem during your rental, you can always contact us here at Orbit Car Hire. We can assist you with any issues related to the rental vehicle. Of course, you can also contact the rental agency directly for assistance. 
Before returning the car
When preparing to return your hire car, there are a few things you need to do to make the process as smooth as possible.
First, take a look at the car and make sure there is no damage. If there is damage, take photos of it and note it on the rental agreement.
Also, make sure that you have filled up the car with petrol and no rubbish or waste in the car. Finally, have the rental agreement and proof of insurance ready to show when you return the vehicle. The return process will be quick and easy if you follow these tips.
Make sure the rental car is clean 
Depending on the agency, you might need to clean your rental car before returning it. Again, it is because it will be in the rental agreement.
However, you mustn't return the vehicle filthy, as the agency may charge you for cleaning fees. Therefore, it is an excellent rule to return the vehicle as clean as possible. 
Check the opening hours 
Before returning the vehicle, make sure you know if you are returning off hours. So keep in mind how the business hours are at the office where you will return the vehicle. 
Fill the gas tank 
It is always important to fill the tank before returning the vehicle. Make sure to fill it near the office where you will return the vehicle. If you do not return it whole or in the same state as you received it, you will be charged fuel and an additional fee. 
Check the return procedure. 
If you are returning the car out of hours or using a self-service return process, make sure that you know it beforehand. If you return it without meeting an agent to check the vehicle, take photos of all sides of the vehicle and kilometres and fuel status. It's a good thing to avoid surprises when you are back home. 
At the drop-off location
When you have finished using your rental car, you must return it to the rental station. Ensure you have all your belongings, including the rental contract and the key.
Look at the vehicle when you return it and make sure there is no damage. If there is damage, document it and inform the rental station. You may get charged for the damage.
Arrive on time  
Make sure that you give yourself enough time to return the vehicle. Keep in mind that the office might be full of customers or if you need a shuttle to get to the airport.
Having enough time will ensure a stress-free return experience. If you return late, the car rental company may charge you for an additional day. 
Document the condition of the car 
Take photos of the car before you leave the office. It's good to take pictures from all vehicle sides and the mileage and fuel status. Also, it might be helpful if the agency thinks it finds something when you have left the office. 
It is also an excellent policy to have the agent sign off the damage report that the car was in good condition to avoid disputes. 
Make sure to leave the car in a safe place. 
It is good to make sure that you park the car at an appropriate parking spot, legally and well. For example, if you are returning off-hours, it can be a good idea to park where there are CCTV cameras. 
Return the keys and check the final invoice 
When you return the car, give the agent the key to the vehicle. Also, get the final invoice from the car rental and make sure that all charges are as agreed when you pick up the car. 
If you have any questions about your car rental, do not hesitate to contact us at Orbit Car Hire. You can reach us by our contact number or email, and you can also find us on Facebook or Instagram. Also, read our blogs to get some travel tips for your road trip.