Each Azores island has its characteristics and its own "wow factor", that's the beauty of this archipelago. With this Azores Island Ultimate Holiday Guide we list the "best-of's" and the "must-see's" of the Azores Islands to help you put together and plan your holiday to the Azores Islands, whether you choose one island to visit, or better yet- go island hopping!
Food, wine and nightlife

Without a doubt, São Miguel has the best selection of restaurants and nightlife of all Azores Islands. Ponta Delgada, the capital, is located on the island of São Miguel and offers you a fantastic selection of restaurants with great traditional Portuguese cuisine, but they have also really upped their game in inventive cuisine.
Here are the top-rated restaurants in Ponta Delgada:
Otaka Asian – Inspired seafood-focused restaurant downtown Ponta Delgada. Order the tasting menu, the dessert is divine.
Tasquinha Vieira – Modern dishes in a minimalist interior at Ponta Delgada. Order the cheese plate while enjoying the view of the kitchen. Legendary risottos and steaks.
A Tasca – A hip tapas restaurant popular with locals and tourists alike. 
Rotas da Ilha Verde – A funky little super tasty vegetarian restaurant.
Mane Cigano – A casual, local lunch favourite with communal seating.
On São Miguel you can visit a winery, Quinta da Jardine, and sample their fantastic wine. 
Pico Island is the next best island for food lovers and even more inventive cuisine. 

Here are the top-rated restaurants on Pico Island:

Sao Jorge Cella Bar - An architecturally beautiful restaurant right by the sea and a rooftop bar.
Atmosfera - Excellent homemade pasta and great salads.
Casa Âncora - A stylish restaurant designed by a famous Portuguese architect, with fresh dishes.
Ancoradouro - The best crabs on the island. Great view of the water.
Pico Island has a winery that is part of the UNESCO World Heritage Site. The locals have been making wine since the 15th century. Don't miss a great wine tasting. 

After São Miguel, Terceira and Faial are the second choices for great and lively nightlife. The colourful and charming side streets of Angra do Heroísmo, the largest city on Terceira Island, provide a festive mood and party atmosphere. There is also a great selection of fantastic restaurants in Angra do Heroísmo.
In Horta, the largest town on Faial Island, the town centre is right on the harbour, giving the nightlife an old-fashioned and friendly atmosphere. There is often live music on weekends in the summer. As for food and restaurants in Horta, you can usually get traditional fresh seafood and great seafood at that. Don't miss Peter's Cafe!
There aren't as many restaurants to choose from in São Jorge as there are on the islands mentioned above, but they serve great traditional beef and seafood. Best of all, São Jorge is famous for its delicious cheese and seafood. For special cheese lovers, you must visit the cheese factory where the famous Queijo São Jorge is made. For all coffee enthusiasts, you can't miss Europe's only artisanal coffee plantation where you can explore the plantations and enjoy the delicious coffee.

When it comes to the food of the Azores Islands, we will list the top three foods of Azores Island.
Cheese - Cheese is probably the most famous local product. The best cheese is made in São Jorge (as mentioned above) and when the cheese matures, it becomes tangy and salty and can easily rival a good parmesan cheese. 
Seafood - It's no surprise that seafood is one of the most famous local products, as the isolated islands are surrounded by the Atlantic Ocean. Tuna is both very common and very large. Wreckfish, parrotfish and lobster are also common, but the most famous local seafood is limpets, a type of sea snail. You could (and should) spend your entire vacation in the Azores exploring and sampling all kinds of fish that the locals are happy to serve you. 
Tropical Fruits - With the warm climate and fertile soil, the Azores Islands is a spectacular place for tropical fruits. Pineapples, bananas and passion fruit are just a few of the fresh and delicious tropical fruits that grow on the islands. Besides red and white wine, the locals also make fruit liqueurs from pineapple, passion fruit, blackberry and many others.
Beaches and Hot Springs 
If we only look at numbers, then São Miguel has the best selection of beaches, as it has more than 20 beaches! Our favourite beaches in São Miguel are Santa Barbara Beach, Água de Alto Beach and Vila Franca Beach.
If you are looking for a typical summer, white sand beach, then the island of Santa Maria is the location for you. One of the best beaches on Santa Maria island is Formosa Beach, as it has golden white and crystal clear and warm waters.
The island of Terceira has two beaches, one in the town of Praia da Vitória and is close to the marina where there is access to restaurants. The other beach on Terceira, in the town of Angra, do Heroísmo, is a UNESCO World Heritage Site.
If you don't have a car but want to hit the beach, you should stay at Terceira, or the island of Faial, as Porto Pim Beach is an easy walk from the centre of Horta. For more details on these beaches and other great beaches in the Azores Islands.
If you e wondering when is the best time to visit the Azores, look no further as we have a great blog that will tell you when it is best to visit the Azores. 
For hot springs in the Azores Islands, São Miguel has eight hot springs! Some of these hot springs are in tranquil, natural settings, while others have been developed into well-maintained spa pools with great facilities.
Our favourite hot spring in São Miguel is definitely Poça da Dona Beija! It has five beautiful thermal pools surrounded by flowering tropical plants. Poça da Dona Beija offers a true nature experience. The pools are not very deep, which makes them especially suitable for families with children. Most of the pools at Poça da Dona Beija have a temperature of 36°C, although one pool is slightly cooler. The high iron and mineral content of the hot spring water makes the local mud ideal for cleansing mud baths and peloid treatments.
Our second favourite choice for hot springs in São Miguel is Terra Nostra Garden & Hot Springs. It is part of a hotel complex and has a huge outdoor pool and two smaller pools. The colour of the water is pale orange due to the iron-rich spring water and has a comfortable temperature of 35-40°C. It is fun to spend a whole day at Terra Nostra Garden & Hot Springs, visit the 31 hectares of gardens with ponds and paths, have lunch and relax in the hot springs.
Nature Sights in the Azore
Let's face it - the entire archipelago of the Azores Islands are amazing natural sights and there is nothing you should miss. Besides the amazing natural sights, which are the hot springs we mentioned here above, we will list our favourite sights on the Azores Islands. 
Algar do Carvão - On Terceira Island, you can visit a real volcano and go inside an ancient volcanic cave. Algar do Carvão houses some of the largest stalactites in the world - all of which will leave you speechless and in complete awe.
Mt. Pico - On the island of Pico, you can hike one of the most popular hiking trails in Europe and the highest peak in Portugal, over 7,000 feet! Mt. Pico is a stratovolcano built of many layers of hardened lava and tephra. Mystical beauty with enchanting sea views as far as the eye can see.
Caldeirão - The only paved road on Corvo Island leads you to a crater formed by the island's volcano. The crater has two lakes with a few tiny islets that the locals like to call the islands of the archipelago. 
Fajã dos Cubres & Fajã do Santo Cristo - These two places are located on the island of São Jorge. Fajãs are unique and rare plains formed by lava flows. Fajã dos Cubres is accessible by car, but to get to Fajã do Santo Cristo you have to walk. 
Furna do Enxofre - An amazing old lava tunnel with a lake of cold and sulphurous water on Graciosa Island that you must explore.

Shopping in the Azores
There are not many big shopping malls and fashion boutiques in the Azores Islands. But Ponta Delgada, the capital of the Azores Islands and also the largest city of the Azores Islands has at least two shopping malls where you can shop till you drop! Best of all, there are great flea and farmer's markets in Ponta Delgada as well as other towns in the rest of the Azores Islands.
Popular souvenirs in the Azores include ceramic items such as hand-painted clay bowls, vases, teapots and cups, as well as embroidery and hand-woven blankets, sweaters and other items. Azorean wickerwork, especially baskets and furniture, has recently gained prestige, as has Azorean wine, making them popular souvenirs and gifts.

Parque Atlantico - This modern shopping centre in Ponta Delgada is ideal if you want to find almost all the souvenirs the islands are famous for. There are 104 shops and a huge supermarket selling traditional jams and Azorean honey.

Galerias Portas do Mar - Connected to the old marina of Ponta Delgada and with a prime location on the seafront, Galerias Portas do Mar gathers various shops and a leisure area with a garden promenade by the sea, as well as restaurants, bars, banks, travel agencies and much more.

Mercado da Graça - Ponta Delgada is home to one of the largest markets in the archipelago. This is a colourful market offering a variety of goods, including seasonal vegetables and fruits grown on local farms. National favourites such as farmhouse cheeses, liqueurs and wines are sold there, as well as potatoes grown in fertile volcanic soils. According to experts, the gourmet produce you can buy at this market stands out for its incredible taste qualities.

Fabrica de Licores Mulher de Capote - In the town of Ribeira Grande, São Miguel, there is an old liqueur factory where a shop now operates. Visitors are offered an interesting tour and a tasting of popular drinks. In this shop, you can buy nice gifts for your family and loved ones. Gift packages of liquors, and beautiful dishes of local production are sold. The most popular product is the traditional passion fruit liqueur.

Ceramica Viera - In the town of Lagoa, São Miguel, there is a historic workshop where you can buy your favourite pottery and watch a master potter at work. She makes traditional blue and white azulejo tiles and many miniature works of art. The painted miniature plates are especially popular with tourists. Traditional hand-painted pottery makes a wonderful, memorable gift. 
Accommodation
Accommodation in the Azores is very good, but it depends on which island you stay on for variety and choice. On the less developed and less touristy islands, you don't have as much choice, but most of the accommodations are decent. We will list the accommodations that are worth mentioning.
As stated above, São Miguel is the most visited island in the Azores and most people stay in Ponta Delgada. Therefore, the best selection of accommodation can be found there. 

Here are the best-rated accommodations in São Miguel:
Azor Hotel – Enjoy stunning Ponta Delgada harbour views from the pool and your chicly appointed room at this large design hotel with a responsive 24-hour front desk.
Grand Hotel – Recently completely renovated, Grand Hotel is cosy, filled with period maritime pieces and decorated in gold and olive green tones. The indoor pool is quiet and a great place to relax. The indoor pool is quiet and the walls are lined with wood.
Terra Nostra Garden Hotel – An elegant hotel in Furnas with an art deco ambience set in beautiful gardens and a natural hot spring. There is a very good restaurant on site.
Furnas Boutique Hotel – A hip design hotel in Furnas with small but stylish rooms and great staff. There are thermal pools and a trendy bar and restaurant on site.
Minuvida Orchard Lodge – Stay in charming rooms in a traditional Azorean orchard just 10 minutes north of Ponta Delgada. Relax by the pool, take a yoga class and eat a delicious locally sourced meal.
Azores Luxury Rentals – Newly renovated luxury apartments, just steps from downtown and great restaurants. Enjoy high ceilings, local handmade tiles and furniture, volcanic arches and an amazing garden with avocado, fig and guava trees.
Casa das Palmeiras – This charming B&B in the heart of Ponta Delgada is in an old mansion with small but bright rooms, wonderful breakfast and great staff.
Out of the Blue –, This chic hostel in the centre of Ponta Delgada feels more like a boutique hotel. Enjoy the great backyard with the mostly younger crowd and friendly staff.
Accommodation options are more widely spread in Pico Island, and some small resorts have their restaurants. If you plan to go to Pico and want to stay there for more than 4 days, consider staying on different sides of the island.
Here are the top-rated accommodations in Pico Island:

Pocinho Bay – Amazing resort with detached, stylishly decorated bungalows made of volcanic rock. There's a pool overlooking the ocean and a delicious restaurant.
Alma does Pico – A charming, affordable resort with detached bungalow rooms, a pool, wonderful views of Pico and the ocean, great staff and a delicious restaurant.
O Zimbreiro – A small, quiet guesthouse with a few different rooms, a pool with great views, and phenomenal food.
São Jorge is not the best Azorean island for luxury accommodation. There is only one traditional hotel on the island. It is simple and clean, but has no extras. Therefore, we recommend you try these other options that offer more thoughtful details and higher quality accommodation.
Here are the top-rated accommodations in São Jorge:

Quinta da Magnolia – The most luxurious resort you will find in São Jorge. This old Quinta has a beautiful stone facade. Enjoy the beautiful view from the pool and a delicious breakfast.
Terr'Alta Vista – A one-bedroom house on the northeast coast of São Jorge. Very simple but stylish decor and spectacular views.
Hotel os Moinhos – A charming resort in an old stone-fronted Quinta. It offers great pool views and is one of the few accommodations with an on-site restaurant.
Intact Farm Resort – A small resort with cosy wooden bungalows with great views. A little east of Velas. The decor is simple, but large windows and nice decks overlooking the ocean make up for it.
The hotel options in Faial aren't very luxurious either, but we've listed some decent options. They are all close to the harbour, so all the restaurants and nightlife are within walking distance.
Here are the top-rated accommodations on Faial Island:

Pousada Forte da Horta – One of the few hotels on Faial, the rooms are small and look better in person than on the website. The lobby is a bit old-fashioned but the view is spectacular and the staff is helpful. Ask for a harbour view.
Marina Apartments – These apartments have separate bedrooms and a kitchen, making them a good option if you want a little more space. 
Casa da Baia – A great, affordable option with small, clean, minimalist rooms.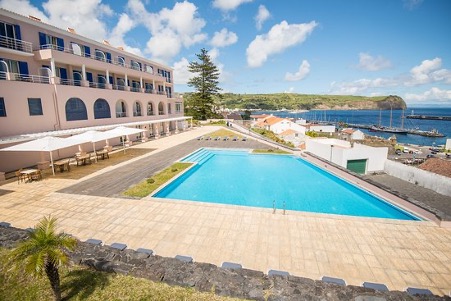 Transportation in the Azores

If you're travelling, it's undeniably important to be aware of transportation options - how to get to your destination and how to get around your destination. 
If you're looking to rent a car in Azores Islands, we'll give you the information you need to know! 
We recommend renting a car at Azores Island. This will give you the freedom you need to explore the islands. Don't just rely on public transportation. This is only possible on São Miguel Island and is not entirely reliable.
We also recommend that you rent your car early as there can be shortages in the high season. 
Most visitors pick up and drop off their rental car at the airport, but on some islands, it is also possible to pick up and drop off a rental car in the city centres. You can visit several islands with your rental car, but not all of them. Most car rental companies charge an additional fee for one-way rentals if you want to drop off the rental car at a different location than where you picked it up. Most ferry companies will allow you to take the rental car with you, but you will have to buy an extra ticket to do so. Some travellers find that it is easiest to drop off the rental car after exploring an island, hop on a ferry and rent a new car when you arrive on another island.


Since the Azores Islands vary in population and visitation, not all of them offer a direct flight to or from another island, Lisbon or other countries. The same is true for ferries. If you would like to know more about what Azores Island is best to visit, you can read our blog here!
Here is some flight and ferry information for each island:


São Miguel
Arriving by plane - You can reach São Miguel from almost all other islands, as well as Funchal, Lisbon and Porto. Direct international connections are gradually becoming more common, with flights from the US, UK, Germany and the Nordic countries. In addition to Azores Airlines, there are a few other companies that fly directly to Sao Miguel. The main airport of Sao Miguel is the Ponta Delgada - João Paulo II Airport
Arriving by boat - In high season there are ferries to São Miguel from Santa Maria and Terceira.
Pico
Arriving by plane - Pico is not only well connected to the other islands, but also has direct flights from Lisbon.
Arriving by boat - The Atlantico Line ferry operates all year round and connects with Faial and São Jorge. 
Faial
Arriving by plane - Faial has direct flights from São Jorge, Sao Miguel and Terceira, as well as from Lisbon.
Arriving by boat - The Atlantico Line ferry operates year-round with connections to Pico and São Jorge. In summer there are also connections to Flores. 
Santa Maria
Arriving by plane - Direct flights to Santa Maria are only available from São Miguel.
Arriving by boat - In summer there is a ferry service to São Miguel and Santa Maria.
Terceira
Arriving by plane - Angra do Heroísmo is well connected with almost all the Azores islands as well as mainland Portugal (Lisbon and Porto). Azores Airlines also offers direct flights to the USA.
Arriving by boat - During the summer months, Terceira is directly connected to Graciosa, São Jorge and São Miguel via the Atlantico Line ferry.
Graciosa
Arriving by plane - Graciosa is connected with Terceira Island.
Arriving by boat - During the summer months, Graciosa is directly connected with the Atlantico Line ferries from both Terceira and São Jorge.
São Jorge
Arriving by plane - São Jorge has direct flights from Terceira and São Miguel airports. 
Arrival by boat - Good connections to Faial and Pico all year round and Terceira and Graciosa in high season.
Corvo
Arriving by plane - There is a small airport in Corvo with flights to Faial and Flores.
Arriving by boat - An Atlantico Line ferry to Flores runs daily in summer (only twice a week in winter). Takes about 45 minutes. Book your tickets in advance.
Flores
Arriving by plane - There is a small airport in Flores with flights to other islands. Flight time to Ponta Delgada is 1h10.
Arriving by boat - Flores is connected to Corvo (all year) and Faial (summer months) by the Atlantic Line Ferry.
We at Orbit Car Hire hope that this Holiday Guide will help you plan your trip to Azores Islands!