Trying to decide which Azores Island to visit? We'll let you in on a little secret... there is no "best" Azores Island because they are all sensational! Our goal with this article is to help you decide which of the Azores islands is best for you. Each island is different and has its own characteristics and therefore it should be easy to find at least one (or two, or three...) island that suits you and your interests. The Azores islands have a lot to offer, so let's take a look at the food, night
Located north of Canary Islands and Madeira, the Azores Islands are an archipelago of nine islands. With black and rugged cliffs and coastlines, active volcanoes, green hills, tropical trees, and plants, the islands have been described as a mixture of a Greek island, Iceland, English countryside, and Costa Rica.  
The nine islands of the Azores:
São Miguel
São Miguel is the largest and most populous island of the Azores Islands with a population of 140,000 people. São Miguel offers you the greatest variety of activities and attractions, such as many beaches and hot springs, crater lakes, great restaurants and nightlife, museums and good accommodations. São Miguel has the perfect combination of old-world charisma and modern world comfort and style. 
Ponta Delgada, the capital, is located on the island of São Miguel and offers you a fantastic choice of restaurants with great traditional Portuguese cuisine, but they have also really stepped up their game in inventive cuisine. On São Miguel you can visit a winery, Quinta da Jardine, and sample their fantastic wine. 
For outdoor activities, São Miguel has eight hot springs and over 20 beaches! There are also very many great hiking trails, you can go cycling, climbing, kayaking, canoeing, paragliding, horseback riding, whale and dolphin watching, golfing... Need we go on? The possibilities are endless and that is no exaggeration!
If it's your first time on Azores Islands, we recommend you choose São Miguel. Most international flights go to São Miguel, you don't have to go island hopping if you are not into that and it is very likely that São Miguel can and will meet your needs and desires regarding your interests and expectations. 
Terceira
Terceira is the third largest island in square miles and the second most populated with 55,000 people. Terceira is known as the best Azorean island for culture and has many festivals during the summer season. Terceira offers dozens of fantastic natural swimming pools for diving as well as two beaches. One of the two beaches, in Angra, do Heroísmo, is a UNESCO World Heritage Site. The town of Angra do Heroísmo is one of the wonders of the Azores for its charm and beauty. The colourful streets and charming, cubed side streets will make you think you are in Cuba for a second. Enjoy great food and wine, you can do that too! There are plenty of fantastic restaurants on Terceira. 
The landscape on Terceira is similar to both Irish and Icelandic landscapes, rugged but green and hilly and has one of the only and oldest lava tunnels you can visit. You can also visit a real volcano and go into an ancient volcanic cave, Algar do Carvão. 
Terceira is the perfect choice for relaxation mixed with activity and outdoor adventures. You could say Terceira has it all!

Pico
Pico is the second-largest island in the Azores and has a population of 14,000 people. The island's landmark is the large volcano that dominates its silhouette and the rugged landscape of stone walls and vineyards. Pico is geologically younger than other Azores Islands, so the landscape is a little rougher and darker. 
Pico has a tiny beach with a saltwater swimming pool built into the ocean. 
The accommodations on Pico are self-contained, more resort-like in character, and scattered throughout the island. Some of the charming resorts have restaurants on site. 
Pico Island is an island of mountains in the Azores. Do you like hiking in the mountains? Mt. Pico is the highest peak in Portugal and is over 7,000 feet. Hiking Mt. Pico is one of the most popular hiking trails in Europe! Mystical beauty with enchanting sea views as far as the eye can see. 
The vineyards are lined with basalt through volcanic soil. This wonder is a UNESCO World Heritage Site. Locals have been making wine on Pico since the 15th century. Pico's popular red and white wine grows in the shadow of Mt. Pico. Don't miss the most important thing - a wine tasting!
At Pico Island, you will find one of the longest ancient lava tunnels with a natural swimming pool, rare stalactites and stalagmites and many other amazing sights. 
Corvo
Corvo or "The Black Island of the Azores", is the smallest of the Azores Islands, and has only one village and a population of only 400 people. Because the community on Corvo is so small, you can really feel and experience the friendliness and warmth that exists on the island. 
Among birdwatchers, Corvo is an absolute favourite! You can see many rare migratory bird species along with many other bird species.
If you are a geology enthusiast, you should definitely visit Corvo. All over the island, you can see the same black basalt rocks that so many of the houses on the island are built of. To see light-filled caves with spectacular lava formations underwater, you can go diving and experience this amazing natural beauty. 
The only paved road on Corvo Island will take you to Caldeirão, a crater formed by the island's volcano. You can make your way along spectacular hiking trails to see the crater and enjoy the remarkable view from the viewpoint at the top. 
Faial
The fourth-largest island in the Azores is Faial, also known as "Blue Island". The island has this great nickname because of the considerable amount of blue hydrangeas that cover the island in summer like a cosy blanket of flowers. The population on the island is about 15,000 people. For those crossing the Atlantic, Faial is a popular stop and therefore the port in Horta is the centre of the island. This gives the island a lively atmosphere in the summer. Most of the hotels and restaurants are located in the port area. While you are enjoying downtown Horta, be sure to visit the most famous sailing bar in the Azores, Peter's Café Sport, which is great fun whether you are a sailor or not. While you are there, you can enjoy the beautiful view of Pico Island across the bay. 
Faial Island offers great hiking trails, a stunning caldera and a volcano. The last volcanic eruption in the Azores was in 1957 at Faial Island. The Capelinhos volcano left behind a very symbolic and one of the most breathtaking landscapes in the Azores.
Finally, we must mention the great beaches, for example, Praia Portio Mim is just a few minutes walk from the city centre.
Flores
Flores Island is literally heaven on earth! The name of the island Flores (meaning flowers) is very indicative of the island, as it is the greenest island in the Azores and is surrounded by a lush botanical garden with a flower-filled landscape. Wild animal life and frequent waterfalls are also descriptive of Flores Island, making it perfect for wildlife and nature lovers and outdoor enthusiasts. Every single waterfall on Flores Island will take your breath away. What could be better than taking a dip in a waterfall on a sunny day while enjoying the magnificent views of the surrounding mountains?
Each year, Flores receives high rainfall, giving the island many lagoons, cascading waterfalls, and crater lakes. 
The community on the island is small with a population of about 4,000 people. 
There are many great hiking trails to explore hidden waterfalls, volcanoes, craters and views at Corvo Island. 
Flores Island is not too touristy, and does not offer incredible restaurants or nightlife, but if you like to be outside and enjoy and explore the extraordinary nature, Flores is the island for you! You will experience nothing but pure tranquillity.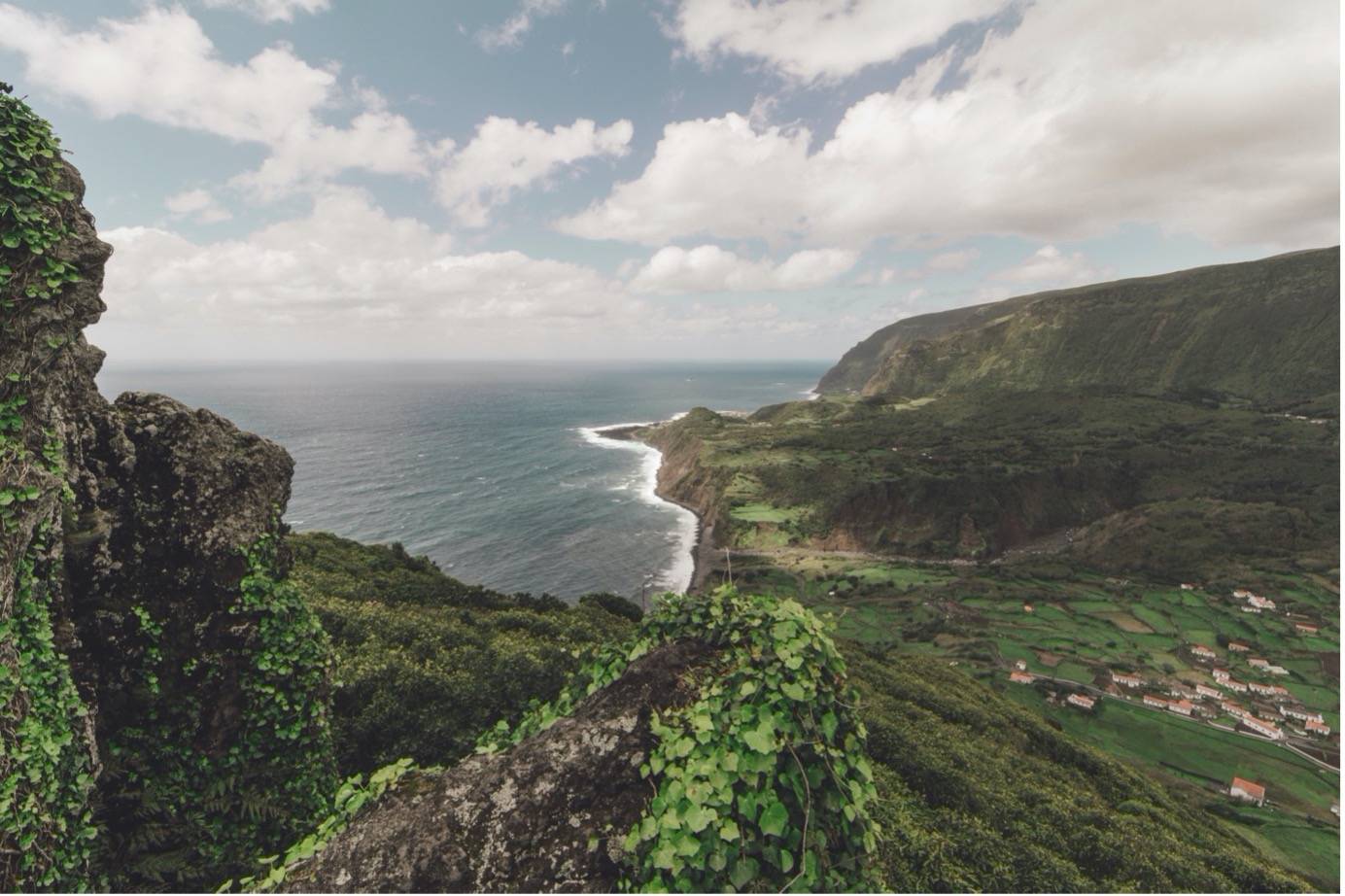 São Jorge
São Jorge is the fourth largest island in square miles in the Azores Islands, but with a population of only 8,000 people. It also has few options for flights and ferries, so it's mostly off the beaten path. 
In Velas, the largest town in São Jorge, you'll find a good selection of accommodations and traditional restaurants serving beef and seafood, but São Jorge is known for the best cheeses and shellfish on Azores Islands. You must visit the cheese factory where the famous Queijo São Jorge is made for special cheese lovers. For all coffee enthusiasts (of which we believe there are many), you can't miss Europe's only artisanal coffee plantation, where you can explore the plantations and enjoy the delicious coffee while admiring the beautiful view of Pico Island. This great place is called Café Nunes and is located in Fajã dos Vimes. 
The landscape on São Jorge Island is very dramatic and amazingly beautiful with mountains all around plunging into deep gorges, crater lakes, rocky cliffs and unique and rare plains formed by lava flow called fajãs. The favourites of visitors and locals on the island are Fajã dos Cubres and Fajã do, Santo Cristo. Fajã dos Cubres is accessible by car, but to get to Fajã do Santo Cristo you have to walk. 
If you like being in deep contact with nature, hiking or mountain biking off the beaten track, and being away from the crowds but still getting decent accommodation and traditional restaurants, São Jorge should be on your bucket list!
Graciosa
Coming now to the eighth island of the Azores, let us introduce Graciosa. This small island is very quiet and peaceful and lives up to its name, which translates as "Graceful". The population of the island is about 4,000 people. Graciosa is the flattest island in the Azores and is therefore used for agricultural purposes. If you want to hike without hills, you are on the right island!
If you like beaches, Graciosa has two small but great beaches. The coastline on Graciosa Island is ideal for diving and you can enjoy amazing underwater scenery and marine life. The deep, clear waters make it the best place to spot dolphins and whales.
You can find two amazing ancient lava tunnels in Graciosa, Furna do Enxofre and Furna da Maria Encantada. 
As you explore the white cliffs that line the magical coastline, the red-towered windmills will likely catch your eye. Not many windmills are still in use today, but some have been converted into unique and authentic accommodations. We don't know about you, but we can't think of a nicer place to stay during your holiday in Graciosa than in a windmill! 
If you're looking for something different to experience, you can book a donkey ride in Graciosa. Graciosa is home to the pygmy donkey, a rare and endangered species. 
In the small village of Luz, there is an amazing thermal spa called Termas do Carapacho. It is perfect for outdoor relaxation. 
Graciosa Island is the least visited island in the Azores, but also the most underrated. So if you want to avoid crowds and lots of tourists, Graciosa is the island for you.
Santa Maria
Santa Maria is the third smallest island in the Azores with a population of 6,000 people. 
The island Santa Maria is located furthest south, which means it is the warmest and sunniest island in the Azores and has white sandy beaches. Santa Maria is the oldest island of the nine islands of the Azores and is therefore considered the "mother island". 
Santa Maria is a bit different from the other Azores islands. It has that ultimate summer vibe, with its white sand and warm, clear waters that you can take a dip in all year round. Diving is the most popular tourist activity on Santa Maria Island because of its great location at the gates of the Dollar Bank and the Formigas Nature Reserve.
Here is an interesting fact about Santa Maria: Every village on the island has its own signature colour. The houses in each village are the same and it is so charming to see and is really picture-worthy, even Instagram-worthy! Make sure you always have your camera ready when you stroll through the streets of Santa Maria because the architecture of the houses is spectacular and makes the fantastic island of Santa Maria a very special and unique experience. 
Do you need to rent a car in the Azores?
We definitely recommend renting a car on Azores Island. This will give you the freedom you need to explore the islands. Don't just rely on public transport, this is only possible on São Miguel Island.
We also recommend that you rent your car early, as there can be shortages in the high season. 
You can check Orbit Car Hire for price and availability for cheap car hire in the Azores matched with all major car rental companies.
Looking for more Azores Island information?
We at Orbit Car Hire specialize in car hire for the Azores Islands. You can find the ultimate holiday guide to the Azores, when it is the best time to visit the Azores, the best beaches in the Azores as well as which Azores Island you should visit here at Orbit Car Hire.