Find out the best things to do in Split, Croatia with Orbit Car Hire. From sightseeing and history to beaches and nightlife, we've got you covered!
Split is the second-largest Croatian city and the capital of Dalmacija County. Split is a remarkable city. Some say it's a city of sports, some say it's a city of culture, some that it's a city of partying and fun, but I would say that Split is the city of everything and everyone. There are so many different things to see and do that you will not get bored during your stay in Split. The city experienced rapid population growth in the 20th century and has grown much more extensive in its proportions. The heart and sort of centre of the town are still Diocletian's Palace, but Split has a lot to offer in the newer parts of the city. Especially if you want to store, there are many large shopping malls throughout the city. Driving in Split can be exhausting in the summer as many tourists come here, as this is also a major port with many ferries leaving for the islands in this region.
DIOCLETIAN'S PALACE
It is one of the best-preserved Roman architectures in the world. This architectural monument measures 215 x 180 meters and combines a luxury villa and a Roman military camp. It was built by Emperor Diocletian, who lived here from 305 AD until he died in 316 AD. You will fall in love with the charming narrow streets inside the palace. Many restaurants, cafes, bars, shops, apartments, rooms, and boutique hotels are here. During the summer season, there is a changing of the guard ceremony with actors dressed as Roman soldiers, and at noon the emperor and his wife come to greet the crowd. After the ceremony, you can take a photo with the Roman soldiers. This ceremony takes place in the Peristyle, the central square of the palace. This excellent and unique square with great acoustics is a Split centre. Among the peculiarities of this square is a perfectly preserved sphinx from Egypt, which is 3500 years old.
Another attraction within the palace that you should visit is the Temple of Jupiter. It is considered one of the most beautiful monuments in Europe. After the Temple of Jupiter, you should see the old imperial court - the vestibule. Then there is the Cathedral of St. Domnius has a beautiful interior and offers a spectacular view of Split from the bell tower. Finally, there were several different gates through which you could enter the palace, and each of them had its name - the Brass Gate, the Iron Gate, the Silver Gate and the Golden Gate.
And last but not least, there are unique substructures in the world. So if you are taking a road trip through Croatia, be sure to stop in Split and visit Diocletian's Palace. You will not regret it!
STROLL THROUGH RIVA
Riva is a special place for the locals. It is a place where they meet, drink coffee, go for a walk, have ice cream, etc. Some would say that this is also Split's catwalk, as the locals here are very particular about fashion. There is almost always something happening on the Riva. In spring and summer, many tourists come here and love this place with the sea on one side and Diocletian's Palace on the other. You can sit in the garden of one of the many bars and restaurants or relax on a bench under the palm trees. In the evening, Riva transforms into a different place as there are many street performers, stalls, tattoo artists, etc. In winter, Riva turns into a Christmas market. So you can visit this place practically all year round, and you will always find something interesting here.
SPLIT SUMMER FESTIVAL
Every summer there is a summer festival in Split. This festival is known throughout the country and even beyond Croatia. It offers quality plays, operas, ballet performances, concerts, exhibitions, etc. This festival is unique because almost all the performances occur under the stars in unique and impressive locations in Split and its surroundings. There are genuinely some epic locations where you can, for example, watch ballet on the cliffs with a great view of the Adriatic Sea. Some productions premiere at the festival every year, and some guest performances from Croatia or other countries. The program is high quality, and the whole festival lasts about a month, from mid-July to mid-August. So if you like art, you should plan a visit to Split during this period.
THE ULTRA FESTIVAL
Every summer, three days are reserved in Split for one of the biggest electronic music festivals in Europe, the Ultra Festival. The festival is known worldwide, and it shows on the dancefloor, as you can meet people from all continents. The lineups are always spectacular, and some of the biggest names in electronic music come here, such as David Guetta, Afrojack, Armin Van Buuren, DJ Tiesto, Martin Garrix etc. So if you are looking for a perfect party destination, this is the place to be. Split offers you a great party and fantastic beaches where you can relax after three days of dancing.
CATCH A FERRY TO ONE OF MANY ISLAND
Split is an important port with numerous ferry connections to the islands in the Dalmatia region. In addition to ferries, there are also several catamaran lines to the islands. From Split you can sail to Hvar, Brač, Vis, Korčula, Šolta and Lastovo.
Besides the islands, you can also sail from the port of Split to Rijeka, Dubrovnik, Ancona, Bari.
ENJOY A PERFECT DAY EXCURSION
You have plenty of options for a great day trip in Split. There are many fantastic destinations near this beautiful city that you should visit. The roads here are in good condition, and all the towns, parks, beaches, etc., are accessible by car. The fastest way to get around by car is to take the Zagreb-Ploče highway, with numerous exits for every major city and park.
Only 30 minutes away from Split, you can visit Trogir. Trogir is a beautiful city protected by UNESCO and has a lot to offer. Besides the beaches, you can see the well-preserved old town, an open-air museum in Roman-Gothic and Venetian architectural styles. Another great city to visit from Split is Šibenik, which has many attractions. The main attraction is undoubtedly the quadruped. Besides Šibenik, there are also cities like Klis, Solin, Zadar, Dubrovnik and Mostar (Bosnia and Herzegovina).
But there are not only cities you should visit. For example, the national parks Krka and Plitvice are also close to Split, so this is also an excellent opportunity to visit one of the most beautiful nature parks in the country.
By ferry or boat, you should take a day trip to islands such as Brač, Hvar, Mljet, etc.
One of the most popular day trips is undoubtedly the Blue Cave (this trip can be pretty crowded as most tourists want to visit this breathtaking attraction in summer, so plan well to avoid big tourist crowds).
EXPLORE THE BEACHES
Like all Dalmatian coastal cities, Split has some beautiful beaches. The most famous beach in the town is, of course, Bačvice, a sandy beach popular with tourists and children with a decent gastronomic offer. Then there are many more beaches, and each of them has something you will like: Ovčice, Obojena, Žnjan, Firule, Kašuni, Zenta, Marjan.
MARJAN PARK
Locals call this forest the "lungs of Split". It is a popular recreational destination for the inhabitants of Split. This beautiful forest on a small hill has a bike path, an area for jogging, beaches (including a separate dog beach), a bar, a cafe, an outdoor gym, a zoo park, tennis courts, a children's playground, a marine research centre, etc.
So, Marjan Park is a must-see when you are in Split. You can not drive your car on the park's premises, but you can park it in front of the park as there are plenty of parking spaces. It can take a little longer to find a parking space in summer, but if you are patient enough, you will find one.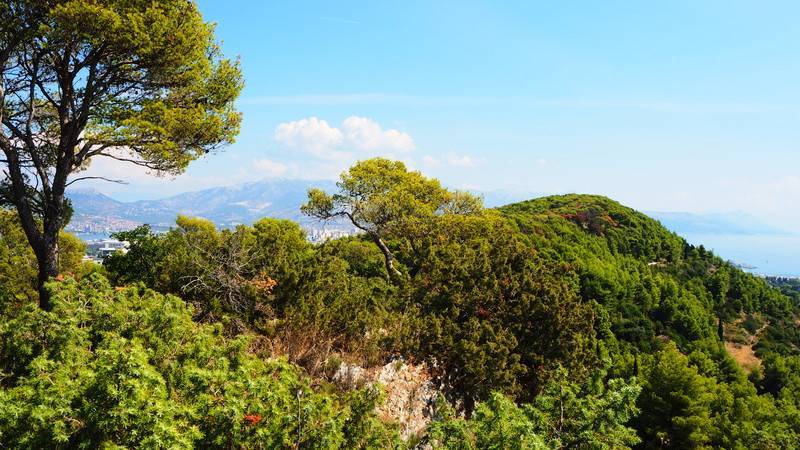 MUSEUMS AND GALLERIES
Split has always been a city that appreciates culture and art. Thanks to this mentality, there are plenty of quality museums and galleries in the town. It would be best to visit the Archeological Museum, the Nautical Museum, the Ethnographic Museum, the City Museum, etc.
Among the galleries, the most popular are Meštrović gallerie, Meštrovićeve Crikvine-Kaštilac, Galerija umjetnina.
Looking for more Croatia adventure? Find more of our Croatia travel blogs here: