9.0
Find your rental car in Brisbane
Cheap car hire deals in Brisbane
About Brisbane
Brisbane is the capital of the Australian state of Queensland and the third most populous city in Australia. It is located on the Brisbane River, 27 kilometres (17 miles) from its mouth at Moreton Bay. Greater Brisbane covers 2,429 square kilometres and has a population of 2.3 million, while the South East Queensland region, which includes Ipswich, Logan and Redlands, has a population of over 3.5 million.
Brisbane was founded on the ancient homelands of the indigenous Turrbal and Jagera peoples. The area was chosen in 1824 as a place for convicts from Brisbane prisons to establish a penal colony. The original settlement was established in what is now the suburb of North Quay. The penal colony was moved to a new location in 1825 where the Brisbane River flows into the mouth of Moreton Bay and where Brisbane's central business district is now located.
The city reached a population of 1,000 in 1842 and 2,000 in 1859, and the first bridge over the Brisbane River was opened at Edward Street in 1865. The railway arrived at Roma Street station in 1875. The University of Queensland was established in 1909. The State Library of Queensland was established in 1911.
Basic info and car hire in Brisbane
Location: Queensland
Population: 2.28 million (2016)
Official language: English
Currency: Australian Dollar (AUD)
Weather: The weather in Brisbane is typically hot and humid. The summer months are especially hot, with temperatures often reaching into the high 30s or even 40s.
Internet coverage: Hotels, bars, restaurants, and cafés offer Wi-Fi.
Road conditions: The condition of the roads in Brisbane, Australia varies greatly depending on the time of day and weather conditions. During the daytime, the roads are usually in good condition, but they can become quite slippery during rain or wet weather.
Car hire in Brisbane: The most common pick-up point for vehicles in Brisbane is Brisbane Airport. Please note that prices vary frequently. It is best to book a car 3 to 8 weeks in advance of your desired pick-up date - this will ensure you get the cheapest rental rate. Alternatively, it is also possible to find cheap last-minute car hire. Find the best deal on car hire in Brisbane!
Driving in Brisbane
Brisbane is a great city for driving, with a network of well-maintained roads and highways. Drivers are courteous and generally obey traffic rules, making for a smooth and stress-free experience. There is plenty of parking in Brisbane, so finding a place to park your car is rarely a problem. And if you rely on public transport, the bus and train networks are efficient and easy to use. So if you are looking for a great place to drive, Brisbane is definitely worth considering!
Age limits: Minimum driver age for the vehicle that you selected is 21. The maximum driver age for the vehicle that you selected is 99. Please note that Young/Senior Driver fees will only be displayed correctly if you entered your age correctly in the search criteria. If you add Additional Drivers to your rental and any of them are considered Young/Senior Drivers, you may have to pay both an Additional Driver Fee and a Young/Senior Driver Fee.
International Driving Permit: An International Driving Permit is required in addition to a National Driving Licence if the National Driving Licence you or any of the Additional Drivers hold is not clearly identifiable as a Driving Licence, e.g., it is in a non-Latin alphabet (e.g. Arabic, Chinese, Cyrillic, Japanese). English translations of foreign licences are also accepted.
Additional papers: You and all Additional Drivers must present a full valid original Driving Licence and the voucher or booking confirmation document when picking up the vehicle. If your Driving Licence has multiple parts, you must present all of them. All requirements apply to both you and any Additional Drivers.
Additional requirements: Glasses (in case you need glasses, you must always have a spare pair in the car), light bulbs (are usually already in the car and are provided by the car rental company), warning triangle
Children in the car: The minimum legal requirements for the use of child car seats in Australia are based on age: children under six months must use a rear-facing child seat with an integral harness. Children aged six months to four years must use a rear-facing or forward-facing child seat with an integrated harness. Children aged four to seven years must use a forward-facing child seat with an integrated belt or a booster seat with an adult lap belt or a child safety belt. Children aged seven and over must use a booster seat with an adult lap belt or a child safety belt or a standard seat with an adult seat belt.
Driving side of the road: Left Side.
Lights: Daytime headlights is recommended at all times and required in the rain, fog or under challenging weather conditions.
General speed limits: In Queensland, speed limits vary between 10km/h-110km/h.
Parking suggestions:
Car Hire in Brisbane
Most popular car hire at Brisbane
The most selected hire car in Brisbane is the Kia Picanto, with the Toyota Yaris and Mitsubishi ASX also being a popular options. The most popular car types in Brisbane are mini, compact and economy.
Popular Driving Routes
Popular One-Way car hire from Brisbane
Want to rent a car for a one-way trip? No worries! Orbit Car Hire offers a variety of one-way Car Hire options in many locations outside of Brisbane. One-way car rental is ideal for cross-town or cross-country travel, saving time by not returning to your original location. Start your reservation with Orbit Car Hire and find great options on one-way car hire at locations across the Australia.
Brisbane - Gold Coast (79km, approx 1-hour drive)
Brisbane - Sydney (908km, approx. 10-hour drive)
Popular day trips from Brisbane
If you are looking for a great road trip around Australia, Brisbane is the place to be! There are endless options when it comes to routes, but some of our favourites are the Sunshine Coast with its beaches and lush rainforests, or the interior where you can explore Queensland's beautiful countryside and quaint small towns. Whichever route you choose, you are sure to have a great time!
What to see in Brisbane
There are many things to see and do in Brisbane, Australia. You can visit the Lone Pine Koala Sanctuary where you can see koalas and other Australian animals. You can also visit the Queensland Museum, which has exhibits on natural history, archaeology and culture. The Gallery of Modern Art is also a must-see attraction in Brisbane. Contemporary art from around the world is displayed here. Do not forget to explore the city's vibrant nightlife! You have a choice of numerous bars and clubs.
Drive your rental car beyond Brisbane
The drive from Brisbane to Sydney is a typical Australian road trip. The drive takes about 10 hours and passes through lush rainforest, rolling hills and dramatic coastal scenery. There's plenty to see and do along the way, so be sure to pack your camera!

Highlights include the Glasshouse Mountains, Fraser Island and the Three Sisters rock formation in Katoomba. Be sure to stop in some of the charming small towns and villages along the way, such as Maleny, Montville and Bowral. There's something for everyone on this scenic drive. So step on the gas and hit the open road!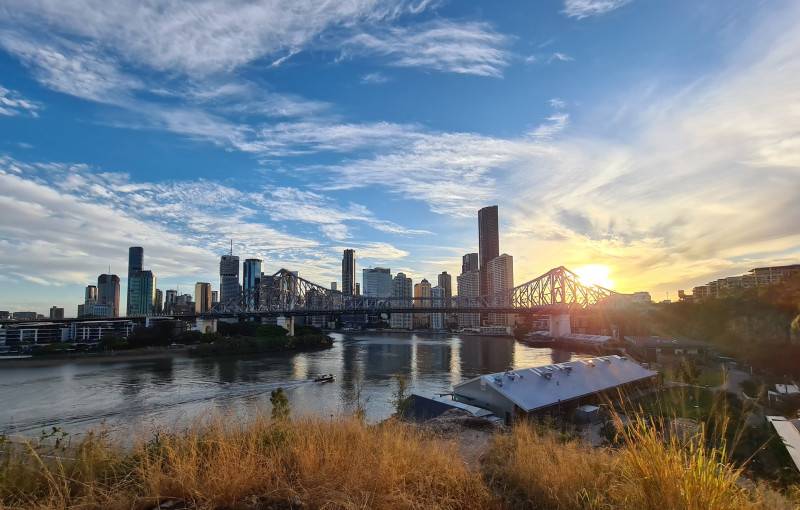 Where to eat, drink, and party in Brisbane
There are many great places to eat and drink in Brisbane, Australia. Some of the best places are cafés, restaurants and bars.

Some great cafes to check out are The Lab and Anouk. The Lab is a great place for deep L lovers as it has some of the best coffee in Brisbane. Anouk is a great place for breakfast or lunch and has a great selection of dishes.

If you are looking for a great restaurant, head to Gaucho Grill. This serves some of the best Argentinian food in Brisbane and is definitely worth checking out! Another good choice is Bistro One Eleven. Here you have a great choice of dishes and the food is always delicious.

If you are looking for a great place to drink, you should visit The Gresham. They have a great selection of beers on tap and the bartenders are happy to help you find the perfect drink. Another good choice is The Understudy. There is a great selection of cocktails here and the atmosphere is always fun and lively.
FAQ
What you need to know about renting a car
What do I need to rent a car in Australia?

A credit card in the name of the main driver needs to be presented. A security deposit may be required while renting a car so the credit card must have sufficient funds. You can find details about the security deposit listed while booking the vehicle as well as on your voucher. It is important to have a valid driving license with the name of the main driver as well as additional drivers when it applies. An International Driving Permit is required in addition to a National Driving License if the National Driving License you or any of the Additional Drivers hold is not identifiable as a Driving License, eg, it is in a non-Latin alphabet (eg Arabic, Chinese, Cyrillic, Japanese). It can also depend on the country or car rental company you are renting with. If you have found a car on our website, you can press the rental terms link from the supplier for more information about driving license requirements. You will need to have identification with you such as a passport and ID cards. When you pick up your rental car you need to have your voucher with you.
How old do I need to be to rent a car in Australia?

The minimum age to rent a car is 21 years old, but for car groups such as Luxury, Premium, Fullsize, SUVs, the minimum rental age is 30 years. Young driver surcharges may apply to many car rental companies for people under 25 years of age. This information is visible in the search engine with Orbit Car Hire.
Do I need car insurance in Australia?

Insurances are very important when renting a car and can be different between countries. When renting a car in Australia with Orbit Car Hire the prices will include mandatory insurances in the country.
Do I need a credit card to rent a car in Australia?

In most cases, a credit card is required to be presented in the name of the main driver. A security deposit may be required when renting a car so it is important to have sufficient funds on the credit card. When searching for a car at Orbit you can see credit card requirements from all our suppliers.
What is the cheapest rental car in Australia?

You will find the mini car category or economy cars to be the cheapest car categories. Vehicles such as Toyota Yaris and Kia Picanto often provide the best prices.
What is the best car rental company in Australia?

You may find excellent service provided by companies such as Europcar, Enterprise rent a car, Keddy, Alamo and National rent a Car Companies.
What types and makes of rental car deals can I find in Australia?

You will find car types such as mini, economy, compact, Full-Size, and luxury cars. Popular rental cars are Toyota Hilux, Ford Ranger, Toyota Rav 4, Toyota Corolla.
Does my rental car have unlimited mileage when I book it for Australia?

Most car rentals in Australia offer unlimited mileage in their offers.
Do I need an international driving license in Australia?

An International Driving license is mandatory if the driver's license is written in a language or in characters that cannot be read in the renting country.


Car Hire Locations in Brisbane
1 location(s) found
Find The Best Car Hire Companies In Brisbane
Best of Australia
Most Popular Cities