9.0
Find your rental car in Hobart
Cheap car hire deals in Hobart
About Hobart
Hobart is the capital of Tasmania, Australia. By Australian standards, it is a small city with a population of about 220,000. But by Tasmanian standards, it is a big city. The city is located at the mouth of the Derwent River. It is a beautiful city to live in. The people are friendly and the climate is temperate. Hobart is a great place to raise a family. It is also a great place to retire. There is a lot to do in Hobart and the cost of living is relatively low.
Basic info and car hire in Hobart
Location: Tasmania
Population: 220.000
Official language: English
Currency: Australian Dollar (AUD)
Weather: The weather in Hobart is mild and temperate. Summers are warm with average temperatures of around 22 degrees Celsius, while winters are cool, with average temperatures of around 8 degrees Celsius.
Internet coverage: Hotels, bars, restaurants, and cafés offer Wi-Fi.
Road conditions: The condition of the roads in Hobart, Australia varies greatly depending on the time of day and weather conditions. During the daytime, the roads are usually in good condition, but they can become quite slippery during rain or wet weather.
Car hire in Hobart: The most common pick-up point for vehicles in Hobart is Hobart Airport. Please note that prices vary frequently. It is best to book a car 3 to 8 weeks in advance of your desired pick-up date - this will ensure you get the cheapest rental rate. Alternatively, it is also possible to find cheap last-minute car hire. Find the best deal on car hire in Hobart!
Driving in Hobart
There is something unique about driving in Hobart. Maybe it's the narrow, winding roads that make you feel like you are in a race or the spectacular views of the bay that stretch out before you. Whatever it is, driving here is an experience you will never forget. Just make sure you keep your eyes on the road and drive safely!
One of the best things about driving in Hobart is the scenery. You'll never get bored of the views of the mountains, the bay and the quaint little towns that dot the landscape. There is something new to see around every bend in the road.
Age limits: Minimum driver age for the vehicle that you selected is 21. The maximum driver age for the vehicle that you selected is 99. Please note that Young/Senior Driver fees will only be displayed correctly if you entered your age correctly in the search criteria. If you add Additional Drivers to your rental and any of them are considered Young/Senior Drivers, you may have to pay both an Additional Driver Fee and a Young/Senior Driver Fee.
International Driving Permit: An International Driving Permit is required in addition to a National Driving Licence if the National Driving Licence you or any of the Additional Drivers hold is not identifiable as a Driving Licence, e.g., it is in a non-Latin alphabet (e.g. Arabic, Chinese, Cyrillic, Japanese). English translations of foreign licences are also accepted.
Additional papers: You and all Additional Drivers must present a full valid original Driving Licence and the voucher or booking confirmation document when picking up the vehicle. If your Driving Licence has multiple parts, you must present all of them. All requirements apply to both you and any Additional Drivers.
Additional requirements: Glasses (in case you need glasses, you must always have a spare pair in the car), light bulbs (are usually already in the car and are provided by the car rental company), warning triangle
Children in the car: The minimum legal requirements for the use of child car seats in Australia are based on age: children under six months must use a rear-facing child seat with an integral harness. Children aged six months to four years must use a rear-facing or forward-facing child seat with an integrated harness. Children aged four to seven years must use a forward-facing child seat with an integrated belt or a booster seat with an adult lap belt or a child safety belt. Children aged seven and over must use a booster seat with an adult lap belt or a child safety belt or a standard seat with an adult seat belt.
Driving side of the road: Left side.
Lights: Daytime headlights is recommended at all times and required in the rain, fog or under challenging weather conditions.
General speed limits: In Hobart, speed limits vary between 10km/h-110km/h.
Parking suggestions: Parking in Hobart is relatively easy. If you want free parking, look for empty slots in the suburbs of Hobart, downtown, you will need to pay a small fee for parking.
Car Hire in Hobart
Most popular car hire at Hobart
The most selected hire car in Hobart is the MG 3, with the MG ZS and Toyota Corolla also being a popular options. The most popular car types in Hobart are economy, compact and standard car categories.
Popular Driving Routes
Popular One-Way car hire from Hobart
Want to rent a car for a one-way trip? No worries! Orbit Car Hire offers a variety of one-way Car Hire options in many locations outside of Hobart. One-way car rental is ideal for cross-town or cross-country travel, saving time by not returning to your original location. Start your reservation with Orbit Car Hire and find great options on one-way car hire at locations across the Australia.
How can I save money on my rental car?
Save money by booking and being charged the best possible price
Book with a name you know, with brands that have shown their quality before
No hidden fees or costs. Orbit Car Hire has transparent pricing policies.
Pay on Arrival option.
Carefree travel with Orbit Car Hire
Secure, eco-friendly cars guaranteed to meet your needs
Popular day trips from Hobart
There are many great day trips you can take from Hobart, Australia. One of the most popular is a trip to Mount Wellington. The drive to the top of the mountain offers fantastic views of the city and the surrounding area. Once at the summit, you can enjoy hiking trails, picnic areas and an observation tower.
Another popular day trip is to Port Arthur, which is about an hour and a half from Hobart. Port Arthur was once a penal colony and is now a popular tourist destination. Visitors can see the ruins of the prison and learn about Tasmania's history in the museum. There are also beautiful gardens and beaches nearby.
For those looking for something more adventurous, a trip to Freycinet National Park is a good option. The park is home to stunning coastal scenery, including Wineglass Bay, considered one of the most beautiful beaches in the world. Visitors can hike the park's trails or swim, fish and kayak.
No matter what kind of day trip you are looking for, Hobart has something to offer. So get out there and explore all that this wonderful city and its surroundings have to offer!
What to see in Hobart
Hobart is the capital and largest city of Tasmania. It is located at the mouth of the Derwent River in the south of the state. Hobart offers a variety of attractions for visitors, including art galleries, museums, parks and gardens, historic sites and architecture, and sporting venues.
Some of the most popular destinations in Hobart are Salamanca Place, Battery Point, Mount Wellington, the Royal Tasmanian Botanical Gardens and Wrest Point Casino. Salamanca Place is a historic neighbourhood with a lively craft market. The Battery Point neighbourhood has many well-preserved Georgian buildings, while Mount Wellington offers stunning views over the city and the Derwent River. The Royal Tasmanian Botanical Gardens are the oldest and largest in Tasmania and Wrest Point Casino is the only casino in the state.
There are also several interesting historical sites in Hobart, including the Museum of Old and New Art (MONA), the Tasmanian Museum and Art Gallery and Parliament House. MONA is a fascinating museum of modern art built by eccentric millionaire David Walsh. The Tasmanian Museum and Art Gallery house a large collection of Australian art, while Parliament House houses the Tasmanian State Library and Archives.
Drive your rental car beyond Hobart
From Hobart, Australia, several great road trips take you through some of the country's most beautiful scenery. The drive to Mount Field National Park is a must for nature lovers, as is the drive to the Freycinet Peninsula. If you are looking for something adventurous, head to Cradle Mountain-Lake St Clair National Park. No matter which route you choose, you are sure to fall in love with Tasmania's stunning landscapes.
If you start your journey from Hobart, head towards Devonport on the Tasman Highway. This route takes you past some of Tasmania's most picturesque towns and villages, including Richmond, Rossarden and Cygnet. As you make your way along the coast, you'll be rewarded with views of the Bass Strait and the stunningly rugged coastline. When you reach Devonport, a short ferry crossing will take you to the northwest coast of Tasmania.
From there, it's just a short drive to Mount Field National Park. This beautiful park is home to some of Tasmania's highest mountains, including Mount Wellington. You can explore the park on foot, by bike or by car, with a choice of numerous hiking trails. If you are looking for a rewarding hike, head to Russell Falls - it's one of the most popular hiking trails in Tasmania and for good reason!
If you do not want to leave Mount Field National Park quite yet, continue west to the Freycinet Peninsula. This beautiful peninsula is home to Wineglass Bay, one of Tasmania's most famous beaches. In Freycinet National Park, you can go on numerous hikes and walks, as well as kayaking and swimming. If you are feeling adventurous, you can even climb Mount Freycinet!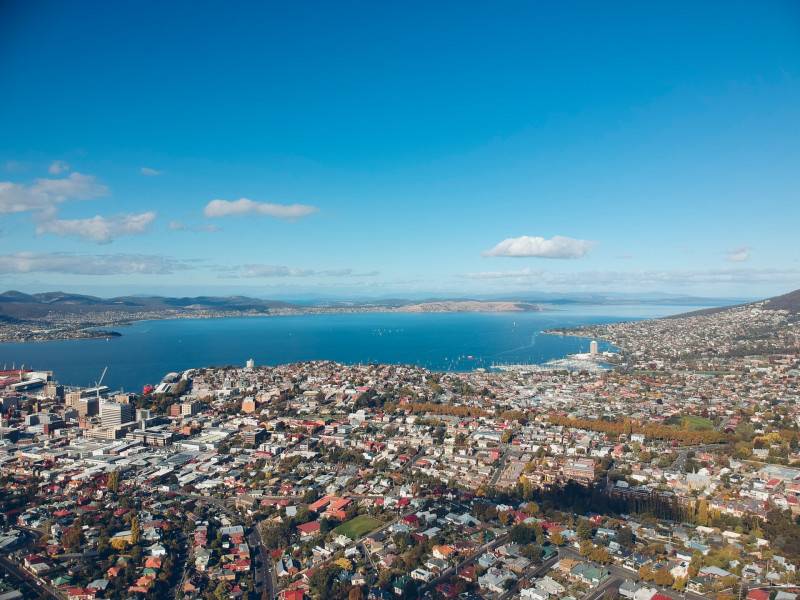 Where to eat, drink, and party in Hobart
There are many places to eat and drink in Hobart, Australia. Some of the best places are Salamanca Market, the Battery Point neighbourhood and MONA (Museum of Old and New Art).
Salamanca Market is a must for foodies. Here you will find fresh produce, artisan cheeses and delicious baked goods. The Battery Point neighbourhood is home to many cosy pubs and restaurants. Finally, MONA is known for its innovative cuisine and wine list.
FAQ
What you need to know about renting a car
What do I need to rent a car in Australia?

A credit card in the name of the main driver needs to be presented. A security deposit may be required while renting a car so the credit card must have sufficient funds. You can find details about the security deposit listed while booking the vehicle as well as on your voucher. It is important to have a valid driving license with the name of the main driver as well as additional drivers when it applies. An International Driving Permit is required in addition to a National Driving License if the National Driving License you or any of the Additional Drivers hold is not identifiable as a Driving License, eg, it is in a non-Latin alphabet (eg Arabic, Chinese, Cyrillic, Japanese). It can also depend on the country or car rental company you are renting with. If you have found a car on our website, you can press the rental terms link from the supplier for more information about driving license requirements. You will need to have identification with you such as a passport and ID cards. When you pick up your rental car you need to have your voucher with you.
How old do I need to be to rent a car in Australia?

The minimum age to rent a car is 21 years old, but for car groups such as Luxury, Premium, Fullsize, SUVs, the minimum rental age is 30 years. Young driver surcharges may apply to many car rental companies for people under 25 years of age. This information is visible in the search engine with Orbit Car Hire.
Do I need car insurance in Australia?

Insurances are very important when renting a car and can be different between countries. When renting a car in Australia with Orbit Car Hire the prices will include mandatory insurances in the country.
Do I need a credit card to rent a car in Australia?

In most cases, a credit card is required to be presented in the name of the main driver. A security deposit may be required when renting a car so it is important to have sufficient funds on the credit card. When searching for a car at Orbit you can see credit card requirements from all our suppliers.
What is the cheapest rental car in Australia?

You will find the mini car category or economy cars to be the cheapest car categories. Vehicles such as Toyota Yaris and Kia Picanto often provide the best prices.
What is the best car rental company in Australia?

You may find excellent service provided by companies such as Europcar, Enterprise rent a car, Keddy, Alamo and National rent a Car Companies.
What types and makes of rental car deals can I find in Australia?

You will find car types such as mini, economy, compact, Full-Size, and luxury cars. Popular rental cars are Toyota Hilux, Ford Ranger, Toyota Rav 4, Toyota Corolla.
Does my rental car have unlimited mileage when I book it for Australia?

Most car rentals in Australia offer unlimited mileage in their offers.
Do I need an international driving license in Australia?

An International Driving license is mandatory if the driver's license is written in a language or in characters that cannot be read in the renting country.


Car Hire Locations in Hobart
1 location(s) found
Find The Best Car Hire Companies In Hobart
Best of Australia
Most Popular Cities